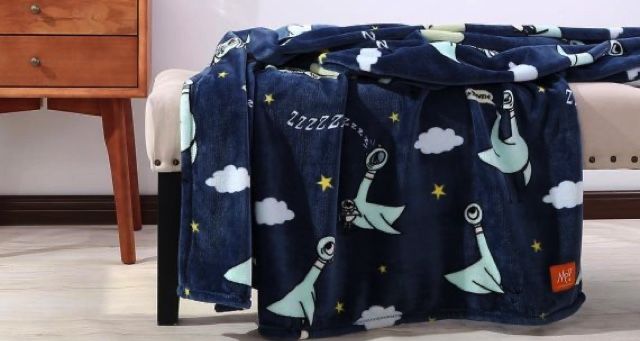 Children's
16 Kids' Gifts Inspired By Classic Children's Stories
This content contains affiliate links. When you buy through these links, we may earn an affiliate commission.
It's here. We can't deny it any longer. The season of candy and cosplay is behind us, and it's time to start shopping for holiday gifts.
My favorite things to buy for my daughter are books (shocker). And I legit wish I could get my shit together enough to count down to Christmas with a book a day. But if you, like me, are worried that your child might—gasp!—want something more than books, I've got your back.
With 16 items inspired by books.
Read on for 16 adorable products inspired by some popular children's classics that made me squee when I stumbled upon them.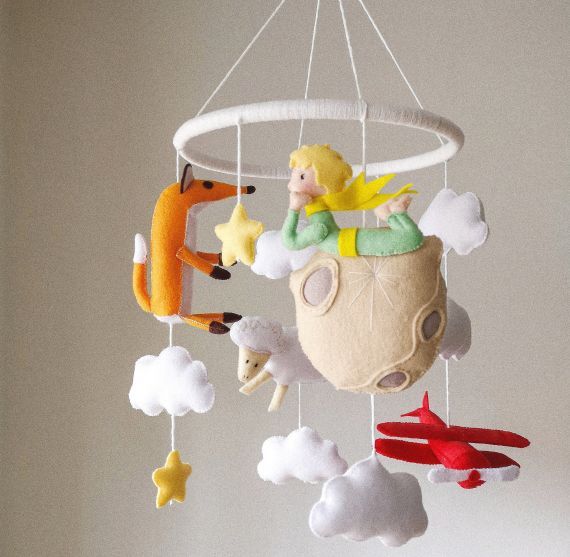 The Little Prince is one of those books that holds a special place in my heart, as I've had my mom's childhood copy of the book for as long as I can remember. And I think this mobile—made with wool felt and stuffed with hypoallergenic fiber—is amazing. It's on sale from Etsy seller IrmalandBaby for $105.40.
When I think of The Very Hungry Caterpillar, I'm instantly transported back in time to when my daughter was still a baby, and I was desperate to be around other humans. At the time, I regularly took Em to storytime at the library and we would inevitably end up reading this book, complete with tiny felt shapes for the accompanying felt board. I love how the vibrant colors from Eric Carle's illustration are incorporated into this adorable knot-front infant headband. It's available from Etsy seller ElleBelleBliss for $10.69, and if you spend a few dollars more, there are options for older kids and even for adults!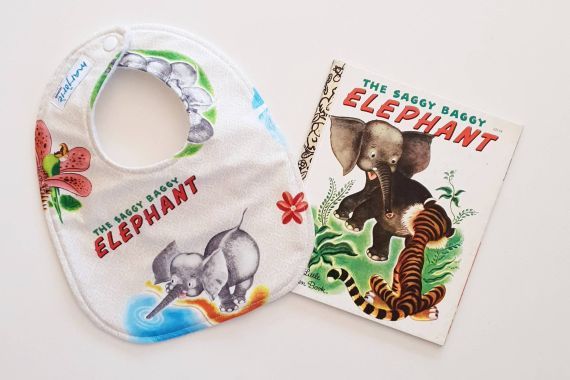 Of all the eleventy-billion Golden Books I read as a child, The Saggy Baggy Elephant was my favorite. So I can't resist this bib made by Etsy seller marjoriehandmade, available for $13.50. The front is cotton with soft fleece on the back, and if you don't want the classic round bib, you can opt for a bandanna bib instead.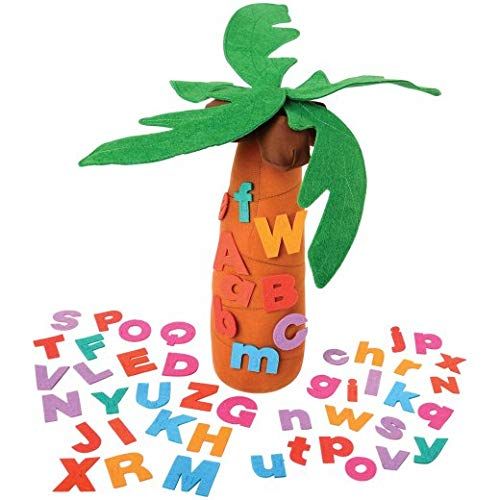 Is there a parent among us who didn't at one time have the entirety of Chicka Chicka Boom Boom memorized? If there's anything that can make me nostalgic about those rough early months, it's that book, which never failed to make Em giggle. This felt tree with accompanying felt letters is available on Amazon for $49.55.
Olivia is…a lot. Which is why I love her so. Because even as she exasperates, you can't help but be charmed by her imagination, her creativity, and her exuberance. Let your kid show everyone that they're Team Olivia with this Olivia T-shirt, available from Out of Print for $20.
Those Mo Willems books are always crowd-pleasers, so it's no surprise that the variety of merch out there is vast. But I sort of dig that this throw blanket ties into the book that inspired it: Don't Let the Pigeon Stay Up Late. Get your own from Berkshire Blanket & Home Co. for $26.
There are so many super-cute items out there that pay homage to this ultimate tale of one-upmanship, Guess How Much I Love You. I'm partial to these blocks, which can be personalized depending upon your preference in letters, paper patterns, and colors. They're available for $8.55 per block from Etsy seller BluebirdCreationsAU.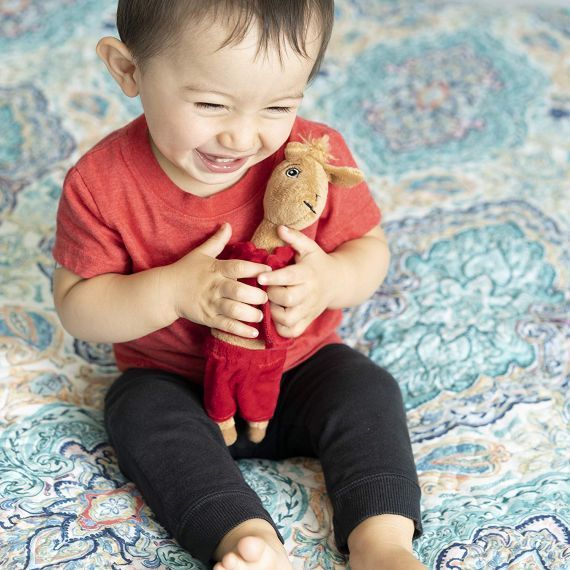 Oh my god this photo. I was always a fan of the Llama Llama books in the early years, because they had such fantastic rhythm. But I'm especially grateful for the most genius phrase of all in the first book: "llama drama." I sometimes pepper household conversations with this phrase just for funsies. And do you remember how our young llama had his own llama doll that looked just like him? Stop. I can't. Just get your own for $10.14 over at Amazon.
Little Blue Truck was another favorite in our household, and I imagine it may have floated around on your bookshelves too in those early years. This lightweight cotton pajama set can be found on Amazon for $29.99–34.99, depending upon the size.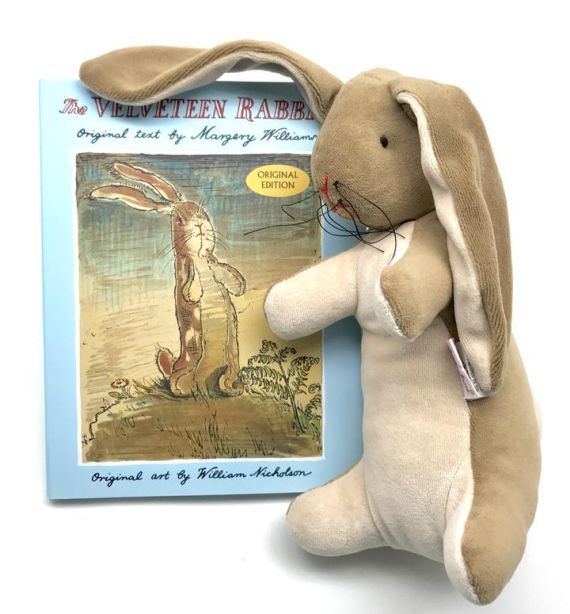 Just an FYI that when I buy my daughter this original edition of The Velveteen Rabbit this Christmas, accompanied by the true-to-the-original-illustrations plush toy, I will totally be buying it for myself. Just as with The Little Prince, I own my mother's original childhood copy of this book. And from the time I was young, all the way to this very moment, I have wanted my own velveteen rabbit. This set can be had for $68 from Bella Luna Toys and I am convinced that every cent is worth it.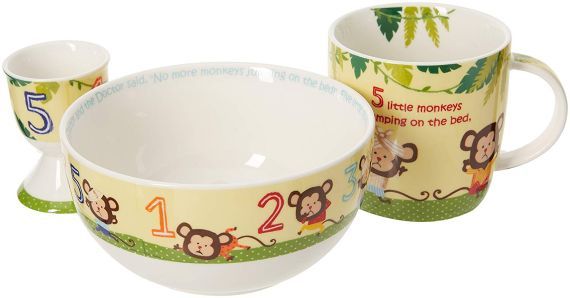 Here's one even your kid probably has memorized. Though Five Little Monkeys Jumping on the Bed is about the dangers of jumping on the bed, my daughter thinks of it as more of an invitation. No matter. I still think this Five Little Monkeys–themed fine china breakfast set is totally adorbs. Maybe you want to get it for your little monkey. You can get it—along with a matching carrying trunk—on Amazon for $45.
I know. This book has already appeared once on this list. But how awesome are these ceramic drawer pulls!? Snazz up your child's dresser drawers with this set of 12 knobs. You can get them from Etsy seller FarmFreshKnobs for $47.88.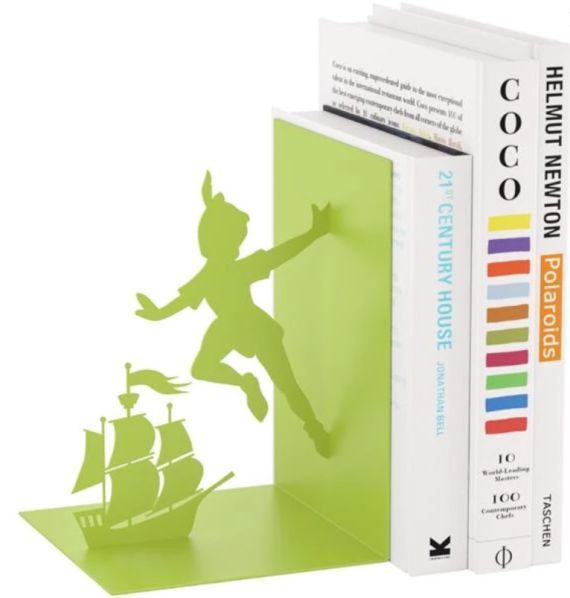 The Literary Gift Company has some super-cute, literary-themed bookends, including this Peter Pan-inspired one. Use it to keep your kid's books nice and neat when they're not being used to take them away to Neverland. Get it for just $12.99.
Is it weird that I would furnish my entire home in products from PB Teen if given the chance? I mean really. Just check out this Golden Snitch task light from their Harry Potter collaboration. The books in the Harry Potter series are modern classics in their own right, so I couldn't help but put this magical piece of bedroom decor on the list. Get it for $179 if you're feeling fancy.
And because I couldn't choose just one item from this PB Teen collection, I feel required to tell you that there is a vast selection of luggage available on the site—from $149.99 for a hard case carry-on to $439 for a four-piece luggage set—that will make your child feel as if they're on their way to Hogwarts. So cool!
And finally, because I am absolutely obsessed with everything the artist, illustrator, and writer Oliver Jeffers does, may I suggest this art print from his book Here We Are: Notes for Living on Planet Earth. Beneath a view of Earth is the glorious quote "It looks big, Earth, but there are lots of us here so be kind." A worthy message for your child's bedroom wall. Get it for $50 from the author's site, and then go looks at all the free goodies he also has available.
---
Happy bookish holidays to your entire family!