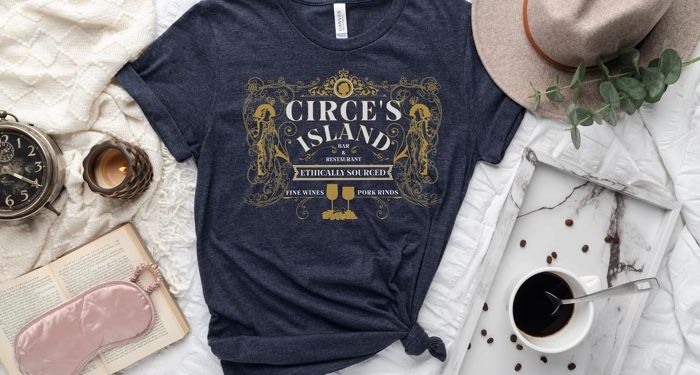 This content contains affiliate links. When you buy through these links, we may earn an affiliate commission.
It is well known among Book Riot circles that I'm a mythology fangirl. I love the OG myths themselves, but what really gets my bells ringing is a juicy, subversive retelling that flips a familiar narrative on its head.
Lucky for me, the wave of recent retellings has given me all of that and more. Madeline Miller's once powerless, voiceless Circe steps into her power with righteous rage; Vaishnavi Patel presents us with a Kaikeyi who refuses to shrink herself to fit with the role she's expected to play as a woman, a mother, and a queen; in Stone Blind, Natalie Haynes's Medusa asks us to interrogate the concepts of beauty and monstrosity, and who gets to decide how each is defined. This is truly just the tip of the iceberg, too: my TBR doth overflow.
Like any good bookworm, I went in search of merch aligned with my literary obsession on Etsy and I come bearing both good and bad news. The good news is there's plenty of awesome stuff out there for fans of Greek and Roman mythology; the bad news, at least in my experience, is that it was near impossible to find merch for anything outside the Greco-Roman tradition, or even for retellings by authors besides Madeline Miller.
So if any creators out there are reading this, please to consider whipping up some pretty prints, snarky tees, and more bookish goodies for other mythology and folklore! See the works of Pat Barker, Natalie Haynes, Vaishnavi Patel, Silvia Moreno-Garcia, Sue Lynn Tan, Jennifer Saint, Roseanne A. Brown, Rebecca Roanhorse, Genevieve Gornichec…I could do this all day.
For now, I present you with some of the best gifts for fans of Greek mythology I found. Go forth and get your myth on!
---
If you're looking to get into retellings or need recs for more diverse reading, we have you more than covered.
8 Books About African Mythology from Around the Continent
8 Chinese Mythology Books You Don't Want to Miss