This content contains affiliate links. When you buy through these links, we may earn an affiliate commission.
It's time to start thinking about what to get the comic-obsessed readers on your gift list. And while I can't guarantee that they don't already have everything on this list, I can guarantee that if they don't have these things, they'll love you even more when they receive these gifts for comic book lovers.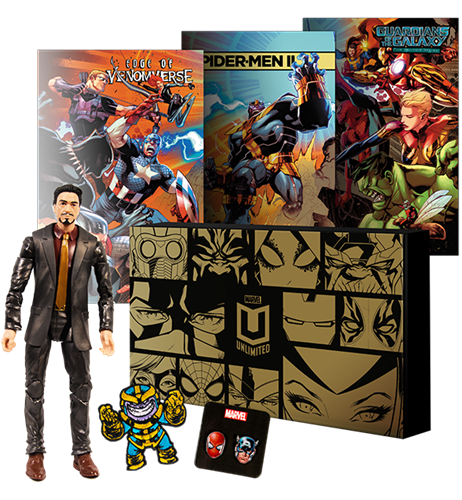 Even if your favorite comic nerd has their Friendly Local Comic Shop (FLCS) pull every single title for them every Wednesday, even if they've got a collection that stretches back to when they were swiping dollars off the kitchen counter in high school to fund it, they need Marvel Unlimited Plus.
And for comic geeks like myself who want to keep up with Marvel, but can only go the FLCS every few months, it's a lifesaver. Every week Marvel publishes digital versions of all their new releases from six months ago, along with a collection of comics from their backlog. How far back? How about Marvel Comics #1, published in 1939?
You can also browse by comic event, which is infinitely better than having to buy a bunch of random issues or collected editions that skip that one tie-in comic. Marvel Unlimited is $10 a month or $69 for the year. MU Plus is $99 per year—for your extra $30, you get discounts on comics and merchandise, plus a big giftable box of exclusive comics, patches, pins, and a limited-edition Marvel Legends figure (this year it's a dapper looking Tony Stark). If they make theirs Marvel, they need this. Find out more at https://marvel.com/comics/unlimited.
Speaking of exclusive action figures, this set is available only at Toys-R-Us (so you might want to act fast) and includes Loki, She-Hulk, Singularity, Elsa Bloodstone, Monica Rambeau, and Sif, just a few of the female heroes that graced the pages of A-Force during Secret Wars II.
A-Force was a breakout hit with its all-female cast, gorgeous art, and engaging story. As someone who always makes sure the "short-packed" female figures are on the front of the pegs, seeing an all-female box set makes me inordinately happy. Plus, other than She-Hulk, there have never been figures of these characters.
Singularity was a brand new character introduced in A-Force and her translucent figure is absolutely amazing. Plus, the inclusion of Monica Rambeau is heartening for those of us who would like to see a little more representation on our toy shelves. You can grab the set from the Toys-R-Us website for $119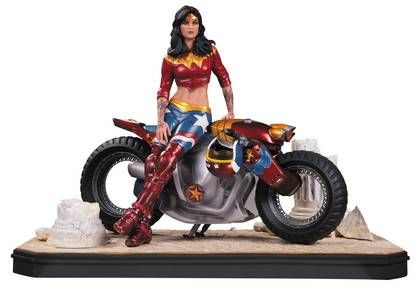 For the DC Fan: Gotham City Garage Wonder Woman Statue
Choosing one DC collectible from the (literally) hundreds they've released this year is like giving me a hundred Tijuana Flats tacos and telling me to pick my favorite. No matter what I choose, it's going to be good. There are Batgirl of Burnside figures and statues, enough Harley Quinn figures, statues, and collectibles that you could drown the Joker in them, and an equal amount of Wonder Woman merch.
My favorite of them all, however, has to be this Gotham City Garage statue of Wonder Woman and her partially transparent motorcycle. It's gorgeously sculpted, incredibly detailed, and makes me wish I could inhabit the comic reality that statue resides in every time I look at it. (Incidentally, DC just started publishing a Gotham City Garage comic.) Gotham City Garage Wonder Woman retails for $350, so keep an eye out for sales at comic and collectibles retailers as the season hits.
Invincible is the greatest superhero comic of the last decade. Full stop. It's based on a brilliant idea (which is a bit of spoiler for the first arc, but as we're 10 years out, I'm within fair spoiler-use laws): what if a Superman-level hero came to Earth, not to live, but to conquer it for the remaining members of his race, and what if all the other survivors did that too?
Even if your comic-loving recipient has read the first few graphic novels, chances are they've been reread enough that they've seen better days. It's time to trade up to the Invincible Compendium editions. Containing Invincible issues 1–47, plus the origin issues, plus issue 0, plus even more goodies, Invincible Compendium Volume 1 is the definitive deep dive into the world of Invincible. It's currently running around $40 on Amazon, which is less than $1 an issue. You can't lose.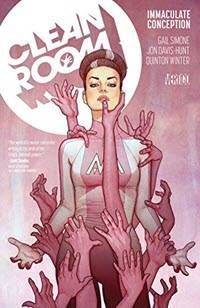 Gail Simone is here to make sure you never sleep again. This 2015–2017 series follows Chloe Pierce, a grieving journalist who is trying to find a story, uncover the truth behind her husband's suicide, and, ultimately, try to stay alive as she uncovers eldritch horrors that lurk just beyond the pale of reality as we know it.
Jon Davis-Hunt's art pairs with Simone's tale in a way that makes it dreamlike and disgustingly real at the same time. Simone isn't afraid to leave things to the imagination, but she's also willing to drop us, waist-deep, into body horror to terrify those few readers that aren't already screaming at the pages.
Gripping, chilling, surprisingly humorous, and an absolute must for any fan of horror comics, start with Clean Room Volume 1: Immaculate Conception, and then go ahead and get the other two volumes, because they're going to want them.
Simply put, Saga is to modern science fiction what Star Wars is to classic science fiction. It's intense, topical, sexy, thrilling, and, above all else, fun. It's an epic space opera that sees its main characters, Marko and Alana, running from two species at war, and bounty hunters, and a race of TV-headed robots, and…warrior seal pups? Let's just assume that no one in the universe really likes them.
Penned by Brian Vaughan, Alana and Marko's story is immediately engrossing, dropping the reader into a universe where its denizens are working as hard to forget about the conflict around them as they are to keep it going. And at the core of all this is a family story, a story told by a girl who shouldn't exist about a family the entire universe wants to see split apart. Fiona Staples' brilliant art brings Saga to life like nothing else on the stands today. There are eight collected volumes so far and there are almost always great deals on the digital version of Volume 1 (usually well under $10). I'd recommend the hardcover Deluxe version for gifting, though—it's around $35 on Amazon.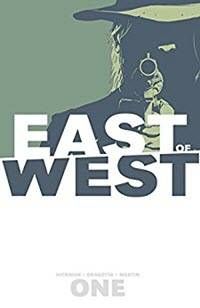 We've all got at least one person on our list that says to get them "anything." And when pressed for something specific shrug and say, "whatever."
And when pressed again, sigh loudly and say, "Y'know, I'm just so over superhero comics." They need something new to jar them out of their reading rut. They need something that combines the best parts of a Western, sci-fi, mystical horror epic and throws in the literal Four Horsemen of the Apocalypse as main characters. They need a comic where Death himself has betrayed the other Horsemen and rides a pale (robotic) horse as he fights against the (contentiously) allied factions occupying North America as he tries to find his only son.
They need East of West.
Written by Jonathan Hickman with seriously moody art by Nick Dragotta (and amazing colors by Frank Martin), East of West is a stunning visual tale that drops you in the middle of a densely layered world on the edge of the End Times. It's not afraid to be sparse where it needs to be, darkly humorous when you least expect it, and always riveting. Volume 1 is just $6 on Amazon, but you'll want to pick up at least the first three collections, otherwise you risk your recipient being mad at you for giving them only a taste of the tale.
What other gifts for comic book lovers do you recommend? Find all of our gift lists here.