This content contains affiliate links. When you buy through these links, we may earn an affiliate commission.
I spent the last few months of being ten dropping a ridiculous amount of hints that I wanted—no, needed—R.L. Stine's Fear Street books for my birthday. Even now, I can't think of a better way to usher in the tween years than hiding in the closet, flashlight in hand, anxiously awaiting to discover who put the needle in Reva's lipstick (it was exactly who I suspected). I can still feel the flimsy edges of the wrapping paper tearing beneath my fingers as I opened the Fear Street box set and realized I had endless hours of suspense and escapism wrapped in one beautiful package.
My favorite gifts have always been books. I can't help but smile when I recall the revelation of opening flaps and actual envelopes in Janet and Allan Ahlberg's The Jolly Postman. I mean, who needed Barbie when books could have accessories? And, just last year, the absolute delight I felt brought tears to my eyes when my husband–whose previous gift ideas included: a life-size wall decal of Reggie Bush (I don't watch football) and a cat charm bracelet (I don't like cats)—planned a weekend getaway just so I could visit a used bookstore I'd once mentioned.
Books have always been the best gifts I've received. So, for me, books are also the best gifts to give.
My son's teacher, a new mom and voracious reader, expressed that making time to read had been put on the backburner and she'd missed most of the new reads of 2017. I wanted to go beyond recommending books I loved and decided to create a gift tower of my favorite reads. By this point you've probably already read the books I opted to gift, or at least have them on your "to-read" list, so I won't give you a repetitious summary, but I will give you the lines of each novel that served as hooks, daggers, or anchors for me.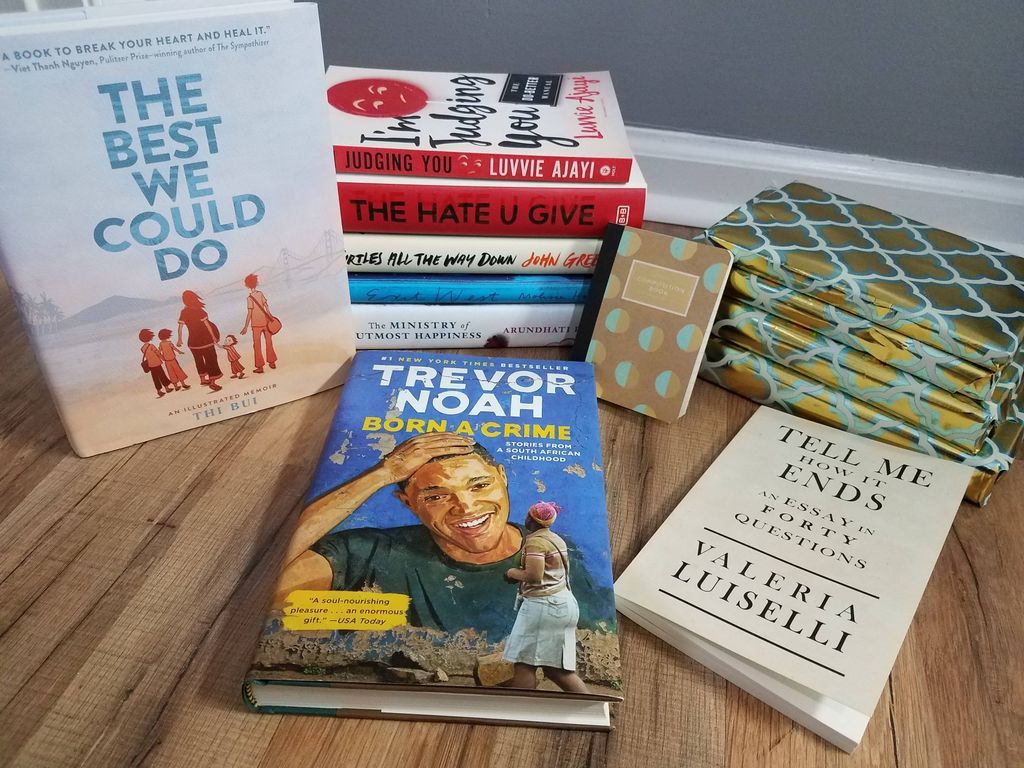 Tell Me How It Ends: An Essay in Forty Questions by Valeria Luiselli
"It is perhaps not the American Dream they pursue, but rather the more modest aspiration to wake up from the nightmare into which they were born."
The Hate U Give by Angie Thomas

"It's also about Oscar.
Aiyana.
Trayvon.
Rekia.
Michael.
Eric.
Tamir.
John.
Ezell.
Sandra.
Freddie.
Alton.
Philando."
Turtles All the Way Down by John Green
"…and for a few or many minutes, you feel the shivering jolt of the tension easing, the relief of giving in to the lesser angels of your nature."
I'm Judging You by Luvvie Ajayi
"I am, however, challenging people to not stay silent as the world crumbles. You do not have to yell. Even a whisper of truth matters in an echo chamber of lies."
The Ministry of Utmost Happiness by Arundhati Roy
"It infused everything with a subtle sense of stagnancy, a sense that everything that happened had happened before. That it had already been written, sung, commented upon and entered into history's inventory. That nothing new was possible."
Homegoing by Yaa Gyasi
"A little black child fighting in her sleep against an opponent she couldn't name come morning because in the light that opponent just looked like the world around her. Intangible evil. Unspeakable unfairness."
Leavers by Lisa Ko
"So I'd grown up eating my words, and it wasn't until later that I realized how many had gotten backed up inside me. In the factory dorm, sentences spilled out of me like a broken faucet, and when I moved even further away and saw children splashing into rivers spurting from fire hydrants, water pouring into the streets like it was endless, I would see my younger self in that hydrant, but tugged open, a hungry stream."
Marlena by Julie Buntin
"Tell me what you can't forget, and I'll tell you who you are."
Exit West by Moshin Hamid
"Perhaps they had grasped that the doors could not be closed, and new doors would continue to open, and they had understood that the denial of coexistence would have required one party to cease to exist, and the extinguishing party too would have been transformed in the process, and too many native parents would not after have been able to look their children in the eye, to speak with head held high of what their generation had done."
We Never Asked for Wings by Vanessa Diffenbaugh
"The birds had been given everything they needed. A home in the thin, pure air: a moment of weightlessness, a reprieve from the gravity of life."
Born a Crime: Stories from a South African Childhood by Trevor Noah
"Revenge truly is sweet. It takes you to a dark place, but, man, it satisfies a thirst."
The Best We Could Do by Thi Bui
"What has worried me since having my own child was whether I would pass along some gene for sorrow or unintentionally inflict damage I could never undo."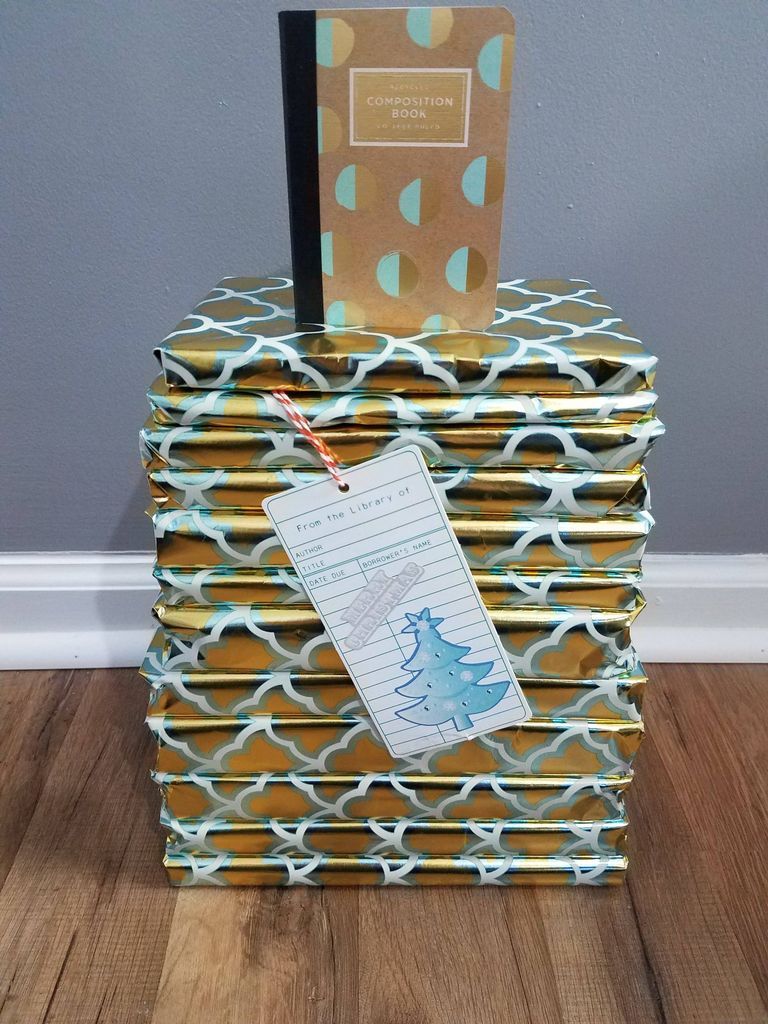 There are endless possibilities to making this gift unique to the recipient. I have one friend who would prefer the books to be used and worn while another would be giddy over a Harry Potter themed book tower. And, I may know someone who would be in the happiest of hysterics over an R.L. Stein Fear Street gift tower (hint, hint).