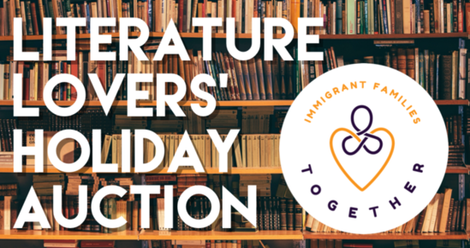 Literary Activism
Best Holiday Gift Ever: Their Name in a Favorite Author's Next Book
This content contains affiliate links. When you buy through these links, we may earn an affiliate commission.
Still looking for the perfect gift for a book lover? Seven bestselling authors are offering a gift your recipient will never forget: a character named in your loved one's honor in their next novel.
It's true! The Literature Lovers' Holiday Auction, open through December 20, is auctioning off the opportunity to have a character named in your (or your loved one's) honor. Proceeds will benefit Immigrant Families Together, an all-volunteer group working to reunite families separated at the border by the Trump administration's policies. An awesome gift AND a donation to an organization doing good? Best. Gift. Ever.
Here are the seven authors participating in the auction, along with some of their previous works:
Your friend will be like:
And if $300+ is a little too pricey for your bookish friend, the auction has some autographed titles up for grabs too. Here are the signed books open for bids, starting at $50 each:
Check out the Literature Lovers' Holiday Auction before December 20 for more info. If you'll excuse me, I'm off to spend all of my money to get my name in a Celeste Ng book.
---
Check out more gift ideas in Book Riot's 2018 Holiday Gift Guide.