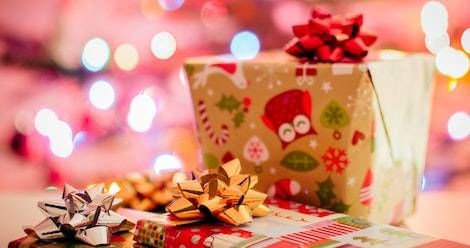 This content contains affiliate links. When you buy through these links, we may earn an affiliate commission.
If you're like me, you're a little behind on your holiday shopping. Okay, I lie. I haven't started yet. Don't pretend. I know some of you out there are in the same boat. It's all right. Everything will be okay, I promise. This is the voice of experience speaking. (I probably shouldn't admit this in public.) Anyway, I wanted to help my fellow last-minute shoppers, but there are tons of gift guides out there—some of which you can find here on Book Riot. So how can I contribute? Then, it occurred to me: a list of gift ideas for manga lovers.
I don't know what it is, but my non-manga reading friends tend to flounder when it comes to giving manga-related gifts. Again, it's all right. The manga world can be intimidating: so many titles to choose from and so much merchandise to sift through.
So here, I present some suggested gift ideas for manga lovers to get you started.
A Crunchyroll subscription
Crunchyroll is better known as an anime streaming site. In my opinion it's the best one, but I know Amazon and Netflix are currently joining the fray and sending the landscape into flux. But what makes the Crunchyroll subscription worth it is that you get access to a huge library of manga. It's a lesser known perk, which is a shame because the library includes titles like the acclaimed A Silent Voice, the original manga for the currently airing anime Inuyashiki, and the bestselling Attack on Titan. In fact, you can even read the latest chapters of series like Attack on Titan mere days after they're released in Japan.
A Weekly Shonen Jump subscription
If your friend loves a smaller number of manga titles, then maybe Crunchyroll is overkill. Maybe they love action series like My Hero Academia and One Piece. In that case, perhaps a subscription to the English edition of Weekly Shonen Jump would be more appropriate. Weekly Shonen Jump is, as the name suggests, a weekly anthology magazine that serializes some of the biggest shonen titles in Japan. Subscribers get access to the most recent chapters (legally), and what manga lover doesn't want to stay up to date on current series events?
Boxed sets of their favorite manga series
This requires a little more research but if your friend's a manga fan, it shouldn't be that hard to convince them to talk about their favorite series. North American publishers often collect some of their biggest titles into boxed sets, featuring fresh, eye-catching packaging. The Death Note boxed set is a prime example. I even suggest looking at the classics. Kodansha recently released a 35th anniversary box set of the seminal science-fiction manga Akira. There's no guarantee your friend's #1 favorite series will have a boxed set, but there's a good chance there is a boxed set of something they really like.
Let's say your manga-reading friend has dreams of drawing their own comics. If that's the case, you could give them some new markers and pens. Traditional artists always love those. If they work digitally, maybe new software or brush tips for their stylus. But in terms of reference material, I recommend this guide by Hirohiko Araki, the creator of the long-running fan favorite, JoJo's Bizarre Adventure. Because who wouldn't want to read an instructive guide penned by someone who's been in the industry for decades?
If your friend is that rare breed that likes both Japanese comics and self-help books, then I suggest this lovely manga. It is, as you can guess by the title, a manga guide to the Konmari Method, but told in story form. Speaking as a manga lover myself, I can always use some help with decluttering and learning to let go of items that I no longer need nor serve me.
And there you have it; some gift ideas for manga lovers. Do you have any suggestions for the manga-loving readers out there? Mention them in the comments.