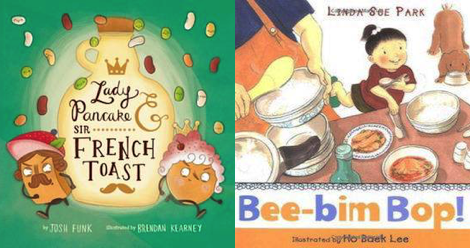 Gift Guide: 11 Picture Books You Will Want to Read
Reading picture books with children is a delight. It's a moment of beautiful bonding, no screens, just funny voices and fantastical stories.
Except when the book is a dud. Maybe the text is awkward and not easy to read. Maybe it's not catching the kids and you can feel their attention drifting. Maybe the pictures are just a bit strange and you all feel a little sour after reading it.
Whatever the reason, here are 11 picture books that you and your kids will both clamor to read. Road-tested books that hold up, these books have creative storytelling, vibrant art, and engaging characters!
Lady Pancake and Sir French Toast are two friends who live in the refrigerator. When word reaches them that there's only one drop of syrup left, they race each other to get to it. The adventure leads all over the fridge in a hilarious rhyming scheme about leftovers and crisper drawers. At the end is a fold out map that my kids love to open and re-trace the routes of Lady Pancake and Sir French Toast.
I love giving wordless books to kids who are around two and three who may not have the patience to listen to a full story. Becker's trilogy is full of detailed images and imaginative stories that wiggly kids can jump into on their own, following along in the pictures. A lonely girl finds a magic pen/crayon/marker that allows her to open a door into a magic land. Kids can also "read" it to their adults, which builds important reading confidence for kids.
Again! by Emily Gravett
This book is so meta. A little dragon wants their adult to read them a book about Cedric the Dragon, who won't go to sleep. The little dragon shouts "Again!" at the end of each reading, as the adult gets more and more sleepy. Until, little Cedric loses his temper. The art is lovely, the rhyme is fun, and the main story only has one word ("again"), so very little ones can follow easily. Just be prepared to read it "Again"!
CJ and his grandmother take the bus across town every Sunday afternoon. CJ asks his grandma why they don't have as much. The art is beautiful, CJ's grandma is delightful and positive, and CJ's experience is that of a child making friends where ever he goes. It offers an easy way to talk about disparity and privilege and ways to be giving in our own communities.
Princess Pinecone is a warrior (with what appear to be parents in a mixed-race relationship) and for her birthday receives a farting cross-eyed pony instead of a magnificent warhorse. Being grateful and making the best of her gift, Princess Pinecone trains her steed and they compete in the big battle. She finds that there are many sides to warriors and that cuteness is as valuable as strength. Also, flatulence humor always hits with little kids.
Some kids are just pink and princess obsessed. My approach is to lean into it and find books that are awesome, as well as pink and princess-y. Here, four fairy tale princesses switch into each other's stories. Snow White wants some alone time, Rapunzel wants to party, Cinderella wants to nap, and Sleeping Beauty wants some company…which she finds at Snow White's house. Ultimately, they each find that they prefer their own lives, but with a few boundaries.
Red is the story of a blue crayon in a red wrapper. He tries his best to be a red crayon, but he just cannot do it. This book is ultimately about accepting ourselves, despite the expectations others may have about who we are. But with writing implements and stationary as the stand-in.
This book has one of the best bouncy rhythms. It never fails to get little bodies jumping and up and down shouting, "hungry, hungry, hungry for some bee-bim bop!" Maybe "hungry, hungry, hungry" is what small children are always thinking. This book also includes the author's family recipe for bee-bim bop, which has become a popular dinner with my fussy eater.
If you are looking for a Cinderella retelling where Cinderella has a little more agency and loses her magic sprocket wrench, then look no further. Cinderella and the prince are a mixed-race couple, until she tells the prince that she's far to young for marriage, but takes a job as the Royal Mechanic.
Ok, so literally not a picture book but it is hugely popular with my kids. And with my husband who makes all the goofy sounds in silly voices. What I particularly like is that every person will read the sounds in a slightly different way, because they aren't standard words.
If there is one thing kids love, it's watching someone else behave badly. Also, they love desserts. In this story, a rude cake gets his comeuppance when a giant and gentle cyclops mistakes him for a hat. The cyclopses are polite and delightful, and the rude cake decides that being a mean bully isn't actually the way to be
For more picture book gift suggestions, check out Karina Glaser's "Children's Book Gift Giving Guide: Picture Books" to find 2017 releases.