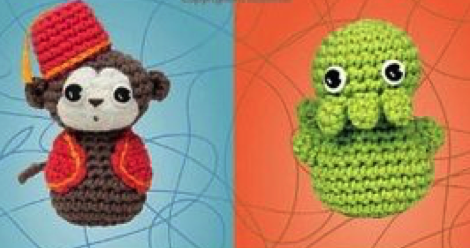 Crafting
Get Crafty: 10 Excellent Arts and Crafts Books For Kids and Adults
This post on arts and crafts books for kids and adults is sponsored by Out of the Box by Jemma Westing.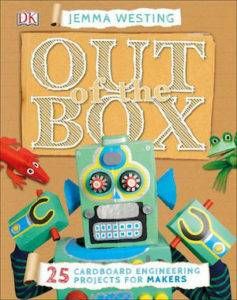 Learn to build 25 interactive cardboard model projects that engage kids' creativity and "out of the box" thinking skills through hands-on learning and the application of science-based principles.
Supporting STEAM education initiatives and the Maker Movement, Out of the Box is filled with kid-friendly paper engineering projects. From small-scale gifts to large constructions, author and award-winning paper engineer Jemma Westing uses clear, step-by-step instructions and inspirational images to show kids how to make dinosaurs, masks, race cars, and so much more from just recycled materials, including cardboard rolls and boxes, so all the supplies are easy to find right at home.
---
During my bookselling career, many crafting trends — both for kids and grown-ups — came and went. There was Rainbow Loom. There was (and still is, and always shall be) all things LEGO-related. There was the brief moment t-shirt art was cool again, and stacks of clay jewelry books to be returned. But a few arts and crafts books had staying power, and a few were personal favorites even if no one wanted them anymore. Dagnebit, I was going to try to sell them anyway! So it is with great pleasure that I inflict upon you, I MEAN, recommend to you the below arts and crafts books, starting from the littlest crafters and working our way up in skill level (and, occasionally, irony).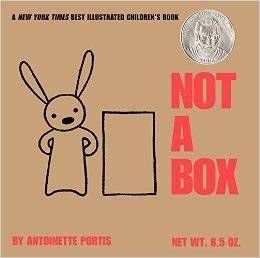 Not a Box by Antoinette Portis
"What!" you say, "This is not a crafting book!" And I say to you, it is not a crafting book in the same way that that is not a box. This wonderful board book takes the simplest of objects, combines it with the simplest of artistic styles, and asks you to reimagine your whole world. If you want to encourage imagination and fun in kids (and what else is crafting for?), this book is a must-have.
Ed Emberley's Complete Funprint Drawing Book by Ed Emberley
My cousins are significantly younger than I am, which tended to make family holiday gatherings tricky when I was a teenager. Too "cool" (and young) to hang with the adults, too old (and "cool") to hang with the kids. But I liked art, and they liked messes, and so thumbprint art got us through. All you need, really, is some ink or paint and some paper and crayons, markers, or pens, but Ed Emberley will give you the deep dive into the artform. While there are words, the pictures are fun and clear enough for pre-literate artistes, and before long you'll have plenty of masterpieces for your fridge.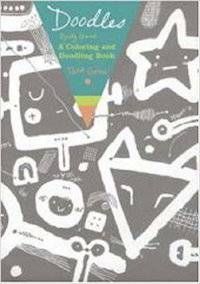 Doodles: A Really Giant Coloring and Doodling Book by Taro Gomi
For those ready to move beyond thumbprints in their artistic career, Taro Gomi is the best next step. Doodles is, as the title suggests, REALLY giant. And where other coloring books may give you some dots to connect and let you pick your color scheme, Gomi involves you not only in adding onto the pictures, but helping tell the story. Any kid would enjoy scribbling in this one, but early readers can read along and complete the missions they choose to accept.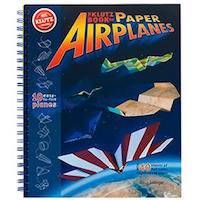 Klutz Book of Paper Airplanes by Doug Stillinger
I also have nephews, and am constitutionally incapable of buying them anything but books. And while they are both excellent readers and loved the picture books I sent them, every Christmas I tried to send them something a little more activity-focused. And paper airplanes are a delight — especially if you've got a staircase with a banister you can chuck them off of (which, as you might have guessed, they do). Littler fingers may have trouble with some of the more advanced folds, but that's what older siblings and/or grown-ups are for. In addition, you get a bunch of really beautifully patterned paper that you can do anything with — whether its airplanes, origami, scribbling, or whatever most suits your crafter.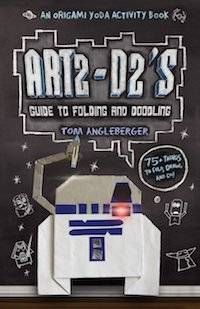 Art2-D2 by Tom Angleberger
Speaking of things my nephews are obsessed with! They already had every Star Wars-branded book in existence, so imagine my glee when I stumbled across the Origami Yoda series. Perfect for kids who are ready for chapter books, it's both a story about other kids who love Star Wars and an encouragement to make your own origami! Paper-crafting is my favorite (as you will notice throughout this list) because it's so simple and the supplies are so accessible. And this Yoda is very achievable — I once saw Angleberger guide an entire ballroom full of people through it in less than a minute, from a stage. There are six books in the series, and all of them are great. This one's a companion activity book, and while you don't have to have read the others (starting with Origami Yoda) to enjoy it, you definitely should.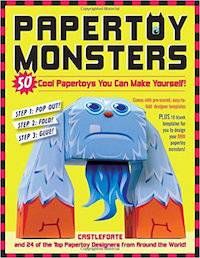 Papertoy Monsters by Brian Castleforte
I adore monsters. Who doesn't?! And these monsters are ready to pop off their pages (no scissors required) and become part of your decor. Glue is occasionally required, and the crafter in question needs enough reading skills to insert tabs and attach pre-labeled numbered bits to other numbered bits. This is both awesome — the authors have done most of the work for you — and a little sad when you've done every monster in the book. But the results are wonderful! You could have a whole menagerie of monsters in an afternoon. True story: one year my roommate and I decorated our Christmas tree with these.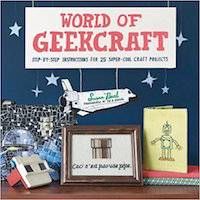 World of Geekcraft by Susan Beal
Are your nerdy interests broad-ranging? Have you always wanted to try different kinds of crafts but didn't know where to start? Do you have some supplies (or can acquire some) and can you follow instructions and not stab yourself (too hard) with pins? Then this is the book for you. Ranked in order of ease from Not A Jedi to Warp Speed, it will have you making magnets, custom coffee sleeves, tribbles, mobiles, and much more. Gluing, sewing, beading, painting; there are a huge range of techniques, and step-by-step instructions for all of them. The danger here is how quickly your living space will be filled with geekery — you might want to make sure you have some friends to gift them to!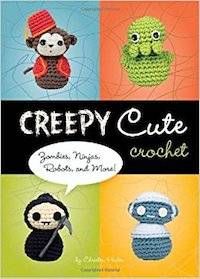 Creepy Cute Crochet: Zombies, Ninjas, Robots, and More! by Christen Haden
I wasn't quite sure where to put this one in the line-up; my great-aunt taught me to crochet when I was around 10, but I certainly couldn't have done it without her around to help me sort my stitches. And then I forgot how to do it within a week. Anyway! While the instructions are meant for beginners, Creepy Cute Crochet isn't going to teach you how to crochet from scratch. (Happily, there are tons of YouTube tutorials for that, if you don't have a yarn shop with friendly staff handy.) What it will teach you is how to make the most creepily adorable amigurumi you have seen. Who among us has not wanted our very own Nosferatu to cuddle, I ask you!? They have also helpfully ranked the difficulty level, so if you're wanting to start out easy — or dive directly in — you can tell which projects are your best bets.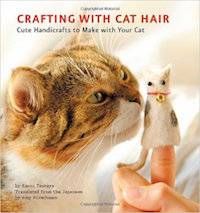 Crafting With Cat Hair by Kaori Tsutaya, translated by Amy Hirschman
I will never forget the Christmas at the bookstore when we could not keep this in stock. We initially ordered in five as a joke and were pretty sure we'd have to send them back. Who would buy it? Everyone, it turns out, all the way through New Years. It was bought by people ironically. It was bought by people genuinely, who thought their weirdest-cat-loving friend just had to have it. It was bought by people who I am pretty sure bought it just to marvel at it. In case you're wondering, the author is 100% sincere about the subject, which I find incredibly endearing and also a little mind-boggling. While the craze may have passed, I still can't help but light a candle for one of the most unexpectedly popular, weirdly specific books I ever had the pleasure to shelve. If you've ever wanted to try felting with your furball's hair, this one is for you. If you've ever thought "I could make a whole other cat out of this mess," well, here are some patterns!
BiblioCraft by Jessica Pigza
Do you have more books lying around than you know what to do with? Do you wish you had more book-inspired things in your life? Then you are my kind of person, and you need Jessica Pigza's excellent BiblioCraft. She talks about not only drawing inspiration from books — libraries in particular — but gives you a great assortment of different projects that will evoke your love of books. There's a huge range: totes, dresses, stationery, embroidery, coasters, and more. Pigza worked with other crafters, her mom's old crafting books, and her own knowledge as a librarian to put together this gorgeous book, and the result is well worth your time.
What are your favorite arts and crafts books? Get even more of your bookish craft fix here.