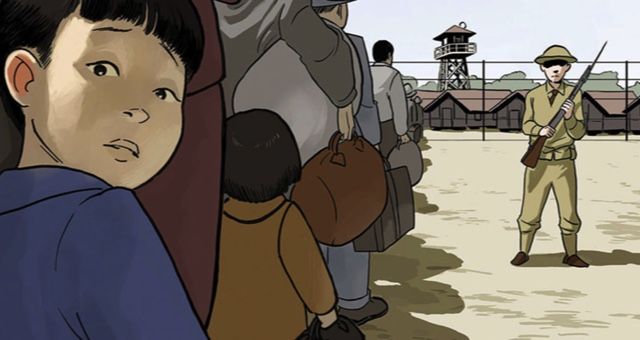 This content contains affiliate links. When you buy through these links, we may earn an affiliate commission.
Although understandably booked at San Diego Comic Con with two book signings and a panel, George Takei took time out to speak with me about his latest project.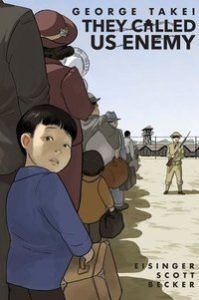 After finally being released from America's unjust incarceration camps, young adult activist George Takei met two of his heroes, Dr. Martin Luther King Jr. and Eleanor Roosevelt. I felt the awe he must have felt that day when I met him to talk about his graphic memoir They Called Us Enemy.
Although categorized as a graphic memoir, to me this is a history book which should be taught in every history class across America. Like Takei's wise father states in the book, we have to learn the difficult history of the U.S. so we don't repeat the same mistakes.
Thankfully, Takei is able to relate the mistakes we are making today with those that were done to his Japanese American community only 70 years ago, specifically the Muslim travel ban. I thanked Takei and his fellow Japanese American community for bravely supporting Muslim Americans and CAIR (Council of American Islamic Relations.)
I told Takei and his honourable creative team how meaningful the illustrations of Hijabis in the book were to me. Having such a beloved and successful icon like Takei highlight the struggles of oppressed Muslim Americans meant everything to me. Especially since, after 17 years, I reluctantly took off my Hijab (I still sport hats/caps) because of too many physical and verbal attacks.
While co-writer Justin Eisinger and gifted illustrator Harmony sympathized with me, Takei challenged me, "What is the Muslim American community doing to help oppressed Muslims?" I did not expect the interview table to be turned on me. I have been perfectly comfortable playing the victim and allowing fellow American citizens and government leaders to fight for me. Takei urged Muslim Americans to be "participatory" in American politics. He noted the "progress" our country has made, since thousands of "young people, lawyers and government officials like Sally Yates" publicly denounced the Muslim travel ban, whereas the Japanese American incarceration was met with crickets. "You must be optimistic. Optimistic people are the ones who change things," he insisted.
I hold the book close to my heart, since I did not have something like this when I was growing up, but Takei emphasized the importance of impressionable children and young people reading the book, because they are the ones who will change the world for the better.
In school I learned that Japanese Americans were incarcerated during World War II, but I did not know the extent of their suffering and dehumanization at the hands of the U.S. government. The illustrations in They Called Us Enemy play a huge role of imprinting the story in my heart, especially with the incredible likeness to Takei, his siblings, and his parents through childhood, adolescence, and adulthood. Sadly, the struggle did not end after Takei and his family were released from the camp; as they worked to rebuilt their lives, they had to live on Skid Row. But rebuild it Takei did, and he went on to study acting at UCLA (go Bruins!) and become one of the first Asian American stars on television. He and other former incarcerated Japanese Americans went from victims to heroes as the United States government recognized and decorated their efforts, years later.
Tears welled in my eyes as I wrote this post, and I was also emotional while I read They Called Us Enemy. But it's necessary reading for us in order to humanize the oppressed people around the world. Whether it's Japanese Americans, Muslim Americans, indigenous people, Uyghurs or South American migrant children, we must acknowledge oppression immediately and fight it.
Although I reluctantly left Takei's presence (after asking for his autograph and a photo!) I definitely left with my head held higher and a song in my heart. I was blessed to meet one of our kind civil rights activist of today, who turned his family's turmoil into empathy and strength, and I vow to share this message with my community.