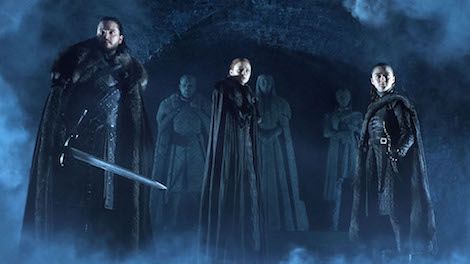 Critical Linking
George R.R. Martin Wishes He'd Finished The Books Before The End Of GOT: Critical Linking, March 12, 2019
Sponsored by our What's Up in YA Giveaway of a $100 gift card to Amazon! Enter here.
---
Going into the final season of Game of Thrones, we know the HBO series is going to end things differently than George R.R. Martin's A Song of Fire and Ice books, if only because they've changed a lot already over the last two seasons. Plus, Martin hasn't finishing writing The Winds of Winter yet, which is only slated to be the second-to-last book in the series. But still, Martin had rough plans for how the book series would end, which he shared with Game of Thrones creators Benioff and Weiss, and their ending will come out before his does. Martin told EW he has "mixed feelings about that," saying, "Obviously, I wished I finished these books sooner so the show hadn't gotten ahead of me. I never anticipated that."
At least the Game of Thrones creators aren't going to reveal how it's different from Martin's planned book ending.
---
Elton John is ready to tell his story in his own words in an upcoming memoir set to be released in October 2019.
"My life has been one helluva roller coaster ride and I'm now ready to tell you my story, in my own words," the singer said in a video posted on his Twitter account.
Described as his "first and only official autobiography," Sir Elton's memoir will hit bookshelves in October.
Will blast "Tiny Dancer" while reading.
---
Americans are spreading their book consumption across several formats, and the use of audiobooks is rising.
About three-quarters (74%) of Americans have read a book in the past 12 months in any format, a figure that has remained largely unchanged since 2012, according to a Pew Research Center survey conducted in January. Print books remain the most popular format for reading, with 67% of Americans having read a print book in the past year.