Literary Fiction
Genre Kryptonite: Tortured Artists and the People Who Love Them
I tend to hardcore eye-roll when a novel is about a novelist and a screenplay features a screenwriter as a protagonist. I just think, "Oh, you're a novelist and you have no other life experience, so that's all you know how to write about." I know this is judge-y and probably not fair, but I don't know what to tell you guys, my brain is judge-y and definitely not fair.
Of course there are exceptions to the rule: Adaptation is a brilliant film about a screenwriter, Wonder Boys is a first-rate novel about a novelist. The exceptions are few and far between for me. That said, when a novel is about ANOTHER kind of artist, I'm in it to win it. I love exploring different artistic mediums through fiction. And if the artist in question is a TORTURED artist? I'm going to eat that book up with a spoon and a fork.
Below, a few favorites of this sub-genre:
The Great Man by Kate Christensen
If you are a fan of modern life observed with an eagle's eye and you're not reading Kate Christensen… you have a bunch of really fun weekday nights and weekend mornings ahead of you. The Great Man is a super place to start with this author. The novel opens with the obituary of Oscar Feldman, the "Great Man," a recently deceased painter renowned for his portrayal of the female body. When two rival biographers find themselves in a race to document the painter's life, they entrench themselves in the lives of the three women closest to Feldman, his wife, his longtime mistress, and his sister, an artist in her own right who never herself achieved her brother's level of success. The next time you've gone through eight novels without getting past page 40 and all you want is to start a book you know will be great… pick this bad boy up.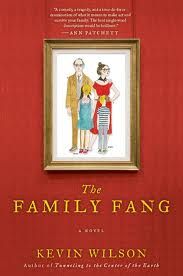 The Family Fang by Kevin Wilson
I did not read this novel for the longest time because I thought it was about vampires. I know, Googling this book for two seconds would have cleared all that up, I know assuming only makes an ass out of you and me, I know, I know, I know you guys!
This book is about something so much better than vampires. Hush, Twi-Moms, open your hearts, you will find it is true.
Caleb and Camille Fang are stunt-oriented performance artists, creating spectacles in public places. When they become parents, they usher their children Buster and Annie into the family business. Never sure whether they are their parents' children or props, the kids grow up with mad issues. As the novel opens, Annie is a movie star with a floundering career, and Buster is a stunt journalist whose most recent piece almost got him killed. When the kids come home to escape their crumbling lives, they discover their parents are planning one last performance art piece, the piece that very well may once and for all destroy their family. Absorbing, moving, and darkly funny, Family Fang reinvents the literary dysfunctional family.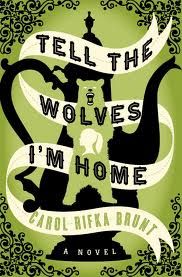 Tell The Wolves I'm Home by Carol Rifka Brunt
I JUST finished this wonderful debut novel and am so psyched to add it to this Genre Kryptonite canon. The year is 1987, and oddball teenager June has just lost her closest friend, her Uncle Finn, a renowned painter, to AIDS. When Finn's partner Toby makes contact, June finds herself becoming unlikely friends with the great love of her uncle's life. Just one of the most intelligent and compassionate stories about grief I've read in quite some time. Also, a great exploration of family dynamics and generations. And the way Finn's art works itself into the story is just the most fun. READ!
So what do you have for me, friends? Any novels about tortured artists and the people who love them I need to read ASAP stat right now?