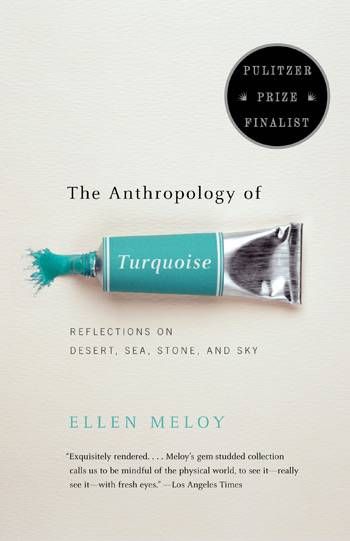 Fiction
Genre Kryptonite: I've Got the Blues
This is a guest post by Alison Peters. Alison surrounds herself with books, green things, animals and love. A Creative Writing M.F.A. holder with a day job that shall not be named, Alison is also working on a Masters in Library and Information Science. Currently cohabitating with her partner in the Northernmost outpost of San Francisco's East Bay, she spends her spare time exercising her big dog so he won't get annoyed with her, reading everything she can get her hands on, and then writing about it all.
_________________________
My genre kryptonite is seasonal. If you ask me, come December, what genre I cannot resist I will gush about a comfort series like Harry Potter, or the excellent mind-fluff of Rhys Bowen's Her Royal Spyness mysteries. Apparently, I go British when the temperature drops. But right now it's hotter than a Stevie Wonder song, and so when my four-year-old niece asked my favorite color-at the same time as I was trying to get to the bottom of my true genre weakness-I immediately responded 'blue!' And suddenly the question opened up like the sky after rain, and I knew what I had to do: create my own genre.
Presenting the Blue Genre Trilogy: three books I love that pay homage to my favorite color, that meditate on its many hues, its coolness and vibrancy, its association to our senses, how we interact with it through history and how it informs us, how blues make us feel. All three are collections of essay/memoir/short story, and as so are excellent summer picks for the discerning reader on the go (or in between naps). Dive in.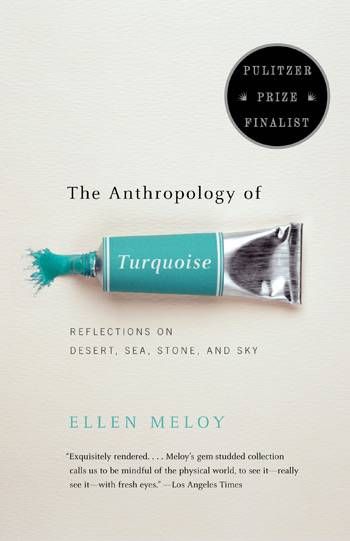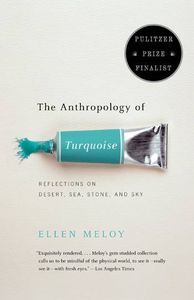 Ellen Meloy's The Anthropology of Turquoise: Reflections of Desert, Sea, Stone and Sky, is a dream for biblio as well as blue-o-philes. This is a book I bought simply for its title and cover art, (I am in vehement opposition to the old "don't judge a book" adage: people-no, books-absolutely!) and I return to Meloy every so often, as a reminder to slow down and really experience my surroundings. Through mesmerizing essays on everything from crayons to gemstones, Meloy traces turquoise trade routes from Persia, where the ever-changing stone (is it blue? is it green?) was noted as a pacifier; to Egypt, where words for water and turquoise are interchangeable; to her very own turquoise ring gifted by her brother, as the healing and protective properties of turquoise are only active if given, not bought. But let's be real: Meloy had me at the swimming pool. Like myself, a native of Pasadena, CA, Meloy empathizes with my love-love relationship with the traditional rectangle of captured water, understands that "a swimming pool is golden state furniture", a California totem, a small, inverted island of peaceful blue. Hot tub, swimming pool, lake, river, ocean: Meloy captures my sentiments exactly when she writes, "the human body needs the embrace of water." Regardless of the season, I couldn't agree more.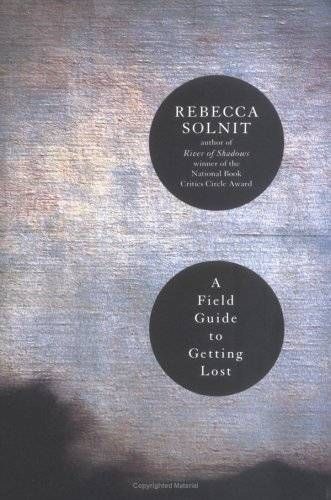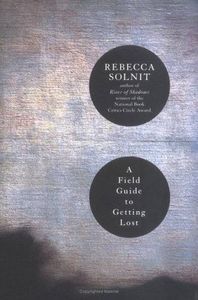 I picked up A Field Guide to Getting Lost in book lover's heaven (a.k.a. the Strand), and used it as my de-facto Manhattan wandering companion while on vacation to the island in hottest, most humid summertime. Imagine my delight to discover that every other chapter of Rebecca Solnit's memoir-as-essay is an interlude on "The Blue of Distance". "Blue," Solnit notes, like Meloy before her, "Is the color of longing for the distances you never arrive in." But this is not a melancholy book: it vibrates with beautiful stories of friendship, of family, of artists like Yves Klein, so preoccupied with the color blue that he mixed and patented his own brilliant hue, heralding a l'époque bleue, which would inform his work for the rest of his life. Solnit writes with studied abandon–you can always feel an infinitely personal touch in her work, which is mostly concerned with nature, landscape, and family–and it makes you want to be in places with her, to experience the world through her eyes. I cannot stress enough how sensual Solnit's blues can be–in the right place and time. This is not an every person or every time book, but one that will call you when you need to read it, and then you'll be glad.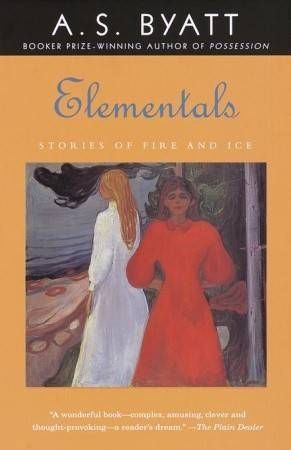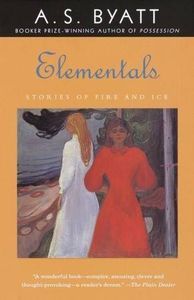 Between sweeping sagas of properly peculiar British families, A.S. Byatt graces us with short story collections, actual little glossy-covered gems to tide between larger book meals. Elementals: Stories of Fire and Ice completes my trilogy of blue books. Each story is prefaced by a corresponding work of art, and the combination makes for a virtual feast for the imagination and senses. Ok, correction: the book is not entirely blue, just one story, inspired by Matisse's Siren, a voluptuous painting of the sea vixen at her seductive best. "A Lamia in the Cévennes" is a modern-day-fairytale that will transport you from wherever ever you may be to heaven, by way of a handmade, blue tiled, artist-retreat swimming-hole deep in the French countryside. I can't spoil you with more detail than that: it's a short story, after all, and going in blind is half the fun. But I will say that wine, and apparitions, are included.
Do you have other books to add to my blues? What's your own private genre?
____________________________
Sign up for our newsletter to have the best of Book Riot delivered straight to your inbox every two weeks. No spam. We promise.

To keep up with Book Riot on a daily basis, follow us on Twitter, like us on Facebook, , and subscribe to the Book Riot podcast in iTunes or via RSS. So much bookish goodness–all day, every day.