Opinion
GENRE KRYPTONITE: Girls in Crumbling Estates
Blame it on Pippi. Early exposure to the pigtailed Longstocking and her fabulously ramshackle Villa Villakulla hooked me on stories of girls or young women in mysterious, dilapidated homes.
Following the characters through empty rooms, down creaking corridors, or into musty attics was an addictive adventure. Would they find a keepsake, hide a treasure, or reveal a locked-up family member? What could be more romantic than a solo search for something unknown? I imagined that these rooms had the woodsy aroma of a good hardware store, laced with a dusty old-book smell. Intoxicating.
In a rundown house, a heroine could rattle doorknobs and rummage in forgotten cupboards, free to explore and never knowing what would turn up. Admittedly, these scenes gratified my nosiness, my desire to discover something abandoned or to sniff out secrets. And I admired tough-minded dames like Jane Eyre, who faced that attic with total sang froid. (Though little patience for protagonists like Catherine Morland in Northanger Abbey, out for cheap thrills and shuddering over every gust of wind.)
Below are a few of my longstanding Crumbling Estate favorites. Do you have any others you'd recommend?
The Secret Garden – Frances Hodgson Burnett
The gateway drug. The children's novel sweets out toward the end, but the beginning is quite stark. Mary Lennox, candidly assessed as "disagreeable," gets abandoned in an Indian bungalow and ends up at Misselthwaite manor in Yorkshire. Misselthwaite (what a name!) is first described as about six hundred years old, with nearly a hundred rooms, mostly locked up. It's surrounded by a park whose very trees feel secretive, with branches sweeping down to the ground – and of course, there's the title garden. Great first impression of a huge, carved, iron-studded front door and a front hall with tapestries and suits of armor. From the windows, Mary gazes out onto a moor, which at first looks bleak and bare, but her maid assures her "smells o' honey."
Design Takeaway: A few dozen stern portraits will intimidate even the brattiest guest. The portrait of a girl with a green parrot on her finger sounded particularly cool. Mary also stumbles across a cabinet with a hundred little carved-ivory elephants, quite chic.
I Capture the Castle – Dodie Smith
The house may sound romantic, cobbled together between the 14th and 17th centuries, with battlements and mullioned windows. But the breezy first line blows off the dust: "I write this sitting in the kitchen sink." Narrator Cassandra talks frankly of daily life in a mouldering castle when her family's on shaky financial ground. They pump well water, put hot bricks in their beds to stay warm, sell the good furniture, and end up with odds and ends like "a chest of drawers painted to imitate marble, but looking more like bacon." Belmotte, an outlying round tower, is practically another character in the novel. "I had a queer feeling that it was more than inanimate stones," thinks Cassandra. "Does it know that it is playing a part in life again?"
Design Takeaway: Built-in window seats can't be sold out from under you. A moat's never a bad idea.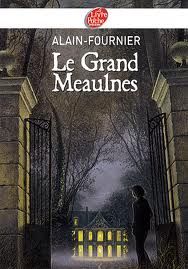 Le Grand Meaulnes by Alain-Fournier
I'm nowhere near fully understanding this dreamy early-1900s French tale, but I'm smitten with the way the girl and the house blur into one elusive desire. The title character stumbles across a country estate where a fancy-dress ball is getting underway. Meaulnes crashes the party, dancing through the masquerade, and, naturellement, falling for a girl playing a piano. Finding her is like déjà vu; he feels as though he's come home to his beloved. But after he leaves this mysterious place, he can't find it – or the girl – again. Cue the longing, the search, the heartbreak, the nutty plot…
Design Takeaway: Every home should host a transfiguring costume party attended by an impressionable adolescent.