Opinion
Genre Kryptonite: East Asian Crime Noir
This content contains affiliate links. When you buy through these links, we may earn an affiliate commission.
I've been having a challenging time this year getting into YA books, which is generally what I gravitate toward — that and non-fiction, which I've had zero issue digging into this year. That doesn't mean I haven't been reading though. Reading this year has just come in different genres, and the one I keep picking up and falling deeper and deeper in love with is the East Asian Crime Noir novel. I've always liked j-horror films, and so many of these books carry the same sort of atmosphere to them, even if they're not necessarily horror nor at all an exploration of the supernatural world.
As soon as I've put one of these books down, I've needed another one almost immediately. I say almost because these books are dark, weird, and sometimes downright gruesome. A day or two of breathing room is necessary before picking up the next one.
While there are certainly dead people in these stories, these crime novels appeal to me as a reader in a very different way than others do. They're sometimes just downright bizarre in a way that you're forced to accept as the way things are in the world; it's not an act of lazy world building or poor writing, but rather, a show of how good the writing is that you as a reader are eager to accept these things as the way the "real world" works. There's also a tension that exists in these stories — threads that are whisper thin — which make them fast, compelling, and utterly engaging.
Here's a little look at the East Asian Crime Noir novels that I've been reading this year and that I've read in the past, as well as a few on my radar to read. I'd love any other recommendations of this ilk; I'm reading only women right now, so recs that focus on female writers would be fabulous, though this particular list does include male authors.
The Vegetarian by Han King
When one man's wife — who we know from the get-go is sort of your boring, average woman with nothing remarkable about her — decides she's going to become a vegetarian, the entire family structure begins to fall apart over her choice.
Told through three short novellas, as they were originally published, Yeong-hye's descent into strangeness is explored through the perspective of her husband, her sister's husband/her brother-in-law, and finally, her sister. All three talk about what may have led her to make this decision and what the consequences of her choice is.
When I began this one, I expected it to go the way of Dumplings, a Hong Kong horror film, but it didn't. Instead, Kang offers up a story that's a really compelling and chilling and difficult exploration of mental illness and how people will choose — or choose not to — take advantage of someone who is really sick. The deliberate choice not to offer up Yeong-hye's voice is smart, as it adds an additional layer of thinking about the implications of voice and more specifically, female voices and stories and experiences. It's dark and weird and deliciously feminist.
Kang's next book, Human Acts, isn't out until January 2017 but I'm anxiously awaiting it.
(And on a shallow note, the cover is brilliant for this book).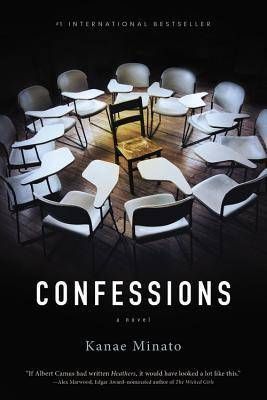 Confessions by Kanae Minato
A middle school teacher experiences the worst thing in the world: her young daughter was found dead. And perhaps the thing that makes it worse is that two of her middle school students are responsible for that death.
She's not going to rat them out to police though. She knows that because of how crime is talked about in the media, it'd be a bigger to-do than she wants and it might give one of the criminals exactly what it is he wants.
So instead, she chooses to get revenge.
Confessions is told through multiple POVs which all attempt to get to the bottom of what happened to the little girl. Who killed her? Was it an accident? Was it on purpose?
This is a story about revenge, about greed, and about the dire lengths some people will go to to seek attention and praise. Again, it's a dark, weird, and at times, utterly horrifying read — the kind of book that can make you laugh because it's so uncomfortable. When the teacher explains what her revenge was, I cackled because it was so ridiculous and terrible and absolutely set the tone of the rest of the book, making me read it straight through.
Not to mention the utterly killer ending.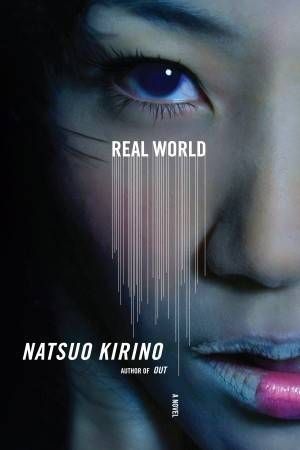 Real World by Natsuo Kirino
I bought Kirino's Out months ago, after reading the rave reviews, but rather than start with that book, I picked up Real World to zero disappointment.
What happens when four teenage girls, who are allegedly great friends, get caught up in the murder that the teen boy who lives next door to one of the girls commits? Some of those girls choose to get close to the criminal and others fear that any/all evidence might point to them being involved in the crime — even if they had nothing to do with it at all.
The four teen girls in this story kept me going, not just because of how they were choosing to relate to "Worm" (the teen boy who kills his mother), but also because they're struggling with their own teen girl issues alone and amongst themselves. Kirino did an excellent job rendered them as realistic teens; they are, at times, shallow and lacking in cognitive reasoning, but those are two reasons why the story works so well. This murder story is twisted into a bigger exploration of feminism, male entitlement, and so much more.
This book, like the two above, alternates points of view among the girls, as well as Worm himself.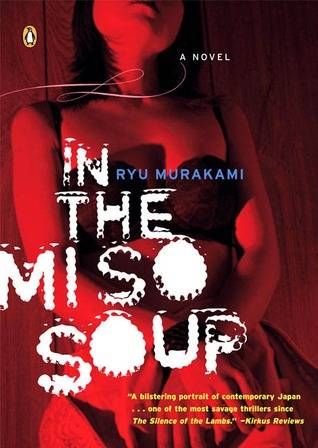 In the Miso Soup by Ryu Murakami
It has been a number of years since I read Murakami's book — which I followed up almost immediately afterward with Piercing, another enjoyable title of his — but after finishing The Vegetarian, I kept thinking about this one.
It falls under that weird, dark crime category, following a Kenji, who has been hired by an American named Frank, to show him around the streets of Tokyo. But it's not for the kind of tourism you'd expect. Frank asks Kenji to take him to the city's nightlife haunts on three consecutive nights and the more Kenji gets to "know" the person he's driving around, the more he suspects that Frank might be a serial killer on the loose.
Like The Vegetarian, this is a book about madness and mental illness on a number of levels.
Up next on my to-read in this genre: the recently-released Shelter by Jung Yun and Kirino's Out.