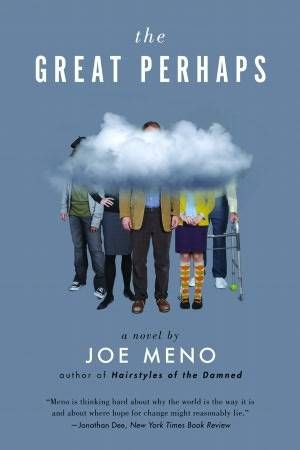 Lists
Genre Kryptonite: Dysfunctional Families (Under-the-Radar Edition)
Jami Attenberg's The Middlesteins, a heartbreaking(ly wonderful) story about a dysfunctional Chicago family, has been one of the darlings of the fall lit calendar. Woohoo, I say! I love a good dysfunctional family story, and I loved The Middlesteins. So as you get ready to spend time with family for Thanksgiving, what better time to grab a good story about other dysfunctional families?
Of course you have your Anna Karenina (unhappy families ARE unhappy in their own ways) and The Corrections and American Pastoral and White Teeth and This Is Where I Leave You. But, for die-hard fans of the dysfunctional family genre, let's take a look at a few under-the-radar books you may want to consider.
The Great Perhaps, by Joe Meno —This Chicago family is crumbling because father Jonathan can't find the giant squid he's spent his whole career looking for, and mother Madeleine is spending a disproportionate amount of time chasing a mysterious cloud. Sound kooky? It is! But it's also extremely heartfelt — and just a really satisfying novel.
The Darlings, by Cristina Alger — This timely, thrilling novel about a rich family caught in the grip of some poor (and perhaps less than ethical) financial decisions will keep you up late at night to read. Just be happy you can probably trust your family more than you can trust some of these morally bankrupt jerks.
The Believers, by Zoe Heller — This is less a novel and more a character-by-character study of a family in crisis after father Joel is felled by a stroke. Slowly, details emerge about Joel and Audrey's 40-year marriage, and it's not always rosy — nor are the lives of their children.
The Leftovers, by Tom Perrotta—When members of your family or your friends' families suddenly disappear in a Rapture-like event, well, sure, that's going to cause a bit of stress on the family relationships. As one example, Laurie, the wife of Kevin Garvey, the mayor of the small town where the novel is set, leaves to join a cult called the Guilty Remnant. This is a wonderfully inventive novel that explores how we all react to traumatic events.
Vinegar Hill, by A. Manette Ansay — This quiet, precise novel examines what happens when a soon-to-be-dysfunctional family is forced by circumstances to move in with the husband's parents, a cruel, dysfunctional family in their own right. This not exactly a joyful novel, but it's one that will definitely have you counting your blessings.
The Laments, by George Hagen — A switched-at-birth story morphs into a "just trying to fit in" theme which then winds up as a standard dysfunctional family novel. This is a fun, fast, vastly underrated read that swings us all over the globe with The Laments.
Now you — what are your favorite "under-the radar" dysfunctional family stories?