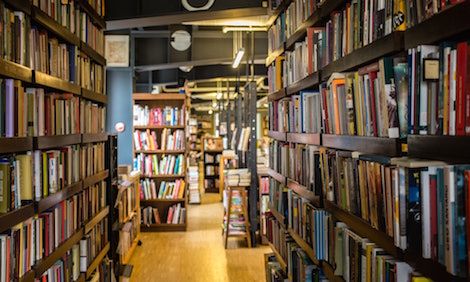 10 Genre Bookshops Around The World That Cater To All Your Most Unique Literary Obsessions: Critical Linking, May 13, 2018
Critical Linking is sponsored by Flatiron Books and The Fact of a Body by Alexandria Marzano-Lesnevich.

---
If you're a reader with a capital R, bookstores are your heaven. With shelves upon shelves of new books to check out, and often a cafe adjacent filled with coffee, tea and sweet treats, how could any bibliophile worth their weight in paperbacks not love spending a ton of time at their local indie bookshop? Of course, most of the bookstores we know of stock a wide variety of genres, authors, and age-groups to appeal to the widest range or readers possible. But did you know that there are certain shops around the world that have done away with the idea of mass appeal in favor of super niche stores that cater specifically to only one genre?
There are actually a number of special bookstores both in the U.S. and abroad that have taken this tactic and turned their shops into spaces that are dedicated to celebrating books that cover a specific subject or live in a specific genre. Are you a massive fan of romance, say, or crime fiction and have always wished that the single section in your local store could be expanded tenfold? Yeah, there's a bookstore out there just waiting for you. Check out the 10 genre bookshops below and start planning your summer travels accordingly.
I'm planning my next vacation destinations with this list.
____________________
Ah, book writing. For most people, it is not a viable (or at least not a reliable) source of income, but for the lucky and/or talented few, it can be pretty lucrative. Extremely lucrative, in some cases! Six-figure book deals used to be the gasp-worthy news in the literary world, but over the years, it's been upped to seven. But who exactly is getting paid?
For the purposes of this list, I'm limiting the field to literary fiction sold over the last ten years—mostly because it's the genre with the fewest, and therefore most notable, big-money deals (other than poetry, I suppose).
Some insider baseball in the publishing world, but a totally fascinating look at where the big bucks are going in the adult literary fic world.
____________________
For as long as we've told stories, we've told stories about curses. Often they're punishments, occasionally they're strictly allegorical, and sometimes they're just plain bad luck. But whatever their explanations, these enchantments provide exactly what we human beings long for both in literature and our daily lives — clear causes behind ruinous effects, explanations for the frightening and irrational.