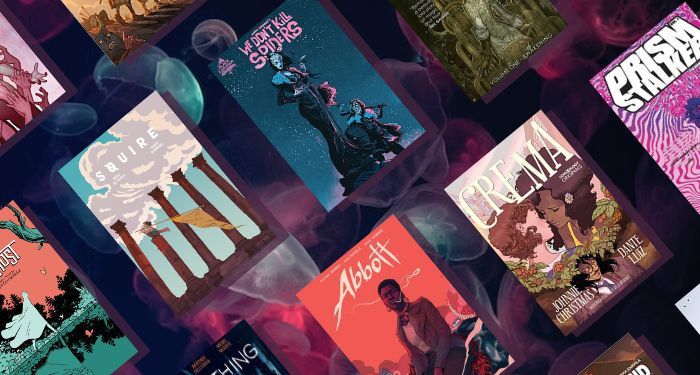 This content contains affiliate links. When you buy through these links, we may earn an affiliate commission.
I love graphic novels, and not just superhero graphic novels or sci-fi graphic novels. I love all graphic novels. No, not in the sense that I love every single graphic novel I ever read. (That would be wild. And, honestly, impressive. Not to mention my Goodreads would quickly disprove any claims otherwise.) But I love reading all sorts of genres of graphic novels, including those that defy easy categorization. In fact, I especially love graphic novels that play with genre, mixing them up and blending them together in creative ways. These genre-blending graphic novels are some of my absolute favorites from stories of epic space fantasy to SFF horror.
I could easily make an entire article out of every subgenre of genre-blending graphic novels included on this list, but since this is a bit of an overview — and not meant to be comprehensive — it's a good place to give you an introduction to various categories of genre-blending graphic novels. We've got graphic novels new and old, from historical fantasy to SFF romance, and everything in between. So, go ahead, use this as a guide to start off on a journey filled with genre-blending graphic novels. This list is only the beginning.
Historical Fantasy Graphic Novels
SFF + Horror Graphic Novels
Horror + Mystery Graphic Novels
Horror + Comedy
Science Fiction + Fantasy AKA Space Fantasy Graphic Novels
SFF + Romance Graphic Novels
Oh, not enough genre-blending stories for you? Well, we can't have that. Try these various genre twists on for size: