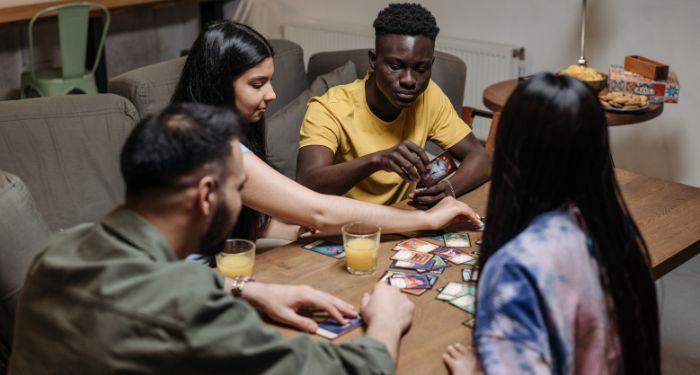 Gaming
If You Love Books, Play These Games
This content contains affiliate links. When you buy through these links, we may earn an affiliate commission.
We're all here because we love books. Seriously. What could possibly be as satisfying as adding to your own personal home library? Nothing can beat that feeling, am I right? Well, book friends, there might be one thing almost as exciting as getting a new book. And that's getting a new board game or card game to add to your own personal home game library. But you know what can make that even better? Getting a game that's all about books.
Unless you're reading with a book club or doing a buddy read, the life of a book lover is a pretty solitary existence. Board games and card games, on the other hand, are usually social activities. A great way to make your love of books more social is to grab a board game all about books to play with other book lovers. Chat about your favorite books. Make up your own stories. Collect books for your fantasy library. All of that and much more is possible with the games for book lovers on this list.
So what are waiting for? Are you ready to play some games? If you love books, then you absolutely need to get your hands on these board games and card games for book lovers.
Board Games and Card Games for Book Lovers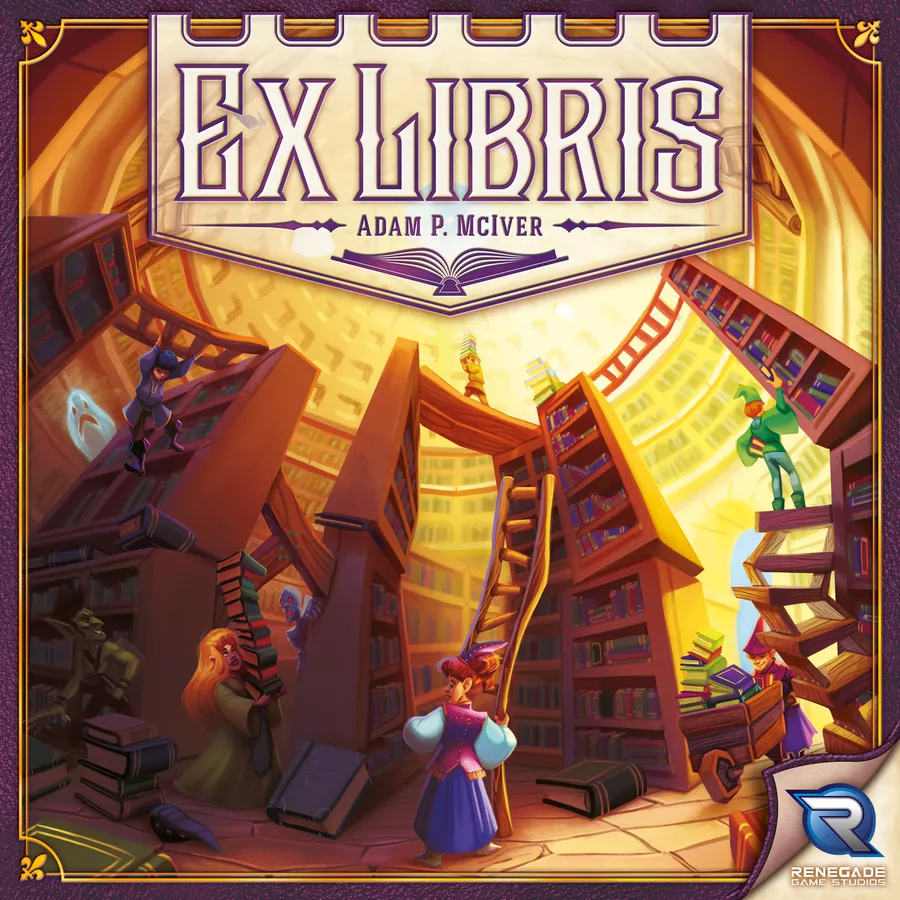 Let's just get this out of the way before we talk about anything else. I made this list specifically because I wanted to share the joy of playing Ex Libris with all of you. Ex Libris is the reason for this entire list, in other words. If you only get one game from this list, book lover, it better be this one. Especially if you're the type of person who loves collecting books as much as (if not more than) you love reading them.
Ex Libris is a book lover's dream comes true because it lets players build a library. Book lovers can compete with each other to pull together the best, most organized, and most diverse collection of books. There are lots of different ways to collect books in the game. Part of the joy is pulling together your collection. Another part is reading through all the fun book titles. There's really nothing not to love about this game. Go get it! You won't regret it.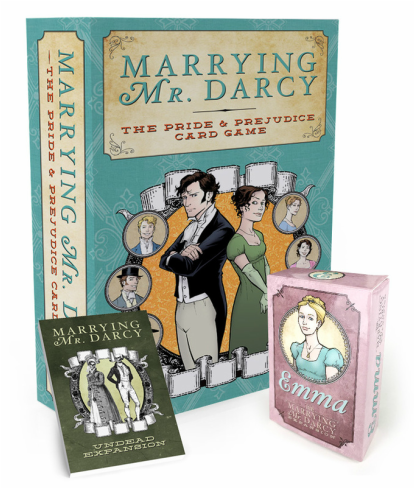 Marrying Mr. Darcy is such a fun card game for Jane Austen lovers. But even those who are not as familiar with Jane Austen's works will have fun with this funny and entertaining matchmaking game. In the original game, you play a character from Jane Austen's Pride and Prejudice. You'll dance with suitors, go to parties, sabotage your friends, and ultimately try to get a proposal. Or you can become an old maid and try to succeed by becoming a famous author. Lots of fun options here. In the expansion packs, you can add zombies to the game a la Pride and Prejudice and Zombies. Or you can switch it up and play out Jane Austen's Emma. Might there be even more expansion in our future? Fingers crossed.
Papercuts: A Party Game for the Rude and Well-Read
Papercuts boasts that it's the game that literary greats like Kurt Vonnegut, James Baldwin, and Virginia Woolf would play if they were all in a room together. Think Apples to Apples or Cards Against Humanity, but with all book-related prompts and answers. Next time you and your literature-loving friends get together for party games, break this card game out. Everyone will love you.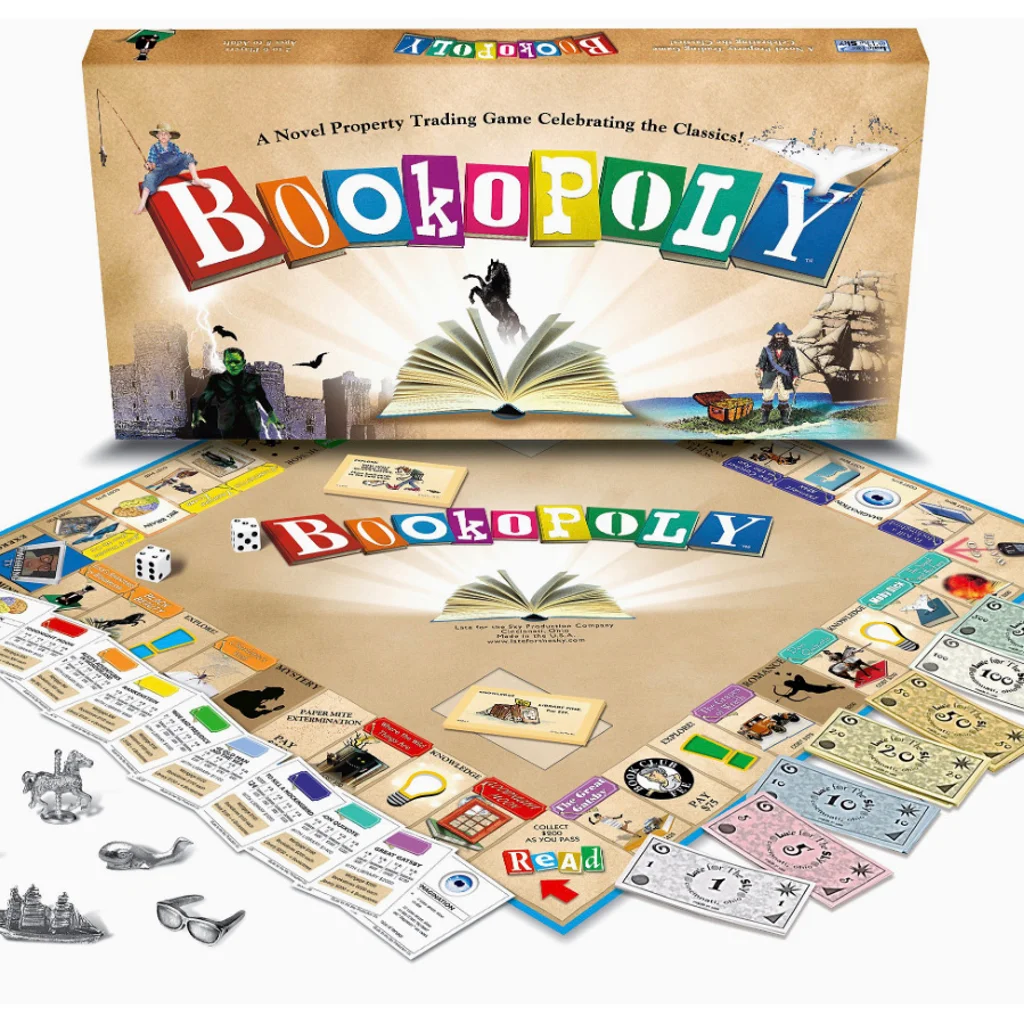 Love Monopoly but wish you could buy books instead of property? Then grab Bookopoly. The game works pretty much just like the classic Monopoly game you know and love. But this version of the game features book titles and genres you know and love.
Did you ever fudge a book report when you were in school? Well, Liebrary makes that into a game. In this game, players make up first lines for real books. Then everyone reads the first line submissions and guesses which first line is the real one. Players get points for choosing the real first line, convincing others to select their submission, and/or knowing the real first line of the book before it's revealed.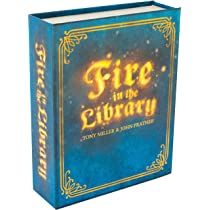 If there was a fire in your library, which books would you save? Fire in the Library turns rescuing books into a game. Players take turns risking it all to save books from a burning library and gaining knowledge and skills from the books they rescue. But be quick, because as soon as one wing of the library burns completely, the game is over.
Mystery Mansion takes a ton of imagination, but it's super fun. Playing off the Victorian craze for "myrioramas," this game includes 20 image cards that can be placed in any order to tell unique stories. The illustrations in this card are beautiful, and the instructions include ideas for several different story-telling games, offering endless gameplay with just a few cards. I played this one with my friends, and we created stories that I still laugh about when I think back on this game. So whenever you're ready to flex your storytelling muscles, grab this game and your funniest friends.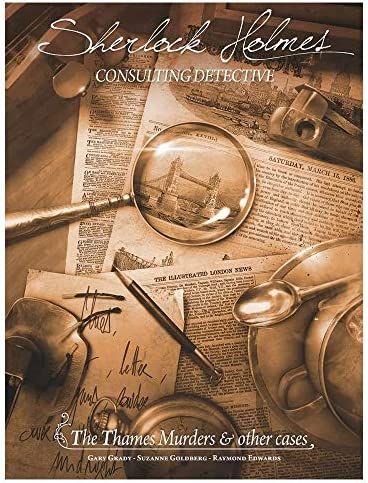 If you've ever dreamed of solving crimes alongside literature's most beloved private detective, then pick up a copy of Sherlock Holmes: Consulting Detective. In this game, you'll interview suspects, uncover clues, and use your skills of deduction to solve a crime. The game is afoot, and it's time to uncover the truth while exploring Victorian London just like Sherlock Holmes and Dr. Watson.
---
Game lovers, there's plenty more book-related activities out there for you. Why don't you tell us what kind of reader you are and get a bookish game recommendation? Or try these roleplaying games based on books.