Classics
Why Gabriel Oak From FAR FROM THE MADDING CROWD Is Your New Book Boyfriend
This content contains affiliate links. When you buy through these links, we may earn an affiliate commission.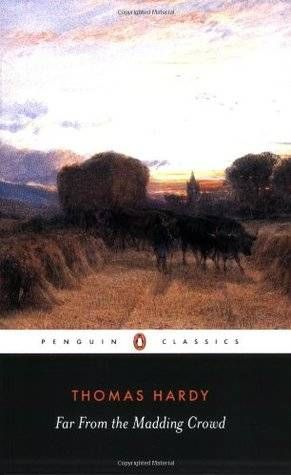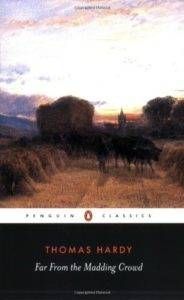 My favorite 19th century novel is absolutely Thomas Hardy's Far From the Madding Crowd. Recently made into a gorgeous costume drama starring Carey Mulligan, it is Hardy's least-depressing story and also presents the author's most layered female protagonist in Bathsheba Everdene (yes, she's so cool that Suzanne Collins borrowed her last name for Katniss). Rather than enduring a series of lethal reality show-inspired battles, this Everdene is a wealthy woman who finds herself humbled by the lives of the tenant farmers she becomes caught up in when she's suddenly made their boss.
Along the way, we meet one of literature's most swoon-worthy men in the form of the on-the-nose named Gabriel Oak. He loves Bathsheba immediately for her ferocious independence and hidden vulnerability but, a la Pride & Prejudice's Mr. Darcy, confesses his love too soon and using the wrong words. In so doing, she flees from him and into the arms of basically Pride & Prejudice's Mr. Wickham, here in the form of the mustachioed and obviously terrible Sergeant Troy. A third suitor soon comes on the scene as well, but rather than the comic relief of Pride & Prejudice's Mr. Collins, this man is Farmer Boldwood and he becomes arguably the most tragic figure in a very very very tragic book.
We first meet Boldwood as a competing farmer to Bathsheba, and she is so offended by his dismissive way of treating her that she decides to play a prank on him. In a fairly impetuous whim, she writes him an anonymous love letter. As a lifelong bachelor, she means it as a teasing joke. But the effect of this letter is life-changing for Boldwood. He has never been romantically interested in anyone before, and the feelings Bathsheba stirs in him he finds both exciting and terrifying. Shyly and awkwardly, he endeavours to court our heroine. Bathsheba is mortified.
Knowing the great respect Boldwood has within their community, and also wanting to spare him the pain of humiliation, Bathsheba tries to find a way to let him down kindly. Because this is a Thomas Hardy novel, her relationship troubles are compounded by a sudden lemming-like mass sheep suicide, the destruction of countless bales of hay by both fire and rain, Gabriel's complete financial ruin, and the death of a pregnant young woman on the moors. And then, in a twist that hurls the narrative all the way past melodrama and into heart-rending tragedy, Boldwood crashes a fancy dress ball with a gun, to disastrous effect.
This story hasn't, as far as I know, been reinterpreted into a 21st century setting. But Boldwood's actions here echo much of today's discourse about toxic masculinity, finding this previously well-balanced older man torn apart psychologically by a woman's rejection. And while Bathsheba's letter certainly started him on this path, she is not responsible for the actions he took after she had turned him down. Yet, understandably, she takes on the blame for the fallout. She began the book as a wildly confident, somewhat arrogant but resourceful person, calling upon inner strength to get past the litany of horror Hardy throws at her. But her shock and remorse at Boldwood's breakdown seems to break her entirely.
And then…enter Gabriel Oak. Remember when I said this is Hardy's least-depressing book? Here's why: because although Gabriel confessed his love too soon and Bathsheba ran away, he never stopped loving her. And his love doesn't look like the dangerous passion of Sergeant Troy, or like the unhinged mania of Boldwood; it looks like a man who respects a woman so much that he steps away when she asks him to, and helps her save her hay from rain when nobody else will. Gabriel isn't a romantic hero in the mold of others in classic literature; he's not impish like Anne of Green Gables's Gilbert Blythe, or brooding like Persuasion's Captain Wentworth, or smouldery like Mr. Darcy. Gabriel is plain-spoken and entirely without artifice, which Bathsheba first mistook as being somehow simple but comes to realize is its own kind of wonderful.
As Bathsheba's character grew through the crucible that is this book's plot line, Gabriel Oak has been just as steady as his namesake tree. He's so utterly without artifice or pretense that when the pair finally confess their feelings, he offers her his heart by saying, in maybe my all-time favourite quote from all literature, that "at home by the fire, whenever you look up there I shall be—and whenever I look up, there will be you."
Hardy's later novels wind up with their heroines mostly dead or nearly catatonic. Bathsheba went through about three TV show seasons' worth of plot twists in the course of this novel, but at the end is still entirely herself. Similar to the epilogue experienced by her namesake Katniss in the third Hunger Games book, Bathsheba finds herself content in domesticity. And after going through everything she and Gabriel did, can you blame either of them for looking forward to a quiet life farming on the moors?