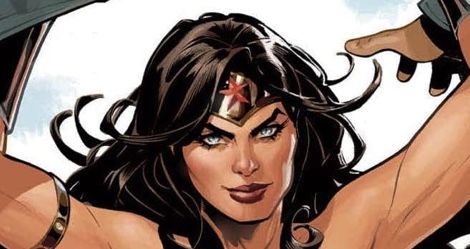 This content contains affiliate links. When you buy through these links, we may earn an affiliate commission.
Many of you know G. Willow Wilson as the writer who transitioned the character of Ms. Marvel from a blonde, bathing-suit clad Carol Danvers to our much beloved stereotype-busting, brilliant, butt-kicking, conflicted, burkini-wearing (her term), Pakastani American teenager, Kamala Khan. Others have read her gorgeous memoir The Butterfly Mosque or her novel Alif the Unseen. Prepare to add a goddess to Wilson's resume: her first issue of Wonder Woman (#58 with Cary Nord) drops November 14th, kicking off the new Just War arc.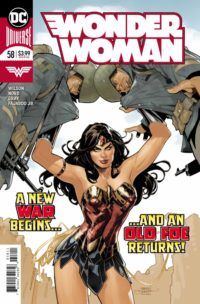 Wilson was kind enough to answer some questions about her plans for Diana and company:
Book Riot: Which Wonder Woman are we getting in your story? The daughter of Ares? The daughter of Hyppolita made from clay? Someone entirely new? Which origin is your favorite?
G. Willow Wilson: Recent continuity has left some questions unanswered. I will say only this: to me, one of the big draws of Wonder Woman as a character is the fact that she is the product of parthenogenesis. She has only one parent. She wasn't born in the same way the rest of us mortal schmucks were. I doubt she's going to die the same way. I've followed her various reincarnations and origin stories with interest. Different creative teams have…done different things. I'm a fan of the original and also the current continuity, but I love "made from clay by the queen of the Amazons." I think that's a powerful image.
BR: This story arc is called
Just War
. Why is it an important story to tell now?
GWW: Warfare has changed dramatically in the decades since Wonder Woman was created; since WWII, the last war the U.S. fought in which the good guys and bad guys were clear. War is no longer about two armies of roughly same size and strength facing each other across battlefield…they're primarily urban, primarily proxy wars where the people fighting and dying aren't the people who benefit. There are more civilian casualties. War isn't black and white as it was when Wonder Woman came out. This changes things not just for Wonder Woman but for her nemeses. What is the place of, say, Ares in this new kind of war?
BR: Did you look at any just war theory in preparation for writing Just War?
GWW: What I write tends to be a culmination of what I read in the months and years prior to getting the assignment. I didn't look at any specific theology, I do know the Islamic perspective. I did have conversations with a dear friend who is an Iraq War veteran and has served in various branches of government, who has been involved in this new, asymmetrical warfare, to see how they feel. Is there such a thing as just war? I don't set out to answer the question about whether or not there is, but I lay out the options and let the reader decide.
BR: The first few pages of issue #1 unfurl like a scroll rather than being laid out in traditional panels. Tell us about that decision.
GWW: That was mostly Cary. He came up with the format. I like it a lot, it harkens back to when I first got into comics, moving away from the traditional nine-panel layout. I don't tend to hover with artists, I don't make close notes about panels in my script. I don't get as technical. The artists often has a much better idea of flow.
BR: Steve and Diana's dynamic starts off with it being clear he's fine with her warrior goddess status. Why is that important to the story? To you as a creator?
GWW: I wanted to create a foundation for the story arc. When you start with a strong foundation, so the reader is clear on the status quo, what the relationships are, you can complicate it down the road. Especially with a character like Wonder Woman, who has had so many different continuities, so many different origins, you need to make clear which one you're starting with. That way, long time readers will say, "Okay, I know what story this is," and new readers will know where they're starting…it's very clear what's going on and what the relationships are, not only between Diana and Steve but between Diana and Etta, Steve and Etta, and within the group.
BR: You've written a lot of "transformation" stories in many different forms: The Butterfly Mosque, Alif the Unseen, Ms. Marvel
…what's compelling about this type of story?
GWW: I don't always notice until I'm three-quarters of the way through it. You're so used to being in your own mind you don't recognize the landscape a lot of the time. If I had to play my own psychologist for a moment, I know what it's like to reach a point in your life…you get to where you're going and then you follow an unexpected path. For a lot of writers and artists, what you create is a reflection of your own inner workings and the hope that other people can relate to it. It's way to create community when you feel most isolated.
BR: Is your Wonder Woman intended to be a certain number of issues or is it up in the air?
GWW: I'll go as long as the powers that be let me.
BR: What else are you working on? Anything on the horizon?
GWW: My new novel, The Bird King, comes out in March. Readers who enjoyed Alif will be happy to hear there are some cross-over characters!
BR: What are you reading right now?
GWW: The most recent Arundhati Roy book (The Ministry of Utmost Happiness). I'm rereading Emma because I needed something light-hearted. I'm usually reading several things at once; if I'm feeling frazzled I'll go to an old favorite and if not, I'll try something more challenging.
Wonder Woman #58 by G. Willow Wilson and Cary Nord drops 11/14.