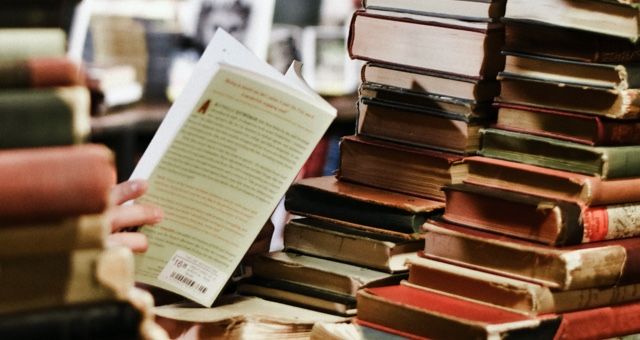 Crafting
Furniture Made From Books: 30 Ideas for Your Home and Office
Lately, I've been thinking about how I would decorate my house—if I had one! (#MillennialJokes, am I right?) While I tend to have more of a minimalist style when it comes to home furniture, I have to say the idea of furniture made from books has its appeal. I admittedly have trouble getting rid of books, so what better way to keep them in my life than to repurpose them as usable furniture? Most of the examples of furniture made from books below include real books, though a few are pieces only designed to look like books (still very cool!). Some of the furniture isn't made to be permanent, but neither are the forts we build on snow days, and no one is booing those. Use this list for inspiration or in creating the mood board for your future space.
Desks, Tables, and Counters
Who doesn't need a bookish end table?
Try a subtler design with a glass surface.
Alternatively, go big or go home.
Another take on the glass surface design for those of us who are a little more color conscious.
Nice.
I don't know about you, but I'd go to this bar.
Can someone wipe the drool off my chin?
Check out the pages that decorate the surface of this table.
Fake books are still books.
Nesting book tables? Are you kidding me right now? What a dream.
I feel like this kind of furniture takes dedication.
I could work in this space all day long.
Don't forget about the kiddos!
Frankly, an impressive feat of architecture.
Consider a classy drawer and small desk of books.
Look at how neatly these are stacked!
Who am I to say no to savings?
This gives "bedside book stack" a whole new meaning.
I could sit around this table forever. Ha. Around. Get it?
This book desk is color coordinated.
Why buy a TV stand when you can make one?
"Don't let a lack of furniture keep you down."
Chairs and More
Permanent? Probably not. Super cool? Oh yeah.
Why not spend a snow day building a book chair?
Or, if you do want something to last a lifetime, try this.
This lounge chair is seriously a work of art and great use of outdated reference materials.
This book probably isn't terribly readable, but I wouldn't mind one in my home, anyway.
That's one use for oversized books.
If you dream about books, does this make this bed the literal bed of your dreams?
Is a lampshade furniture? Sure looks like it to me.
---
Check out our list of book ladder envy to further inspire your living space and figure out the best way to stock your home library with these pieces. Meanwhile, brush up on your interior design skills with these 15 books on prettying up your home.