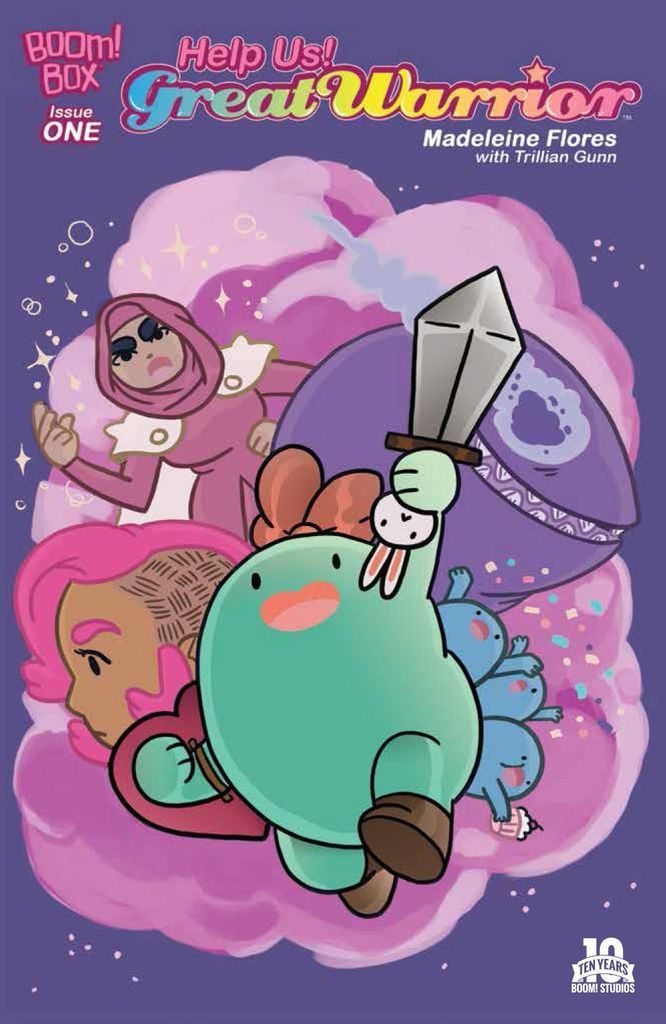 Oftentimes, when we think of pieces of art and media that have a positive effect on social change, we think of books, movies, beautiful paintings, moving sculptures, etc. But, let's be honest: comics are more popular right now than they've ever been, with a bigger share of the media spotlight, so making a comic with a positive message is just as important as a book or movie. Okay, so on to the next piece: how to purvey that positive message. Does a comic that wants to affect social progress have to be serious, beautiful, or a real tear-jerker? Does it have to be Archie getting shot to protect his gay friend, or Batman killing a young supervillain? Does it have to be hard to read? Frankly, no. Batman doesn't have to cry to get his point across. Funny, lighthearted comics can be just as effective.
Case in point: Help Us! Great Warrior. Madeleine Flores and Trillian Gunn's fantastic comic is one of my favorite series at the moment, because not only is it hilarious, it also promotes positivity, acceptance, and diversity. Let's look at the cast: Great Warrior is a tiny jumping bean with legs and a giant bow. She's honestly the cutest thing that's ever been. Her best friend and potential savior, Leo, is a badass, beautiful transgender woman. Hadiyah, the magical mentor/maybe ruler of the land attempting to rope Great Warrior into service, is always shown wearing a headscarf. She is described as "the physical manifestation of good and purity in this land," which stands in stark contrast to the often dark and cruel portrayals of Muslim people in the media in this country. As if that weren't enough, every! Single! Main! Character! In this comic is female. Even the evil demon overlord is a lady-type! It's hard to think of another comic that can boast that fact.
Example number 2: Kaptara! Chip Zdarsky and Kagan McLeod have brought us a series starring a gay man of color being hilarious while attempting to survive on an alien planet. Not only that, but this man – Keith – survived the landing on this planet when the other man with him, the burly, straight, handsome, white captain of their mission, was unceremoniously torn to shreds (I'm holding out hope that Samantha and Laurette, the two women of color on the original mission, also survived, but we haven't seen them yet). And there's the other thing – on a mission into space, out of five people, only one was a white man! Two were women of color, two were men of color. I mean, that's pretty fantastic, and once again, I can't think of another comic from a large publisher that boasts a cast like that. Of course, when Keith meets the people on this planet, they're mostly white, but they're also super weird, so that's fine.
Essentially, the facts are that comics do not need to be super-serious to be awesomely progressive and push a positive message about the way the world should be. Don't get me wrong: comics like Bitch Planet and The Kitchen are revolutionary and amazing. But I think there's room in comics for series that push a message without making the comic ABOUT the message, if you get my drift. Quietly creating a cast full of women, LGBTQ people, and/or people of color and not really mentioning it can be just as powerful.