Children's
9 Funny Chapter Book Series That Will Keep Kids Giggling
The best funny chapter books reflect the highs and lows of children's lives. Chapter books are a great way to engage emerging readers with humor and wit. Funny illustrations and playful typography make these character-driven, action-packed stories enjoyable reads. In this list of nine funny chapter book series, you'll find a variety of heroes and heroines to root for, including a princess, a pug, and and even a pig.
Anastasia Krupnik (Anastasia Krupnik #1) by Lois Lowry and Diane de Groat
This nine-book chapter book series is vintage and relatable all at once. Lowry's books follow the spunky and sassy Anastasia Krupnik through all her trials and tribulations. Anastasia is a character you can't help but root for to succeed amongst all of the growing pains she endures. Lowry caught heat for the hyperrealism in these books about a girl who is "just trying to grow up," and the books were and continue to be banned. But one thing is evident: readers still love and devour Lowry's Anastasia Krupnik chapter books.
Bad Kitty (Bad Kitty #1) by Nick Bruel
Chapter book audiences are often wondering about the lives of their pets. Well, in the hysterical Bad Kitty series, author/illustrator Nick Bruel delivers slice of life moments in the irresistibly cute — and misbehaving — Kitty. Parents looking to introduce the responsibilities of pet owning will find much to like in this series of 20+ books covering everything from Kitty taking a bath to Kitty going to the vet.
Captain Pug (The Adventures of Pug #1) by Laura James and Églantine Ceulemans
What's cuter than a pug? Answer: a pug who has seafaring adventures! In Captain Pug, readers are introduced to a pug who longs to sail the high seas…but is afraid of water. Can he conquer his fear and pursue his oceanic dreams? In Captain Pug, the first book in the series by Laura James and Églantine Ceulemans, you'll find out! Interesting typography, engaging illustrations, and nonstop laughs fuel this funny chapter book series.
Clementine (Clementine #1) by Sara Pennypacker and Marla Frazee
It's impossible to resist Sara Pennypacker and Marla Frazee's heroine Clementine in the series of seven books that bear her name. Clementine continually gets into adventures reader will find humorous. With echoes of Beverly Cleary's Ramona books, the Clementine middle grade novels feature a fun heroine who means well but also frequently find herself in trouble. Themes of friendship, family, and growing pains permeate the Clementine series.
Dory Fantasmagory (Dory Fantasmagory #1) by Abby Hanlon
Be warned: once you start Abby Hanlon's Dory Fantasmagory series, you and the young reader in your life will want to marathon read the next four books in the series. This schedule-clearing read kicks off with Dory Fantasmagory, which introduces readers to the titular protagonist who, as the youngest member of her household, often has to entertain herself, which leads to adventures and hijinks a plenty. Across five books, Dory's moxie carries the story of this hilarious young heroine.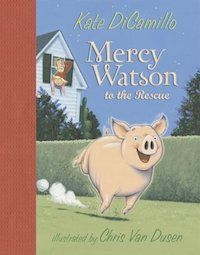 Mercy Watson to the Rescue (Mercy Watson #1) by Kate DiCamillo and Chris Van Dusen
Currently, Kate DiCamillo and Chris Van Dusen's Mercy Watson series stretches to seven books, and after picking up the first one, Mercy Watson to the Rescue, you'll want to tear through them all. This series opener introduces the lovable character Mercy, a little pig with a big personality who finds herself at the center of action of laugh-out-loud misadventures.
Meet Yasmin! (Yasmin #1) by Saadia Faruqi and Hatem Ali
The laughs keep coming in Saadia Faruqi and Hatem Ali's 12-installment funny chapter book series starring Yasmin, a Pakistani American second grader who greets every challenge with guts and grit…and more than a little humor. Young readers will enjoy following Yasmin as she tries to be a chef, become a "fashionista," and test out a career as a librarian. Along the way, Yasmin explores topics like relationships with her friends and family.
The Princess in Black (The Princess in Black #1) by Shannon and Dean Hale and LeUyen Pham
The giggle-inducing Princess in Black series follows Princess Magnolia, who lives a double life. First, as a prim and proper princess in training, and second, as a caped crusader dressed in black who tackles monsters and other foes. Challenging gender expectations, Shannon and Dean Hale have penned a feminist heroine for this seven-book chapter book series punctuated by LeUyen Pham's visually engaging illustrations.
Rock Star (Jada Jones #1) by Kelly Starling Lyons and Vanessa Brantley-Newton
Jada Jones loves science, and in Kelly Starling Lyons and Vanessa Brantley-Newton's four-title series of fun chapter books, the audience get to see Jada's passion come alive. Begin with the easy-to-read series-opener, Rock Star, where Jada applies her love of geology in a school project. Kids will appreciate this easily accessible story that's perfect for emerging readers, and Vanessa Brantley-Newton's engaging illustrations make this series even more fun.
Sherlock Sam and the Missing Heirloom in Katong (Sherlock Sam #1) by A.J. Low and Andrew Tan
Mystery mixes with adventure in the Sherlock Sam series by husband and wife writing team A.J. Low. Sherlock Sam and the Missing Heirloom in Katong kicks off the 15-book series. In this comical book, we meet Samuel Tan Cher Lock, a 10-year-old amateur sleuth who lives in Singapore. Breathing new life into Sir Arthur Conan Doyle's Sherlock Holmes series, Sherlock Sam is a chapter book series for any reader who loves an amusing whodunnit.
---
Love funny children's books? Check out more humorous kid lit: