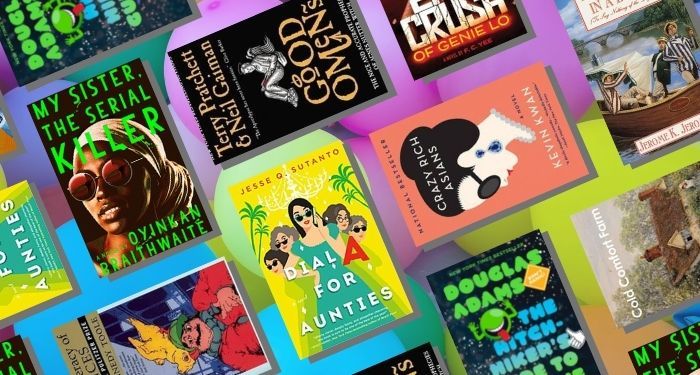 Humor
9 of the Funniest Fiction Books You'll Ever Read
This content contains affiliate links. When you buy through these links, we may earn an affiliate commission.
They say laughter is the best medicine but, in my opinion, it's more of a vitamin: best when enjoyed on a regular basis. I read mostly humorous fiction and have since I was young. When I'm in a good mood, funny books make my day even better. And when I'm going through difficult times, they distract me from what I'm dealing with and give me a needed break — even if just for a little while.
These nine funny fiction books are all perfect for when you need a laugh or an escape from reality. Their premises range wildly, from a destination wedding gone wrong to a Bay Area city overrun by mythological demons to a spaceship following Earth's untimely destruction. No matter your mood or taste in humor, there's something for everyone to enjoy.
Once you've read and enjoyed these nine picks, check out these funny self-help books that may not change your habits so much as give you a reason to chuckle. After all, advice is well and good, but jokes are even better. Or, if you're looking for funny reads with a guaranteed happily ever after, feel free to peruse this round-up of the funniest romance books. Plus, if you're not in the mood for a novel, these funny short stories and essays make for excellent reads.
---
Looking for hilarious books you can share with young readers? Check out this list of the 20 funniest children's books.