Giveaways
45+ of The Funniest Books You've Ever Read
This giveaway is sponsored by Dan vs. Nature by Don Calame.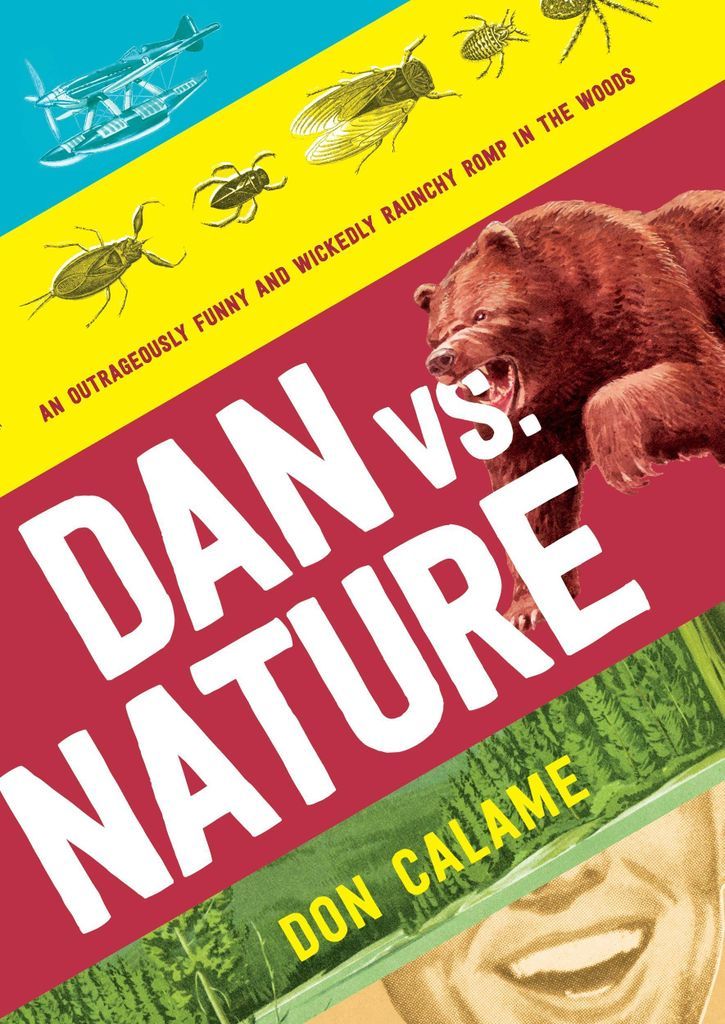 From screenwriter Don Calame comes another outrageously funny and raunchy tale of teen boys whose plans go awry — this time, on a survivalist camping trip.
Shy and scrawny Dan Weekes spends his time creating graphic novels inspired by his dream girl and looking out for his mom as she dates every man in the state of California. Then his mom drops a bomb: she and her latest beau, Hank, are engaged, and she's sending her "two favorite men" on a survivalist camping trip to "bond." Determined to trick Hank into showing his true — flawed — colors on the trip, Dan and his nerdy germaphobe best friend, Charlie, prepare a series of increasingly gross and embarrassing pranks. But the boys hadn't counted on a hot girl joining their trip or on getting separated from their wilderness guide—not to mention the humiliating injuries Dan suffers in the course of terrorizing his stepdad-to-be. With a man-hungry bear on their trail, no supplies, and a lot of unpleasant itching going on, can Dan see his plan through now that his very survival depends on Hank?
---
We asked you to share your favorite laugh-out-loud, spit-out-your-drink funny reads, and you responded. If you're in the mood for a funny read, here are over 45 Riot Reader favorites!
Anything by Bill Bryson
Alice, I Think by Susan Juby
Angus, Thongs, and Full Frontal Snogging by by Louise Rennison
Beauty Queens by Libba Bray
Bossypants by Tiny Fey
Candy Girl by Diablo Cody
Carter Finally Gets It by Brent Crawford
A Confederacy of Dunces by John Kennedy Toole
A Dirty Job by Christopher Moore
Egghead by Bo Burnham
Emma Who Saved My Life by Wilton Barnhardt
Flood Girls by Richard Fifield
Food: A Love Story by Jim Gaffigan
Fruit by Brian Francis
Getting Rid of Matthew by Jane Fallon
A Girl Named Zippy by Haven Kimmel
Good Omens by Terry Pratchett/Neil Gaiman
Hitchhiker's Guide to the Galaxy by Douglas Adams
The Hollow Chocolate Bunnies of the Apocalypse by Robert Rankin
Horrorstör by Grady Hendrix
Hyperbole and a Half by Allie Brosh
I Heart My Little A-Holes by Karen Alpert
The Internet is a Playground by David Thorne
Is Everyone Hanging Out Without Me? by Mindy Kaling
John Dies at the End by David Wong
The Joyous Season by Patrick Dennis
Let's Pretend This Never Happened: A Mostly True Memoir by Jenny Lawson
Lucky Jim by Kingsley Amis
Match Me if You Can by Susan Elizabeth Philips
Me Talk Pretty One Day by David Sedaris
Mother. Wife. Sister. Human. Warrior. Falcon. Yardstick. Turban. Cabbage. by Rob Delaney
The New Guy by Amy Spalding
One For The Money by Janet Evanovich
The Potty Mouth at the Table by Laurie Notaro
Practical Demonkeeping by Christopher Moore
The Ride of Our Lives by Mike Leonard
Running with Scissors by Augusten Burroughs
The Sellout by Paul Beatty
Size 12 Is Not Fat by Meg Cabot
The Spellman Files by Lisa Lutz
Three Cheers for Me by Donald Jack
Three Men in a Boat by Jerome K. Jerome
The Well-Tempered Clavicle by Piers Anthony
Yes, Please by Amy Poehler
You Deserve a Drink by Mamrie Hart