After a brief hiatus for the summer months, we're back!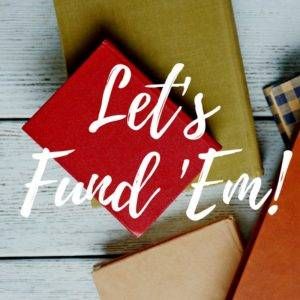 Late last year, librarian Angie Manfredi took to Twitter with a challenge: How many classrooms in need could the book community fund over the course of one day? Other librarians and bloggers and authors and industry folk joined in, and it quickly became apparent that there were a whole lot of people out there just itching to do some good, whether by spreading the word or opening their wallets or both.
On Inauguration Day, we (we being Kelly Jensen and Leila Roy) put together a list of classrooms in need, with a focus on classrooms that served immigrant, refugee, and ESL communities. With the help of Book Twitter, every single one of those classrooms was fully funded by the end of the day. Since then, every Friday, we've continued to highlight and advocate for similar classrooms, and again and again Book Twitter has come through.
Now, we're bringing our Fund 'Em Fridays to you, the Book Riot Community. Please boost, donate if you can, or even pick out a classroom to personally champion!
Here are this week's classrooms. Both are located in Flint, Michigan, which has been without potable water for over three years. While funding these classroom libraries won't solve that problem, when there's a long-running crisis involving a basic human need, sometimes other needs fall through the cracks—and as I'm sure we can all agree, promoting literacy is always a good thing. Both classrooms are primarily filled with students from low-income households.
Ready to Read in Fourth Grade, in Flint, MI:
My students primarily come from an underprivileged population in an urban environment. Many of my students do not have the resources at home to maximize their learning potential. It is my goal, then, to provide them with the best tools and resources possible for the time that they are in my classroom.
Get Excited for Reading!, in Flint, MI:
I want to have a classroom library that is appropriate for the range of students that I will have. The books cannot be just any books. They must be targeted towards their reading level which will have familiar and not-so-familiar words in them. Most of all, I want my students to be excited about reading!
Note: That second classroom only has a few days left to meet its goal—let's make it happen!