Kickstart This
Fund This Awesome Fat-Positive Magazine: FATVENTURE MAGAZINE, Volume 2.
As soon as this badass Kickstarter showed up on my social feed this morning, I knew I needed to highlight it. It's rare to see fat bodies portrayed as normal socially, even thought we've seen comics and YA books doing better with it in recent years.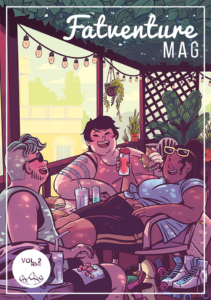 Alice Lesperance and Samantha Puc are the two brains behind Fatventure, a space where fat folx of all shapes, backgrounds, abilities, sexualities (both Lesperance and Pac are lesbians), and gender identities can talk about their experiences without any fear or worry about diet culture or weight loss appearing in the conversation. More specifically, they wanted to give space for talking about fitness and activity — two things that, as a fat woman myself, has been an area I've never felt comfortable talking about or taking up space in because of how quickly those conversations can devolve into something wholly unhealthy.
Fatventure was a Kickstarter project, both in print and digitally, and it was fully funded. Now the duo, along with their designer Carrie Alyson, are launching Fatventure: Volume 2, focusing on home. Where and how do those with fat bodies feel at home, how do they experience joyful movement, and what even does it mean to be and to have a place to call home?
The array of contributors is incredible, and they're near their funding goal. Their $10,000 goal will not only get the comic to print and into digital format, but it'll pay each of their contributors.
Learn more about this awesome project and toss a few bucks their way ($20 will get you the magazine plus some additional sweet perks!). Let's get this Kickstarter funded and see more rad, joyful, awesome fat bodies in the world.
You can also pick up a copy of their first Fatventure from their website.
---
Want more fat-positive books? Check out these romance books featuring fat heroines, children's and YA books featuring fat-positivity, and even more fat-positive books.