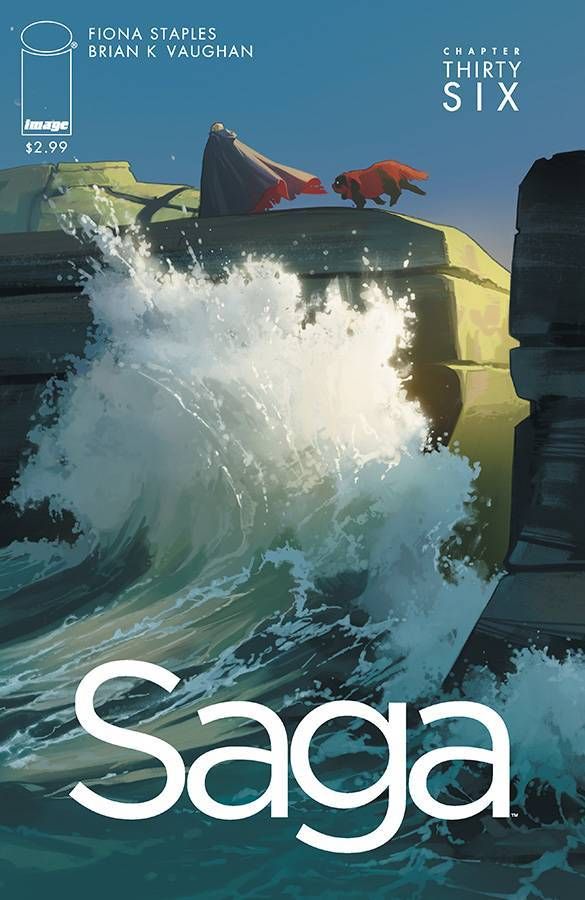 The past few months we've been tracking the most-subscribed books at Fantom Comics in Washington, DC, and today we'll look at April, the beginning of some major changes in our list.
Remember these are only subscription numbers, not total sales, so it represents our regular customers rather than casual walk-ins. It means #1 issues are under-represented, as people tend to pick up the first issue off the rack before they subscribe to it. Also remember this list is measuring by number of subscribers, not revenue. WITHOUT FURTHER ADO: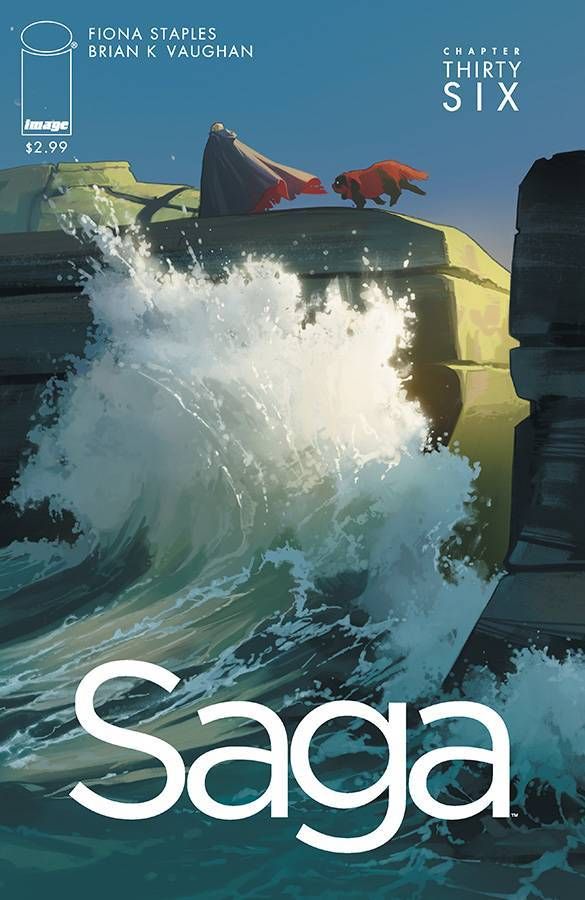 1. Saga #36 by Fiona Staples and Brian K. Vaughan (Image)
Saga's sixth story arc ends on a high note, both story-wise and sales-wise. Brian K. Vaughan and Fiona Staples' opus doesn't just sell well–it still sells consistently as the issue numbers reach the high 30s! As usual, Saga will go on hiatus for a few months while the volume 6 trade paperback (and the second deluxe hardcover?!) hit shelves, giving Staples and Vaughan time to recharge before the seventh arc starts up in August-ish, which BKV claims is the closest Saga will ever get to an epic "event."
I've said this time and time again, but Saga's greatest strength is its consistency: six issues, a trade paperback and a hiatus, rinse, wash, repeat. No delays, no variant covers, no gimmicks, just great comics.
2. Black Panther #1 by Ta-Nehisi Coates and Brian Stelfreeze (Marvel)
This silver medal is a little deceptive: I've been ranking these books by the number of subscribers who pull a book each month, and while Saga edged out Black Panther in April (just barely!), Ta-Nehisi Coates' comics debut is by far our best-selling issue this month, with hundreds of walk-in customers lining up to pick it up. Suffice to say, subscription numbers for issue #2 are skyrocketing over #1, and T'Challa will likely have our most-subscribed comic by a long shot come May.
When the dust settles, Black Panther #1 will likely be the best-selling single issue in Fantom Comics' eleven-year history. Bigger than Saga #1, bigger than Ms. Marvel #1, bigger than Star Wars #1. Part of that is because Fantom is bigger and better now than it's ever been before, but a lot of it is the comic itself: Ta-Nehisi Coates' status as one of the nation's foremost commentators on race in America today, along with Black Panther movie buzz capturing the mainstream cultural zeitgeist in a way we've never seen before. The true test, though, will be seeing how many subscribers T'Challa has a few dozen issues down the line. Will it have Saga-esque longevity?
3. Ms. Marvel #6 by G. Willow Wilson and Nico Leon (Marvel)
My previous concerns about a rotating art team for Kamala Khan seem to have been misplaced, as Ms. Marvel picks up a few subscribers for #6, and it just barely beats out the return of WicDiv! This doppelgänger storyline is super goofy, too.
Ms. Marvel passes the "Biggest Superhero Comic" torch to Black Panther, and it's pretty much the perfect handoff. Both books garnered mainstream buzz for their diverse cast of characters and creative teams, and they're both proof that not only does representation matter–it brings in the big bucks! I don't think Black Panther has surpassed Ms. Marvel because it's necessarily better, but because we've spent the two years since Kamala's debut building a welcoming community of comic fans, and we're that much bigger now.
4. The Wicked + the Divine #18 by Kieron Gillen and Jamie McKelvie (Image)
The Wicked + the Divine's triumphant return! People are pretty pumped for the start of this fourth story arc, featuring both the return of Jamie McKelvie as the main artist (after a stint on Phonogram while guest artists filled his shoes on WicDiv) and the return of… Persephone.
Some readers have complained about the new cover art format with the white frame and the full-body shots, but I quite like it! It sets this arc apart and gives it a chic fashion mag vibe.
Although issue #18 marks a return from hiatus, Kieron Gillen has been clear that WicDiv isn't following the Saga release structure; he says now that it's back, WicDiv will be out every single month until the end of the series. If the creative team can keep that up, we're game!
5. Mirror #3 by Emma Ríos and Hwei Lim (Image)
In the total absence of 8house and Island, Mirror chugs along as a gorgeous book that's content to do its own weird little thing–we're always pleasantly surprised that such a niche series has gained a huge audience at Fantom. While books like Saga and WicDiv feed fans juicy, digestible HBO-style action drama with clear visuals and paneling, Mirror is entirely nonlinear in both its story and in Emma Ríos' trademark dreamlike panel spreads; you really have to dig in and read closely if you want to get the most out of this comic. We're glad so many readers are willing to dive down that rabbit hole with us.
Island makes its long-awaited return in May, so Mirror will finally have some support in this weird experimental Emma Ríos/Brandon Graham corner of the comics world next month.
6. Star Wars #18 by Jason Aaron and Leinil Francis Yu (Marvel)
Only one issue this month?! Minimal variant covers?! No crossover event?! Star Wars seems to finally be getting rid of gimmicks, and it shows with an increased subscriber count this month! Leinil Francis Yu's great art and ultra-popular new character Aphra making an appearance probably help, too.
Hopefully Marvel's Star Wars line is hitting its stride–the publisher has shown great restraint in not piling us up with a million different books at once, even though they definitely could if they wanted. With the end of Kanan, there are now only the twin pillars of Star Wars and Darth Vader in addition to Poe Dameron as ongoing series, plus the Han Solo and The Force Awakens adaptation miniseries, bringing us to the relatively scant total of five SW comics ongoing at once.
7. Monstress #5 by Marjorie Liu and Sana Takeda (Image)
I predicted last month that Monstress would pass Star Wars in subscribers and I was sadly mistaken, but it's not for lack of trying–Marjorie Liu and Sana Takeda's art deco fantasy book actually gained subscribers in April! But Star Wars made a comeback as well, keeping the bar raised just barely too high for Monstress to overcome. We'll see what happens next month.
We're repeatedly amazed at how Monstress is able to keep a monthly schedule with Sana Takeda's hyper-detailed art, and the fact that it only sits at the No. 7 spot on this list in April is testament to how many strong books are out right now. Sometimes we like to be cynical, but other times we just have to marvel at how great comics are, you guys!
8. Darth Vader #19 by Kieron Gillen and Salvador Larroca (Marvel)
Only one issue this month?! Minimal variant covers?! No crossover event?! Darth Vader follows in the footsteps of its sister book Star Wars in the right direction. After a steep drop-off in subscribers with two issues last month, issue #19 sees a return to form for Kieron Gillen's second book on the list this month (the other being The Wicked + the Divine #18).
It's kinda curious that Darth Vader, which is theoretically the secondary SW book, is now consistently one issue number ahead of Star Wars. Darth Vader has also retained a single creative team through its entire run so far, while Star Wars is on its third or fourth artist.
9 (tie) – Sex Criminals #15 by Matt Fraction and Chip Zdarsky (Image); The Unbeatable Squirrel Girl #7 by Ryan North and Erica Henderson (Marvel)
Our two biggest comedy books, rounding out this month's list at exactly the same position! Sex Criminals subscription numbers have had a boost during this (long, oft-delayed) story arc with its "XXX" variant covers by all-star artists, with issue #15's NSFW cover drawn by the Hernandez bros. Most Image books are smartly conservative in the number of variant covers they do, and books like Sex Crims and The Wicked + the Divine seem to have success with them when they're very specific and thought-out… a far cry from corporate comics, where the creative teams have no say over what variant covers are given to their books by editorial.
The Unbeatable Squirrel Girl hits us with a "choose your own adventure" issue, and continues to prove that you can have a goofy comic about a girl who talks to squirrels and more people will read it than Avengers or X-Men.
As long as we've been doing these articles, our lists have been dominated by Marvel and Image with nary a DC book to be found, but things might be changing next month with the beginning of DC's "Rebirth" event/reboot. On a total side note: it's fun how all this month's covers are blue, purple, and gold. Anyway, see ya next month!