Feminism
Fun With Feminism: Workbooks, Coloring Books, & Activity Books
This content contains affiliate links. When you buy through these links, we may earn an affiliate commission.
When something isn't quite big enough to constitute a trend in publishing, but it's not something you are able to not see, we have ourselves a microtrend. These are themes or topics or formats in books that are common among one another in interesting ways.
An excellent microtrend recently has been the growth of illustrated collective biographies of rad women who do rad things.
Another microtrend emerging? Fun and quirky activity, coloring, and craft books with a no-shame feminist angle. These are books that allow you to not only blow off some stress and have fun in some capacity, but they also have unabashed feminist agendas (woo hoo). Check out these books for some literal fun with feminism.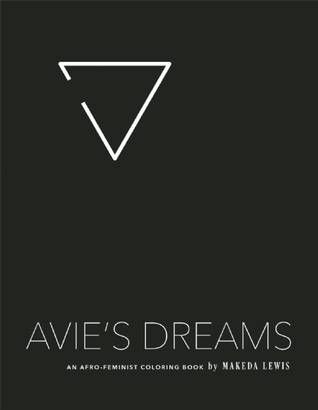 Avie's Dreams: An Afro-Feminist Coloring Book by Makeda Lewis
A young dreamer wanders through a personal mythology of women warriors, tropical flowers, and sea creatures. A radically introspective and interpersonal take on the usual coming-of-age tale, Avie firmly establishes her authorial role—and infuses ancient Greek lore, Renaissance scripts, and Hollywood blockbusters with images of afro-centricity and queer identity.
Despite the continued popularity of adult coloring books, few actually incorporate adult literary themes into their pages. Avie's Dreams is beautifully illustrated, but also tells a complex and challenging narrative of race, gender and sexuality, and body image. Interspersed with lyrics and quotes taken from contemporary Internet culture and modern poetry, the story investigates the trials and magic of a young black girl growing up in the world.
The Badass Feminist Coloring Book by Ijeoma Oluo (and there's a teen edition, as well)
The Badass Feminist Coloring book is a righteous celebration of modern-day feminists. Featuring 40 badass feminists and bonus essays on feminism, this book is a bundle of intersectional feminist awesomeness.
Boss Babes: A Coloring and Activity Book by Michelle Volansky (Workman, September 20)
A playful and play-filled ode to strong women, BOSS BABES is a coloring and activity book filled with fun facts and whimsical black-and-white line drawings celebrating female powerhouses from Beyonce to Ruth Bader Ginsburg, Dolly Parton to Malala, Tina Fey to Serena Williams. On every page is a portrait to color or an activity to complete: Connect the dots to conjure J.K. Rowling's patronus. Complete the Beyonce crossword (12-DOWN: Who run the world?). Decorate Flo-Jo's nails, decode Cher's most recent tweet, design a new jabot for RBG, color in Frida Kahlo's flowers, and more!
Crafting with Feminism: 25 Girl-Powered Projects to Smash the Patriarchy* by Bonnie Burton (Quirk Books, October 18)
This is what a feminist crafter looks like! Wear your ideology on your sleeve by creating feminist merit badges (like "started an all-girl band" or "rocked roller derby"). Prove that the political is personal with DIY power panties ("No means no"). Craft great feminist hero finger puppets (Ruth Bader Ginsburg, Frida Kahlo) or googly-eyed tampon buddies. Fun sidebars provide background on (s)heroes of the feminist movement.
*Sidebar: While I get the rah rah nature of the phrase "girl power," do I ever dislike that it's the subtitle of a book that is perfectly appropriate and appealing and worthwhile for any gender. Feminism is for everybody! Crafting is for everybody! Feminist crafting is for everybody!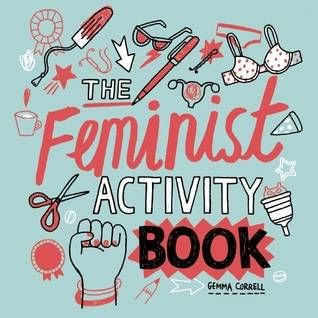 The Feminist Activity Book by Gemma Correll
Looking to smash the patriarchy and get your arts and crafts on?
Want to have a laugh while taking down sexist stereotypes?
Look no further than Gemma Correll's Feminist Activity Book, where your dress up doll can wear whatever she wants and the only thing limiting your sexuality is the size of your colored pencil collection. Welcome to the games, coloring projects, and crafts of your egalitarian dreams!
The Feminist Activity Book has everything you need to usher in an era of colorful and intersectional joy. Featuring such activities asFeminist All-Star Trading Cards, Destroy the Page-Triarchy, Sexist Social Media Bingo, and A Feminist ABC, The Feminist Activity Book will fuel your feminist rage, remind you to laugh once in awhile, and bring you one step closer to an egalitarian utopia, or whatever.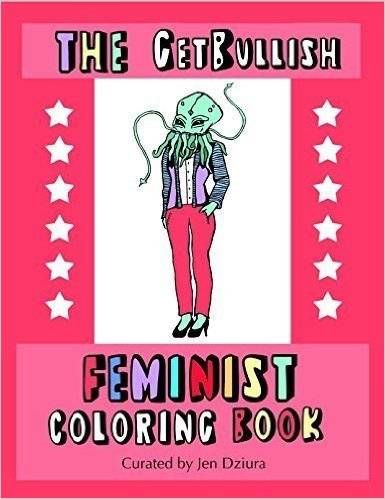 The Get Bullish Feminist Coloring Book curated by Jen Dziura
Feminist, fabulous, body-positive and patriarchy smashing, try out the coloring craze with the Get Bullish coloring book. This is a full-sized print coloring book. 25 pages of productivity-inspiring bullish designs (plus the occasional maze and word search) you can color with a glass of prosecco, either by yourself (you go, introverts!) or with your ladyboss friends. Recreate like a bad*ss! Art by Amy E. Casey, Eve Brettell, Tawana Simone, Heather Jane Fleming, Sreejith V., Natasha Haggard, cover by Amy E. Casey.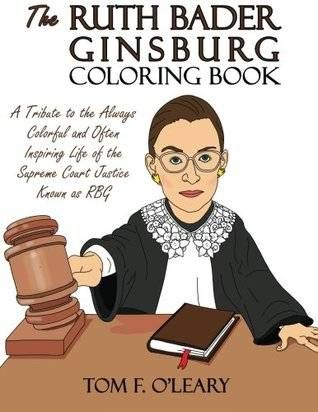 The Ruth Bader Ginsberg Coloring Book by Tom F. O'Leary
Ruth Bader Ginsburg: octogenarian, United States Supreme Court justice, pop icon, feminist hero, ferocious equal rights champion, jabot-wearing trend-setter, scathing dissent-writer, lousy cook, bad driver, whitewater rafter, opera-loving workout queen. Color your way through these and many other faces of the woman known familiarly as RBG with this quirky collection of original illustrations by noted cartoonist Tom F. O'Leary.