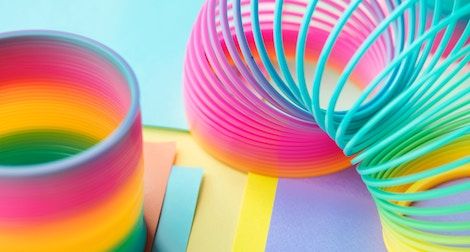 Children's
An Uncategorized List of 15 Fun Facts About Your Favorite Tween/Teen Books and Authors
This content contains affiliate links. When you buy through these links, we may earn an affiliate commission.
Because sometimes, what you're looking for is a fun little nugget of knowledge to share at a party, as a conversation starter, or as something to tuck away for future trivia nights. Find below a collection of uncategorized facts and tidbits about tween and teen authors and books. Some of these you might be familiar with, but others might be brand new.
Mrs. Doubtfire is based on a YA book. The book, published in 1987, is called Madame Doubtfire and was written by Anne Fine.
Author DJ MacHale, author of Pendragon and several other books for middle grade readers, was a writer for Nickelodeon's Are You Afraid of the Dark?
Speaking of authors who wrote for Nickelodeon, Suzanne Collins, author of the YA game-changer The Hunger Games, was a writer for Clarissa Explains It All.
Matt Bomer was also on the cover of this fabulous YA novel pic.twitter.com/jTxwi40bAJ

— Ariel 🌻🔮 (@BooksAndSass) August 5, 2018
Speaking of famous people on YA book covers, Kirsten Dunst was the child on the cover of Ann M. Martin's Claudia and the Phantom Phone Calls book from The Baby-Sitters Club.
You can discover who some of the ghostwriters are for The Baby-Sitters Club if you look in the acknowledgments. A couple of names that will likely be familiar to you include Suzanne Weyn (The Bar Code Tattoo, etc.) and Peter Lerangis (39 Clues, etc.).
Remember Hope Hicks, who was part of the presidential administration for a short time? She was a cover model The It Girl, which was part of a YA book series popular during the Gossip Girl era.
There are at least two books featuring…hot dog suits.
The first YA book to hit the New York Times Bestseller list was Sweet Valley High, the Super Edition Perfect Summer. That was in 1985.
Master of scaring young people, R.L. Stine was behind a series of comics books before turning to Goosebumps. You can track those down still under the name Jovial Bob Stine.
Caroling B. Cooney, known for The Face on the Milk Carton, wrote a number of books as part of teen-facing romance series, including the infamous "Wildfire" line from Scholastic.
Say hello to Amanda Seyfried, cover model in a redesign of one of Francine Pascal's many, many series.
Oingo Boingo's Danny Elfman was the son of a YA author. Blossom Elfman wrote a few YA books for the ever-present series books of the '80s and '90s, including the "Mike and Ally" mysteries.
Tyra Banks only ever published one book in the projected trilogy of Modelland.
Other celebrities who had less-than-illustrious careers as YA authors include Hilary Duff, 50 Cent, Kendall and Kylie Jenner, Isla Fisher, and Lauren Conrad.
Some of the fun facts here were found in a book that's a must-read for fans of nostalgic teen/tween lit: Paperback Crush by Gabrielle Moss.