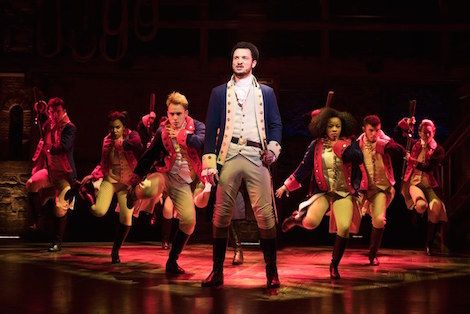 This content contains affiliate links. When you buy through these links, we may earn an affiliate commission.
I read Ron Chernow's Hamilton only recently, after months of good intentions and months of fears about the size of the book and its resulting capacity for use as a weapon on the London Underground. It's a hefty tome, but I didn't notice the pages going by- Hamilton's story appealed to me as an immigrant, but his flaws and imperfections are both neither hidden nor undercut; Chernow's portrait of Alexander Hamilton is one of a man living through some of American history's most extraordinary moments- but just one man, nonetheless; flawed and imperfect like the rest of us.
Booking tickets to Hamilton in London was an event in itself. I booked tickets for my boyfriend and I in January 2017, for a show in March 2018. At the time, I remember telling him that if we weren't still together at that time, he would be the person not attending. He was offended, though mostly because my faith in our relationship appeared to be quite thin.
Those 14 months of waiting went quickly- time insists on ticking us all onward, but I don't think I'm the only one who feels that it's going particularly quickly the older I get. As it turns out, I'm still in a relationship with that same boyfriend and when we joined the queue to get into the Victoria Palace Theatre in March, he was quick to point this out to me.
From the moment of the first introductory notes, my heart was thumping and my eyes were bright. I had used the soundtrack to get me through some summer long runs in Regent's Park and the lyrics were second nature to me, but seeing it come to life on the stage in front of me was an entirely different story. The entire production is breathtaking, but truly it's the music and the effort of the cast that makes it. There's no space here for hyper-mobile set design, faddy stage tricks or set changes; Hamilton revolves around its gigantic characters and the breadth of its musical tale is enough to make it incredibly good. I guess it would be hard to make a set seem more of a focal point than George Washington.
The pro-immigrant background to Hamilton had a captive audience in London, a microcosm of globalism and international communities living together. The emergence of King George was met with some oddly un-ironic applause from small sections of the audience, but the now famous "Immigrants, we get the job done!" line was met with raucous applause by the remainder. I haven't seen the show in Broadway, but the London cast were a delight to watch- our show was headed by Ash Hunter as the alternative Hamilton and he was wonderful- and though Michael Jibson is a bit of showstopper as King George, Jason Pennycooke's turn as Thomas Jefferson is amazing and Giles Terera earned his Olivier Award for Best Actor for his depiction of Aaron Burr, his perfect balance of consternation with Hamilton's rise against his own risk averse nature coming to the fore persistently. Rachelle Ann Go's furious raging sadness in 'Burn' really got me in my heart where the soundtrack never had and I spent most of the second act in tears, unable to stop the emotion in my little immigrant chest.
Here's the thing about Hamilton: Lin Manuel Miranda produced a musical that stands on its own merit but also makes fundamental social statements. The deliberate casting of main characters with non-white actors has arguably begun a reclamation of American history- which surely belongs, in its good and its bad parts, to all Americans. Owning history, even the parts of it we don't like or weren't directly part of, is key to our identities. The underlying themes of the musical rage against slavery, underline the importance of immigration to the future of a state, and question the actual feelings that may have been behind some of the turgid text in our history books.
A critic in the UK wrote that Act II of Hamilton suffers from 'the ever-so-slightly dull specifics of American politics', which astonished me, since the musical clarifies into mere minutes some of the largest decisions undertaken in American history- the establishment of the nation's capital, the birth of what's now the Bank of New York Mellon and the push toward a proper sense of unity among the states are surely more than a segue into standard political intrigue. For my part, Act II was the winner, from Jefferson's Southern plotting to the moment Aaron Burr decides he wants to be in the room where decisions are made.
By the end of the show, I was determined to see it again. I've been lucky enough to see just about every major musical from the past 20 years, but Hamilton topped the lot as an emotional heavyweight. History is alive, and I'm hopeful that Hamilton will be the yardstick for a future of historical narrative that shirks tepid elitism in favour of true heart.