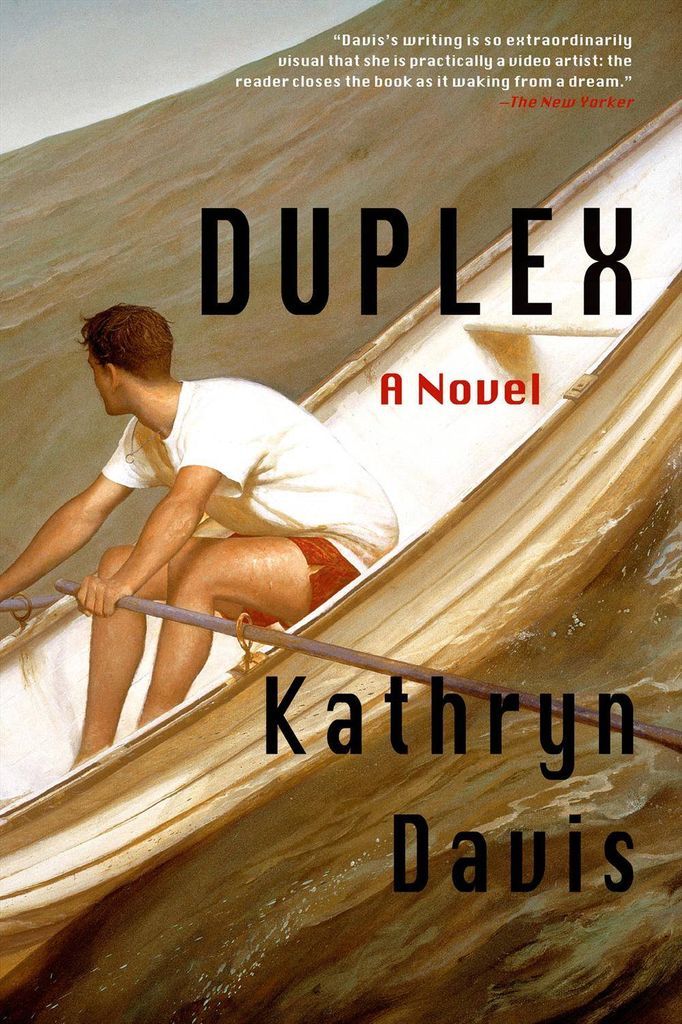 Fiction
Fresh Ink: September 4, 2013
Yesterday, we celebrated a Riot Reading Day in honor of the release of Margaret Atwood's MaddAddam, the final book in a trilogy including The Year of the Flood and Oryx & Crake. That means that this list is a day later than normal. But it doesn't mean that the books are any less worthy of your time. Take a look!
HARDBACK RELEASES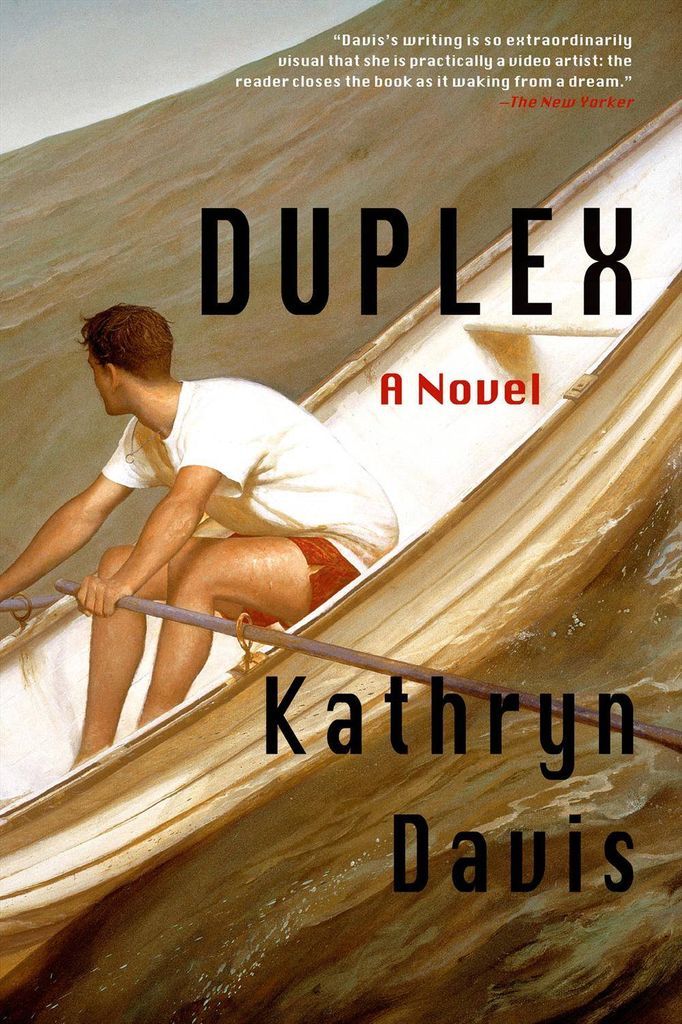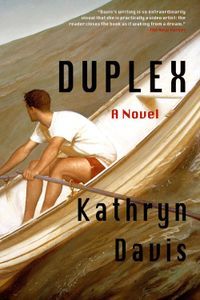 Duplex by Kathryn Davis (Graywolf Press)
Mary and Eddie are meant for each other—but love is no guarantee, not in these suburbs. Like all children, they exist in an eternal present; time is imminent, and the adults of the street live in their assorted houses like numbers on a clock. Meanwhile, ominous rumors circulate, and the increasing agitation of the neighbors points to a future in which all will be lost. Soon a sorcerer's car will speed down Mary's street, and as past and future fold into each other, the resonant parenthesis of her girlhood will close forever. Beyond is adulthood, a world of robots and sorcerers, slaves and masters, bodies without souls. In Duplex, Kathryn Davis, whom the Chicago Tribune has called "one of the most inventive novelists at work today," has created a coming-of-age story like no other. Once you enter the duplex—that magical hinge between past and future, human and robot, space and time—there's no telling where you might come out.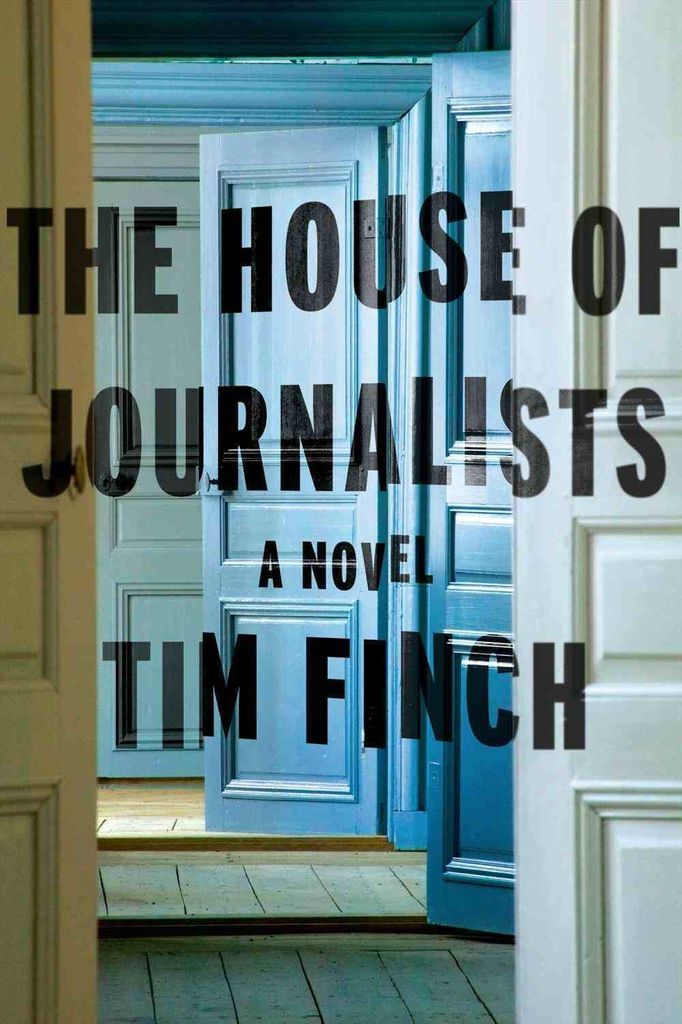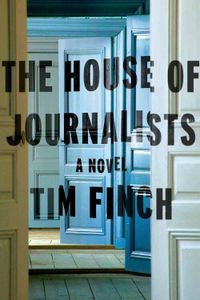 The House of Journalists by Tim Finch (Farrar, Straus and Giroux)
"Welcome to the House of Journalists. Who are you and what is your story?" Thus begins Tim Finch's haunting Orwellian novel set in a fashionable London terrace. The House of Journalists is renowned as a place of refuge for exiled writers who have fallen foul of oppressive regimes. Julian Snowman, its overzealous founder, struggles to preserve this sanctuary in a hostile political climate as he also strives to stabilize himself. Among the fellows are Mr. Stan, the affable former newspaperman whose hands were smashed with hammers; Mustapha, who is in denial about having been tortured; Agnes, a spirited young photojournalist whose grandfather's Pentax was crushed by heavy boots; and Sonny, who endured a harrowing journey to safety. While the exiled fellows share their tales of tragedy and heroism and seek to capture a lost sense of home, domestic writers flock to the house, drawn by the power of stories far beyond experience. Only one man manages to guard his past, the mysterious new fellow, AA, whose secrecy ratchets up Julian's paranoia about enemies out to undermine his creation. Julian suspects AA of conspiring with a visiting writer, the iconoclastic Ted Crumb. In fact, AA is plotting something else entirely.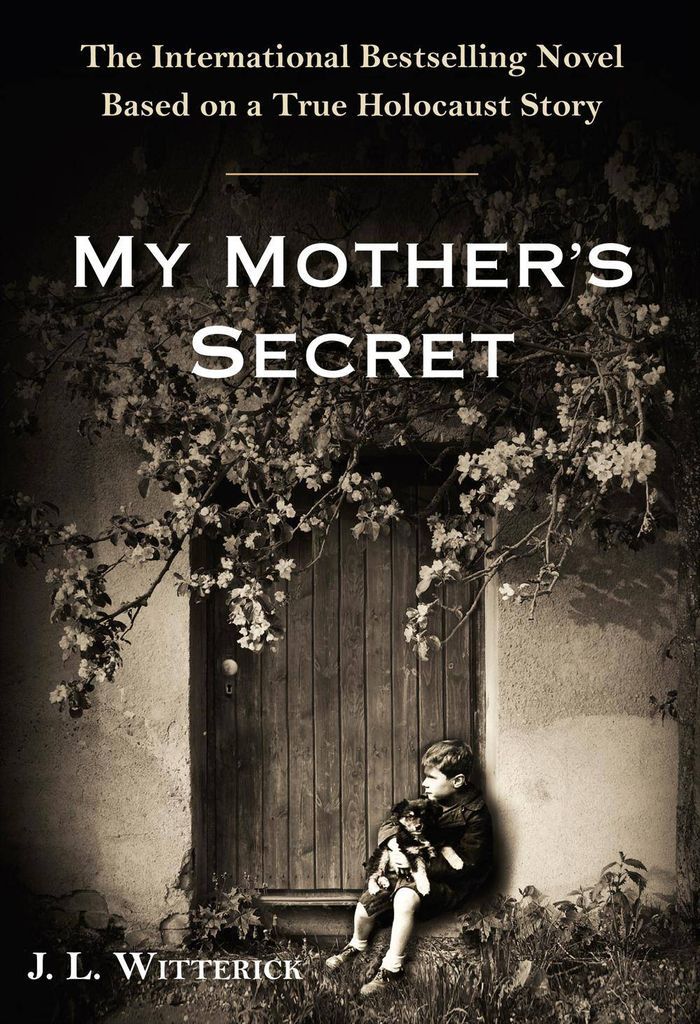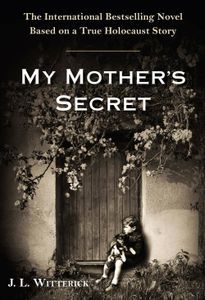 My Mother's Secret by J.L. Witterick (Putnam)
Based on a true story, MY MOTHER'S SECRET is a profound, captivating, and ultimately uplifting tale intertwining the lives of two Jewish families in hiding from the Nazis, a fleeing German soldier, and the clever and "righteous" mother and daughter who teamed up to save them. Franciszka and her daughter, Helena, are unlikely heroines. They are simple people who mind their own business and don't stand out from the crowd. Until 1939, when crisis strikes. The Nazis have invaded Poland and they are starting to persecute the Jews. Providing shelter to a Jew has become a death sentence. And yet, Franciszka and Helena decide to do just that. In their tiny, two-bedroom home in Sokal, Poland, they cleverly hide one Jewish family of two brothers and their wives in their pigsty out back, another in a makeshift cellar under the kitchen floorboards, and a defecting German soldier in the attic–each group completely unbeknownst to the others. For everyone to survive, Franciszka will have to outsmart her neighbors and the German commanders standing guard right outside her yard.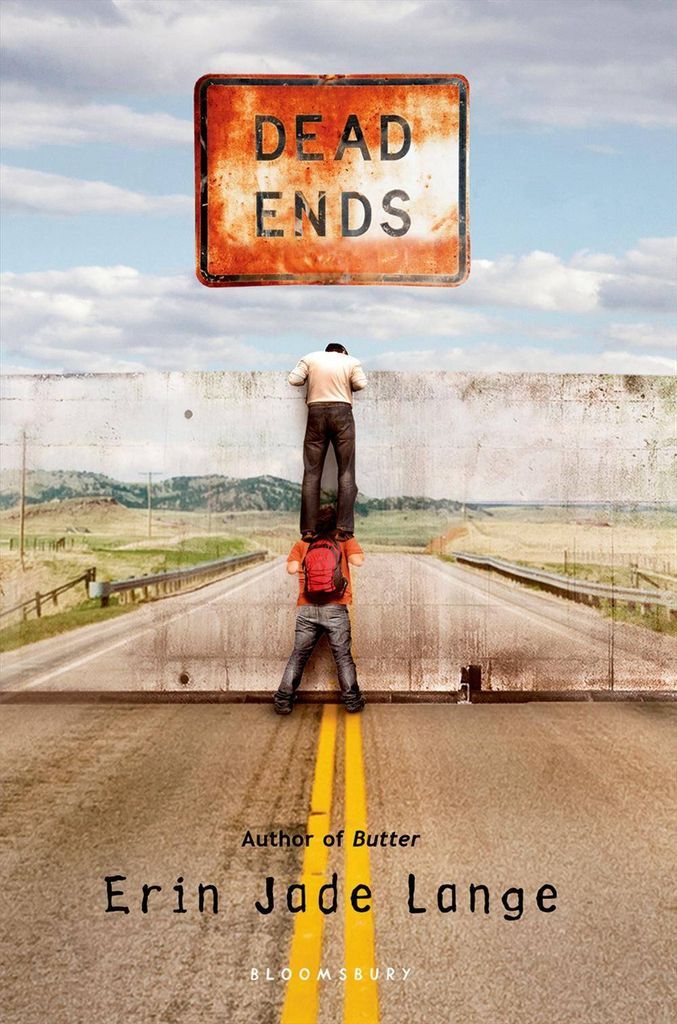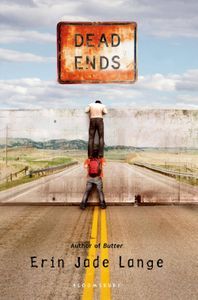 Dead Ends by Erin Jade Lange (Bloomsbury USA Childrens)
A riddle rarely makes sense the first time you hear it. The connection between Dane and Billy D doesn't make sense the second time you hear it. But it's riddles that solidifies their friendship.
Dane is a bully with two rules: don't hit girls and don't hit special kids. Billy D has Down syndrome. When Dane doesn't hit him, Billy reaches out for help. Billy is sure the riddles his missing father left in an atlas are really clues to finding him. Billy and Dane piece them together, leading to unmarked towns and secrets of the past. But they're all dead ends. Until the final clue . . . and a secret Billy shouldn't have been keeping.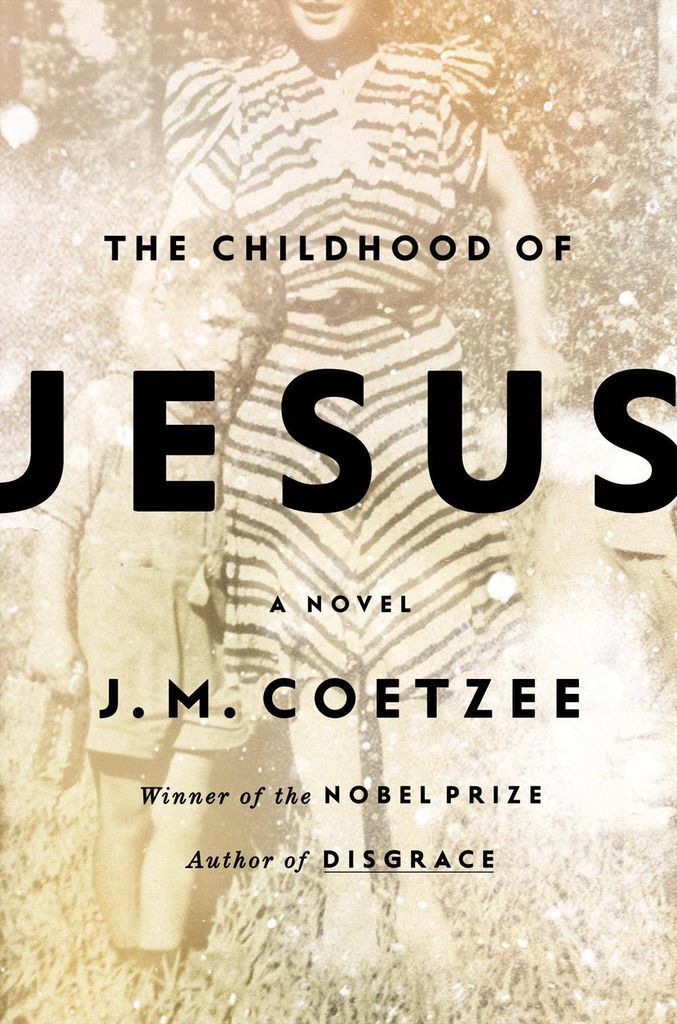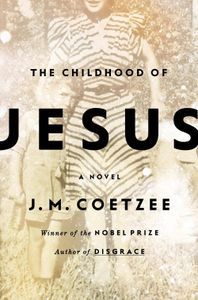 The Childhood of Jesus by J.M. Coetzee (Viking Adult)
Separated from his mother as a passenger on a boat bound for a new land, David is a boy who is quite literally adrift. The piece of paper explaining his situation is lost, but a fellow passenger, Simón, vows to look after the boy. When the boat docks, David and Simón are issued new names, new birthdays, and virtually a whole new life. Strangers in a strange land, knowing nothing of their surroundings, nor the language or customs, they are determined to find David's mother. Though the boy has no memory of her, Simón is certain he will recognize her at first sight. "But after we find her," David asks, "what are we here for?"
An eerie allegorical tale told largely through dialogue, The Childhood of Jesus is a literary feat—a novel of ideas that is also a tender, compelling narrative. Coetzee's many fans will celebrate his return while new readers will find The Childhood of Jesus an intriguing introduction to the work of a true master.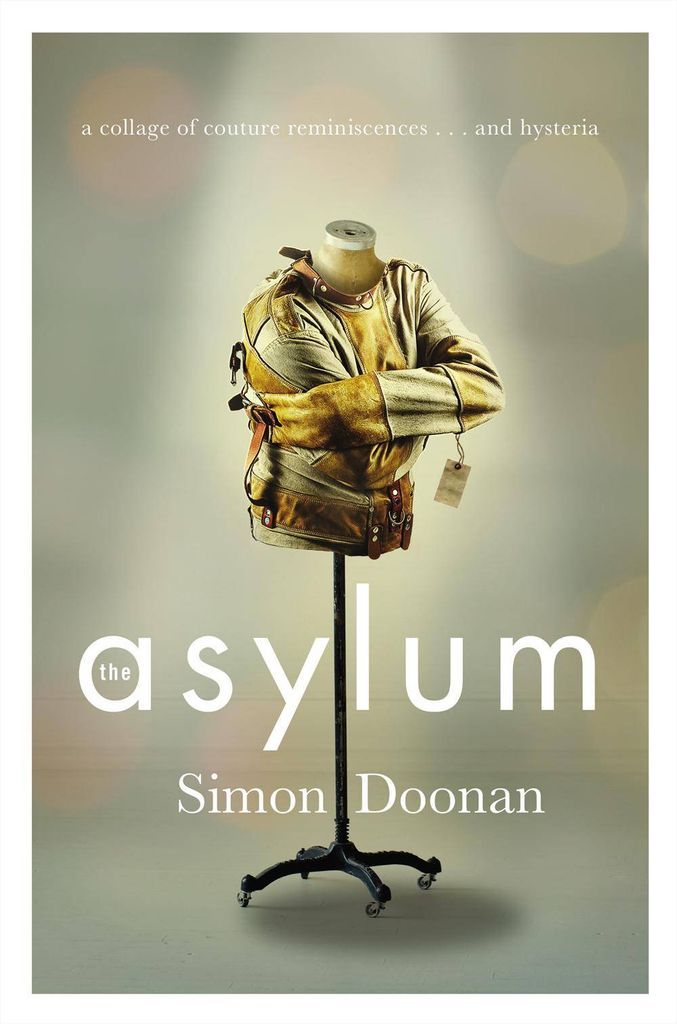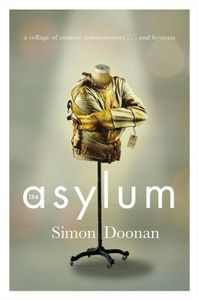 The Asylum By Simon Doonan (Blue Rider Press)
Simon Doonan has spent his entire career in fashion, so believe him when he says his peers in this multibillion-dollar industry are just as nuts as the denizens of your local loony bin. Style insiders see patterns and trends everywhere; they have a predilection for theatrical makeup and artfully destroyed clothing; they suffer from outsize personality disorders and delusions of grandeur. Doonan has witnessed models unable to work for fear of ghosts, gone deep-sea fishing with a couturier pal and his jailbird companion, and watched Anna Wintour remain serenely calm while the ceiling fell down—literally—in the middle of fashion week. But, as Doonan argues, eccentricity and extremism are the foundations of great style, which is why there's no one more suited to the asylum than a truly die-hard fashionista. In this unabashedly hilarious collection of autobiographical essays, Doonan gives us the inside scoop on the kooky, cutthroat—but always fabulous—fashion world, and proves himself one of the most brilliantly funny and sharp humorists writing today.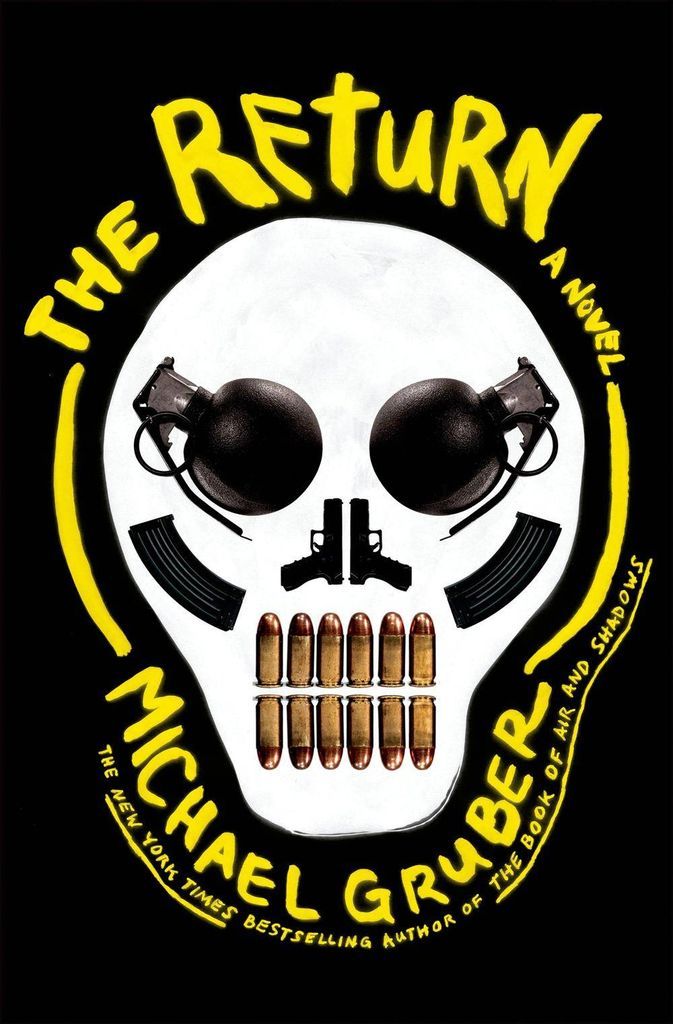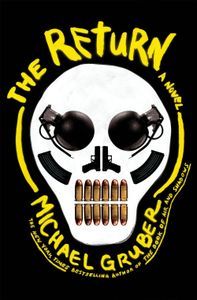 The Return by Michael Gruber (Henry Holt and Co)
The real Richard Marder would shock his acquaintances, if they ever met him. Even his wife, long dead, didn't know the real man behind the calm, cultured mask he presents to the world. Only an old army buddy from Vietnam, Patrick Skelly, knows what Marder is capable of. Then a shattering piece of news awakens Marder's buried desire for vengeance, and with nothing left to lose, he sets off to punish the people whose actions, years earlier, changed his life. Uninvited, Skelly shows up and together the two of them raise the stakes far beyond anything Marder could have envisioned. As Marder and Skelly head toward an apocalypse of their own making, Marder learns that good motives and sense of justice can't always protect the people a man loves.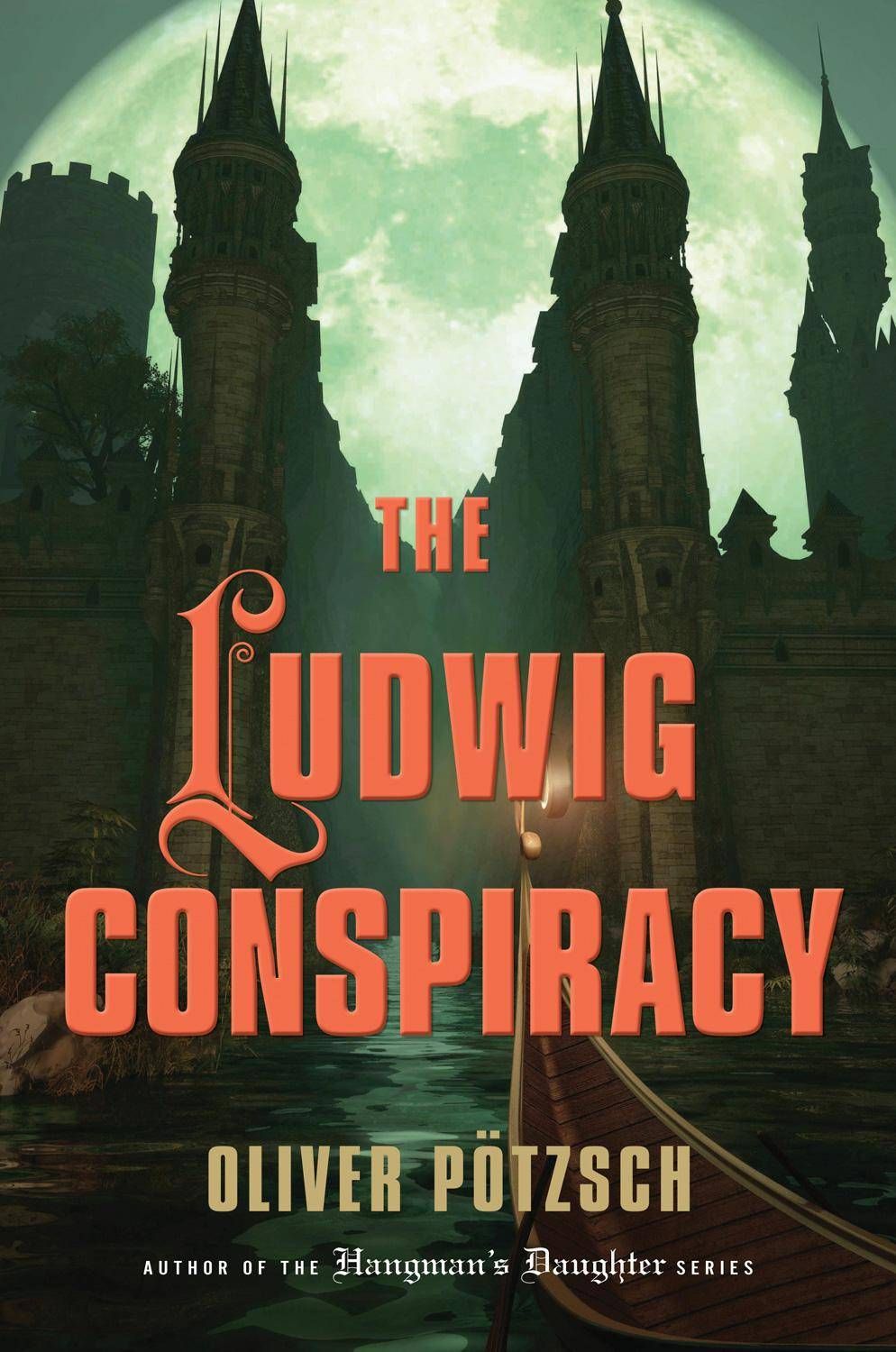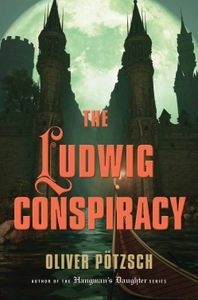 The Ludwig Conspiracy by Oliver Potzch (Houghton Mifflin Harcourt)
Ludwig II, the Fairy-tale King of Bavaria, is today remembered for his beautiful castles-popular tourist destinations that inspired the Disney Castle, but whose origins were much more fantastical than anything Disney could dream up. Also known as the Mad King, Ludwig was deposed in 1886 after being declared insane by doctors who had never met him. He promptly died-mysteriously drowned in waist-deep water-his eccentric castles his only legacy. An encoded diary by one of Ludwig's confidants falls into the hands of modern-day rare book dealer Steven Lukas, who soon realizes that the diary may bring him more misery than money. Others want the diary as well-and they will kill to get it. Lukas teams up with a beautiful art detective, Sara Lengfeld, to investigate each of Ludwig's three famous castles for clues to crack the diary's code as mysterious thugs and Ludwig's fanatical followers chase them at every step. Just what in the diary could be so explosive?
PAPERBACK RELEASES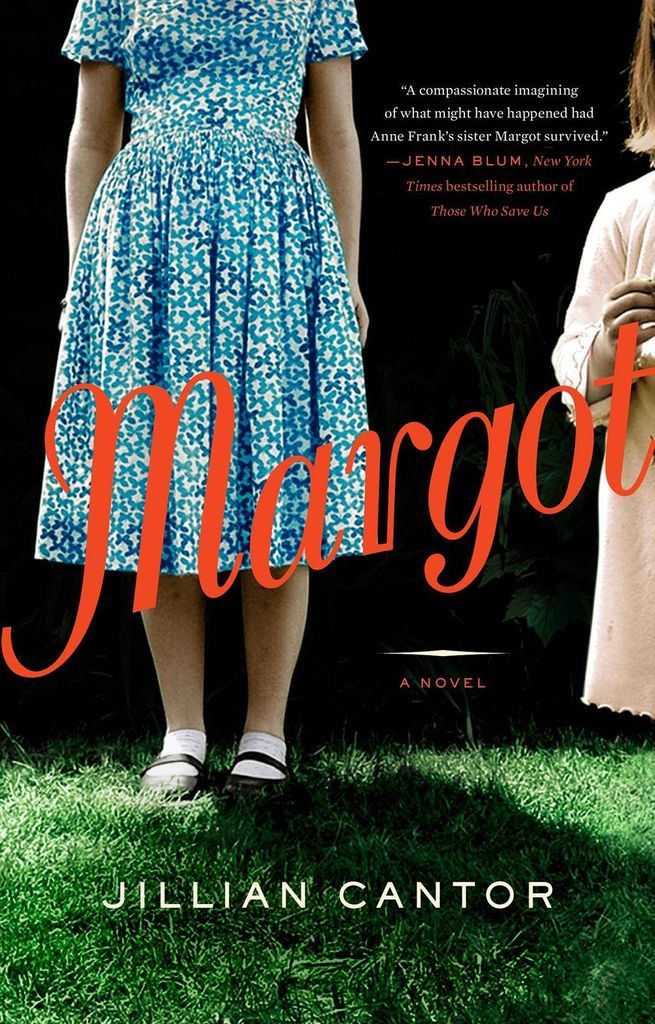 Margot by Jillian Cantor (Riverhead Trade)
In the spring of 1959, The Diary of Anne Frank has just come to the silver screen to great acclaim, and a young woman named Margie Franklin is working in Philadelphia as a secretary at a Jewish law firm. On the surface she lives a quiet life, but Margie has a secret: a life she once lived, a past and a religion she has denied, and a family and a country she left behind. Margie Franklin is really Margot Frank, older sister of Anne, who did not die in Bergen-Belsen as reported, but who instead escaped the Nazis for America. But now, as her sister becomes a global icon, Margie's carefully constructed American life begins to fall apart. A new relationship threatens to overtake the young love that sustained her during the war, and her past and present begin to collide. Margie is forced to come to terms with Margot, with the people she loved, and with a life swept up into the course of history.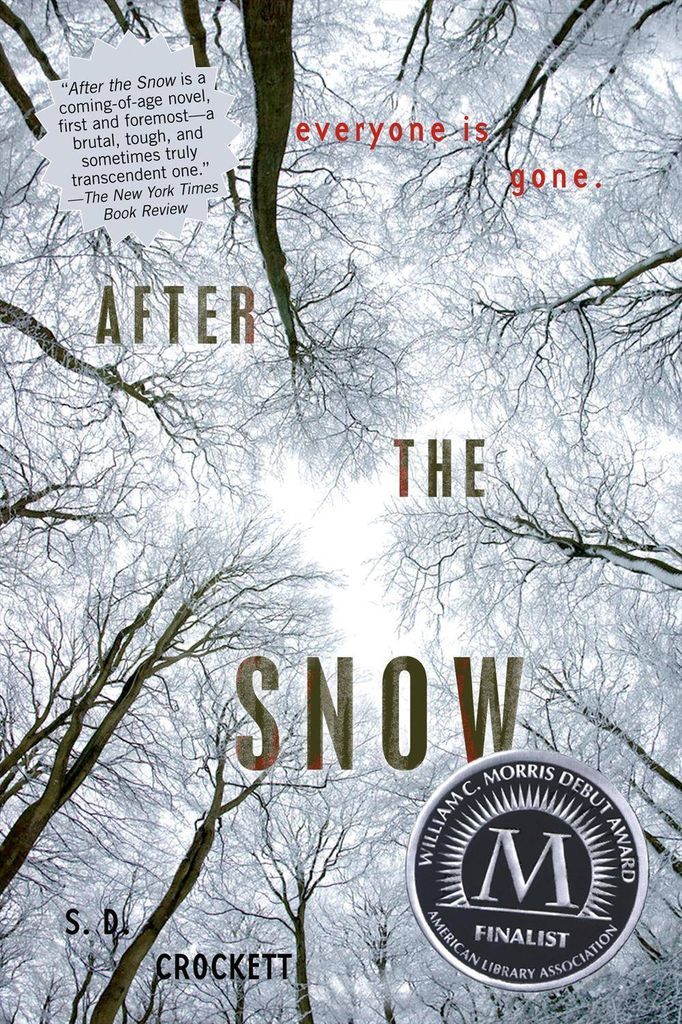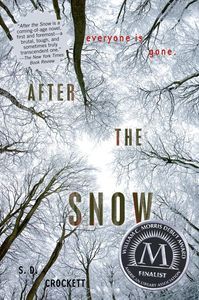 After the Snow by S.D. Crockett (Square Fish)
Enter the new Ice Age. The oceans stopped working before Willo was born, so the world of ice and snow is all he's ever known. He lives with his family deep in the wilderness, far from the government's controlling grasp. Willo's survival skills are put to the test when he arrives home one day to find his family gone. It could be the government; it could be scavengers—all Willo knows is he has to find refuge and his family. It is a journey that will take him into the city he's always avoided, with a girl who needs his help more than he knows. This story, and especially the narrative voice, are among the most distinctive and memorable we've ever read.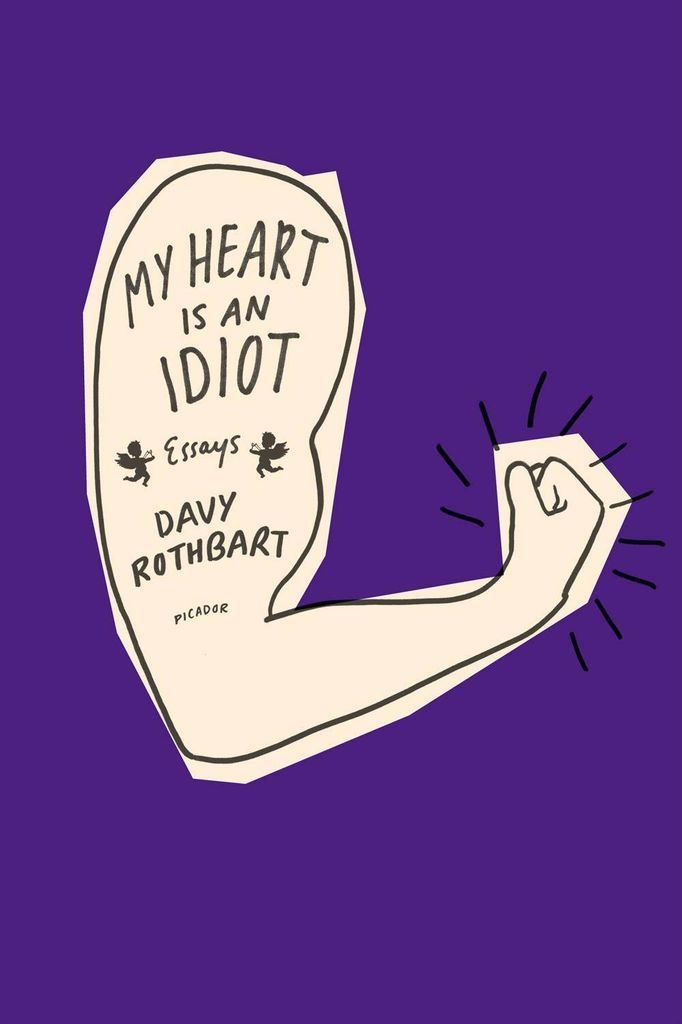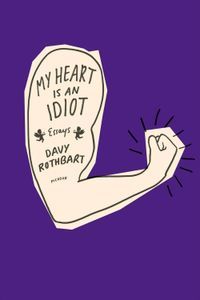 My Heart is an Idiot by Davy Rothbart (Picador)
Davy Rothbart is looking for love in all the wrong places. Constantly. He falls helplessly in love with pretty much every girl he meets—and rarely is the feeling reciprocated. Time after time, he hops in a car and tears across half of America with his heart on his sleeve. He's continually coming up with outrageous schemes, which he always manages to pull off. Well, almost always. But even when things don't work out, Rothbart finds meaning and humor in every moment. Whether it's humiliating a scammer who takes money from aspiring writers or playing harmless (but side-splitting) goofs on his deaf mother, nothing and no one is off limits.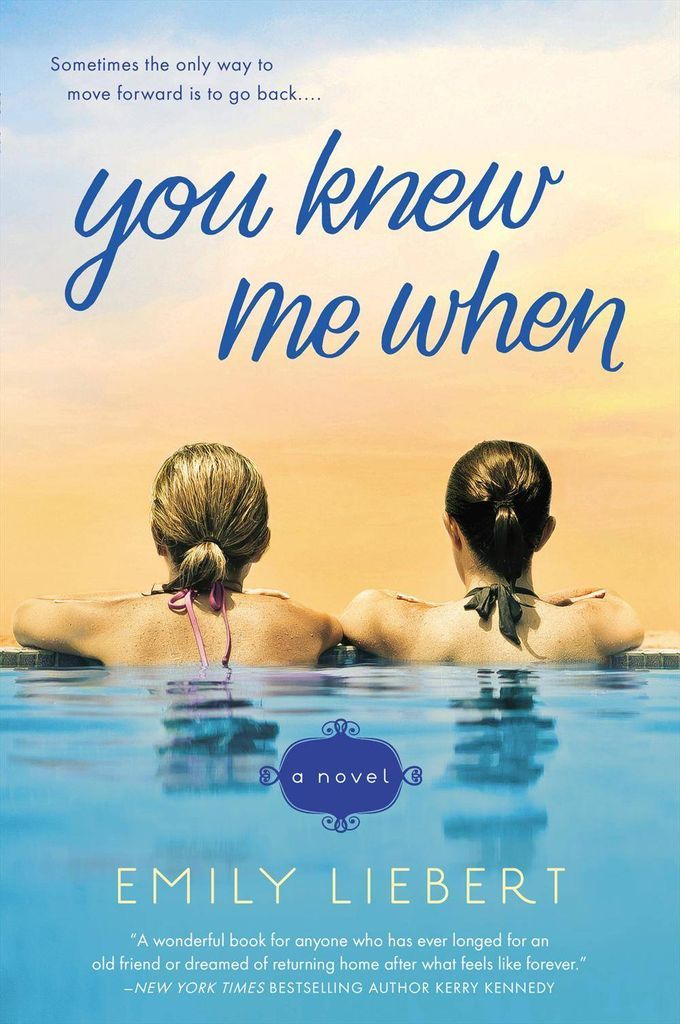 You Knew Me When by Emily Liebert (NAL Trade)
Katherine Hill left her small New England hometown in pursuit of a dream. Now, twelve years later, she's a high-powered cosmetics executive in Manhattan and a much glossier version of her former self, unrecognizable to her family and old friends. Not that she would know—she hasn't been home in over a decade. Laney Marten always swore she'd never get "stuck" in Manchester, Vermont. No, she was destined to live out her glamorous big-city dreams. Instead, she wound up a young wife and mother. That was when her best friend ran out.
When Katherine receives word of an inheritance from former neighbor Luella Hancock, she reluctantly returns home to the people and places she left behind. Hoping for a second chance, she's met by an unforgiving Laney, her former best friend. And there's someone else who's moved on without her—someone she once loved. Tethered to their shared inheritance of Luella's sprawling Victorian mansion, Katherine and Laney are forced to address their long-standing grudges. Through this, they come to understand that while life has taken them in different directions, ultimately the bonds of friendship and sisterhood still bind them together. But are some wounds too old and deep to mend?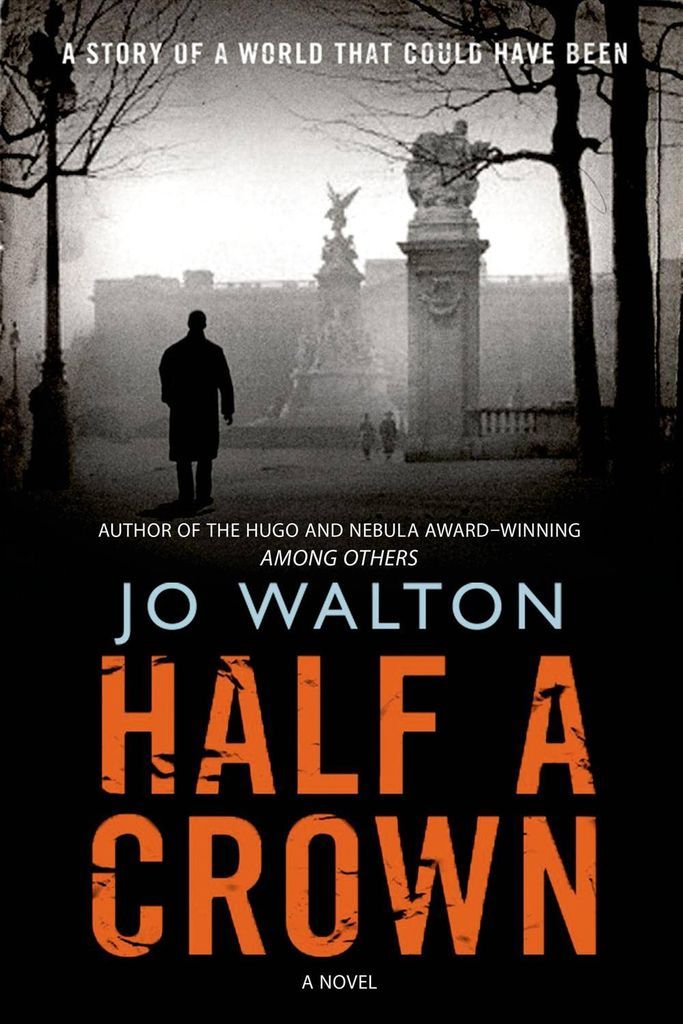 Half a Crown by Jo Walton (Tor Books)
In 1941 the European war ended in the Farthing Peace, a rapprochement between Britain and Nazi Germany. The balls and banquets of Britain's upper class never faltered, while British ships ferried "undesirables" across the Channel to board the cattle cars headed east. Peter Carmichael is commander of the Watch, Britain's distinctly British secret police. It's his job to warn the Prime Minister of treason, to arrest plotters, to discover Jews. The midnight knock of a Watchman is the most dreaded sound in the realm.
Now, in 1960, a global peace conference is convening in London, where Britain, Germany, and Japan will oversee the final partition of the world. Hitler is once again on British soil. So is the long-exiled Duke of Windsor—and the rising gangs of "British Power" streetfighters, who consider the Government "soft," may be the former king's bid to stage a coup d'etat. Amidst all this, two of the most unlikely persons in the realm will join forces to oppose the fascists: a debutante whose greatest worry until now has been where to find the right string of pearls, and the Watch Commander himself.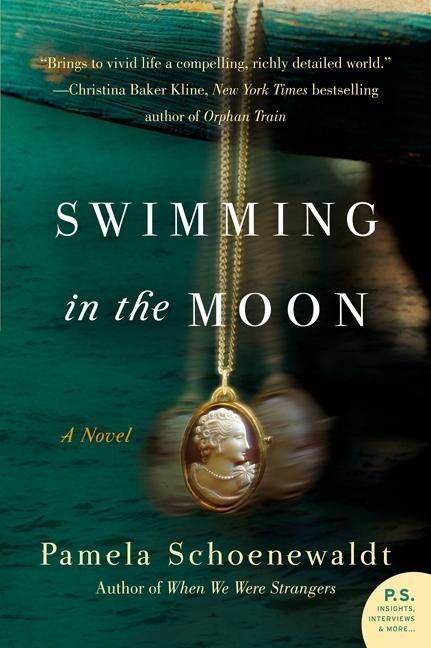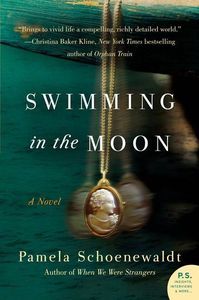 Swimming in the Moon by Pamela Schoenewaldt (William Morrow Paperbacks)
In 1904, fourteen-year-old Lucia and her young mother Teresa are servants in a count's lush villa on the Bay of Naples. Between scrubbing floors and polishing silver, Teresa soothes the unhappy countess with song until one morning's calamity hurls mother and daughter to America, exchanging their gilded cage for icy winds off Lake Erie and Cleveland's taut immigrant neighborhoods. Lucia blossoms and Teresa wins fleeting fame on the tawdry stage of vaudeville until old demons threaten their new life. In factories and workhouses, Lucia finds her own stage, giving voice to those who have given her a home. As roles reverse, mother and daughter reshape their fierce and primal bond.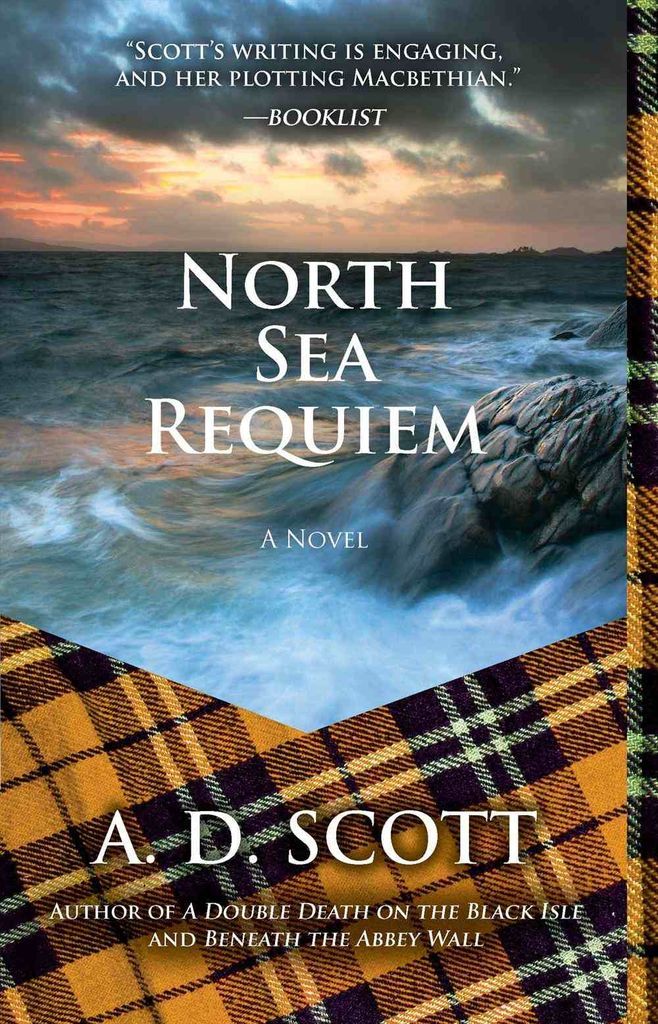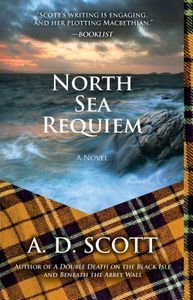 North Sea Requiem by A.D. Scott (Atria Books)
When a woman discovers a severed leg in the boot of one of the local hockey player's uniforms, it's a big scoop for the Highland Gazette. But reporter Joanne Ross wants a front page story of her own, and she hopes to find in Mae Bell, an American jazz singer whose husband disappeared in an aircraft accident five years ago and who is searching the Highlands for her husband's colleagues. Things take a very sinister turn when Nurse Urquhart, who discovered the severed limb, suffers a hideous and brutal attack. Even stranger, she was the recipient of letters warning her to keep her nose out of someone's business—letters that Mae Bell and the staff of the Highland Gazette also received. What could it all mean?
Unfolding against a gorgeously rendered Scottish countryside, North Sea Requiem captures the mores and issues of another era, especially in Joanne Ross—a woman wrestling with divorce, career, and a boss who wants to be more than just her superior.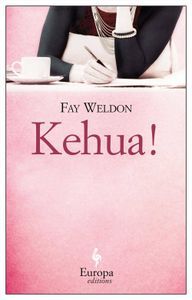 Kehua! by Fay Weldon (Europa Editions)
Your writer, in conjuring this tale of murder, adultery, incest, ghosts, redemption and remorse, takes you first to a daffodil-filled garden in Highgate, North London, where, just outside the kitchen window, something startling shimmers on the very edges of perception. Fluttering and chattering, these are our kehua – a whole multiplying flock of Maori spirits (all will be explained) goaded into wakefulness by the conversation within. Scarlet – a long-legged, skinny young woman of the new world order – has announced to Beverley – her aged grandmother – that she intends to leave home and husband for the glamorous actor, Jackson Wright – he of the vampire films. Beverley may be well on her way to her ninth decade, but she's not beyond using this intelligence to stir up a little trouble. Quite how they became attached to a three-year-old white girl is the origin of your writer's tale. Suffice to say that murder is at the root of it all, that Beverley and her female bloodline carry a weighty spiritual burden and that this is the story of how they learn to live with their ghosts, or maybe how their ghosts learn to live with them.
_____________________________
Sign up for our newsletter to have the best of Book Riot delivered straight to your inbox every two weeks. No spam. We promise.
To keep up with Book Riot on a daily basis, follow us on Twitter, like us on Facebook, and subscribe to the Book Riot podcast in iTunes or via RSS. So much bookish goodness–all day, every day.