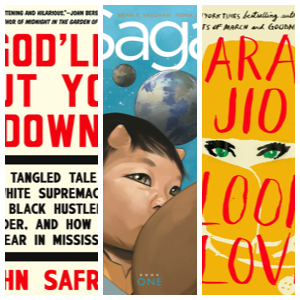 HARDCOVER RELEASES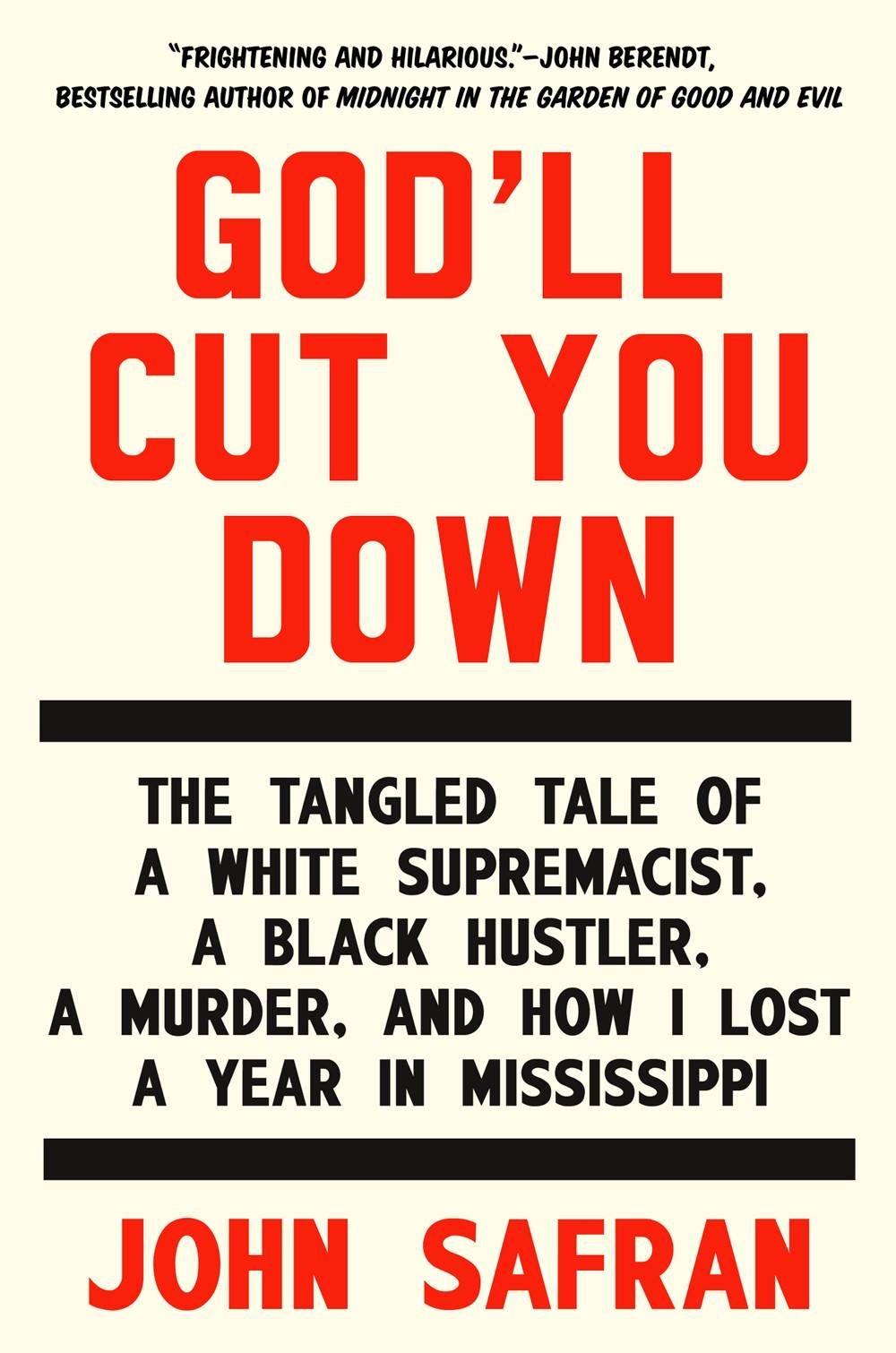 God'll Cut You Down: The Tangled Tale of a White Supremacist, a Black Hustler, a Murder, and How I Lost a Year in Mississippi by John Safran (Riverhead)
A notorious white supremacist named Richard Barrett was brutally murdered in Mississippi in 2010 by a young black man named Vincent McGee. At first the murder seemed a twist on old Deep South race crimes. But then new revelations and complications came to light. Maybe it was a dispute over money rather than race—or, maybe and intriguingly, over sex.
John Safran, a young white Jewish Australian documentarian, had been in Mississippi and interviewed Barrett for a film on race. When he learned of Barrett's murder, he returned to find out what happened and became caught up in the twists and turns of the case. During his time in Mississippi, Safran got deeper and deeper into this gothic southern world, becoming entwined in the lives of those connected with the murder—white separatist frenemies, black lawyers, police investigators, oddball neighbors, the stunned families, even the killer himself. And the more he talked with them, the less simple the crime—and the people involved—seemed to be. In the end, he discovered how profoundly and indelibly complex the truth about someone's life—and death—can be.
This is a brilliant, haunting, hilarious, unsettling story about race, money, sex, and power in the modern American South from an outsider's point of view.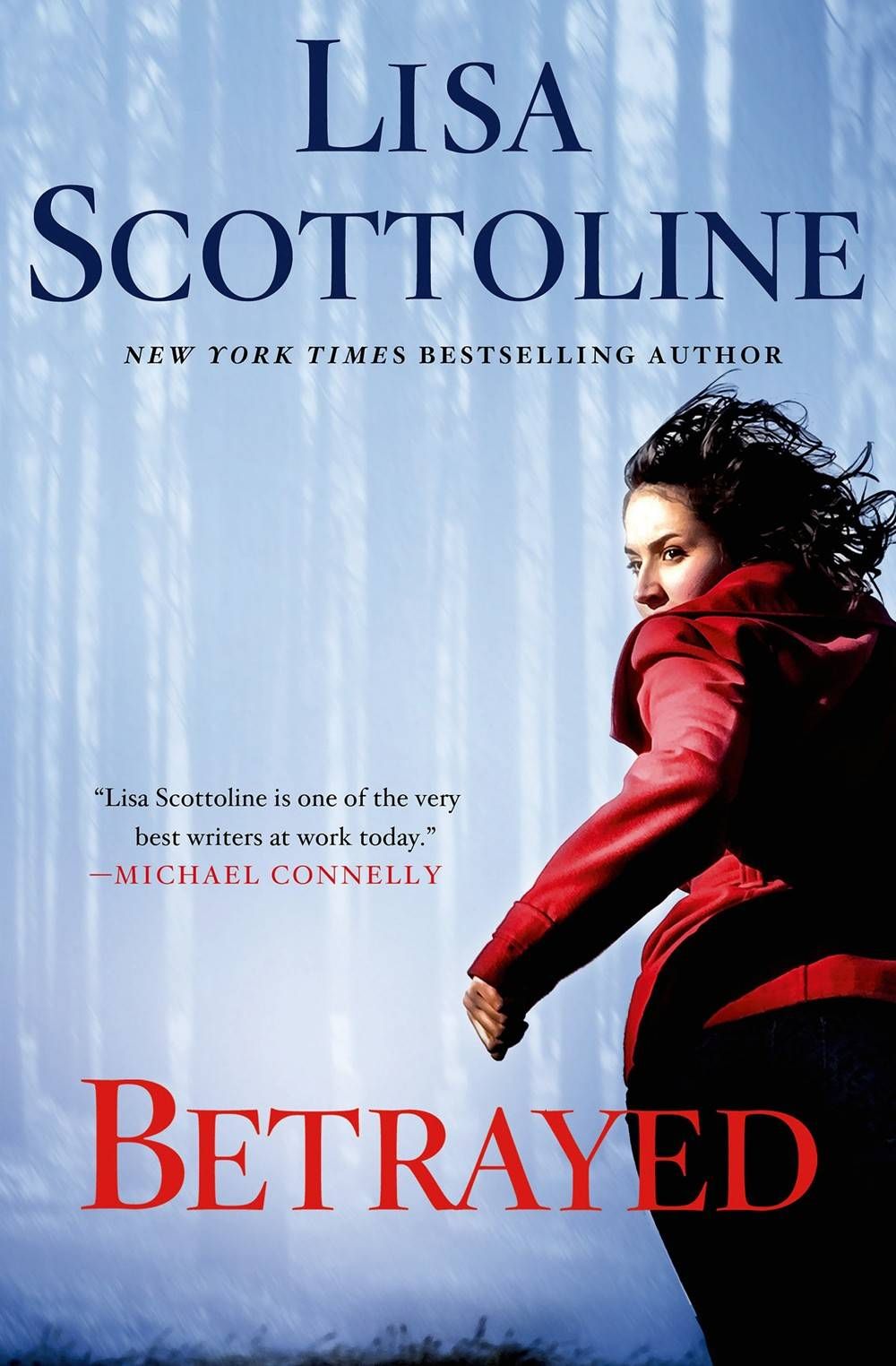 Betrayed by Lisa Scottoline (St. Martin's Press)
Blockbuster author Lisa Scottoline returns to the Rosato & Associates law firm with Betrayed, and maverick lawyer Judy Carrier takes the lead in a case that's more personal than ever. Judy has always championed the underdog, so when Iris, the housekeeper and best friend of Judy's beloved Aunt Barb, is found dead of an apparent heart attack, Judy begins to suspect foul play. The circumstances of the death leave Judy with more questions than answers, and never before has murder struck so close to home.
In the meantime, Judy's own life roils with emotional and professional upheaval. She doesn't play well with her boss, Bennie Rosato, which jeopardizes her making partner at the firm. Not only that, her best friend Mary DiNunzio is planning a wedding, leaving Judy feeling left behind, as well as newly unhappy in her relationship with her live-in boyfriend Frank.
Judy sets her own drama aside and begins an investigation of Iris's murder, then discovers a shocking truth that confounds her expectations and leads her in a completely different direction. She finds herself plunged into a shadowy world of people who are so desperate that they cannot go to the police, and where others are so ruthless that they prey on vulnerability. Judy finds strength within herself to try to get justice for Iris and her aunt — but it comes at a terrible price.
Saga: Deluxe Edition, Volume 1 by Brian K. Vaughn and Fiona Staples (Image Comics)
At long last, a deluxe hardcover of the Hugo Award-winning Saga is finally on its way! Collecting the first three trade paperbacks (issues #1-18) of the smash-hit series, this massive edition features a striking new cover, as well as special extras, including never-before-seen sketches, script pages, and a roundtable discussion with the creators about how Saga is really made. Altogether, this hardcover contains over 500 pages for less than fifty bucks! Written by Eisner Award-winning "Best Writer" Brian K. Vaughan (Y: The Last Man, The Private Eye) and drawn by Harvey Award-winning "Best Artist" Fiona Staples (Mystery Society, North 40) Saga is the story of Hazel, a child born to star-crossed parents from opposite sides of a never-ending galactic war. Now, Hazel's fugitive family must risk everything to find a peaceful future in a harsh universe that values destruction over creation.
PAPERBACK RELEASES
Night Shift by Nalini Singh, Ilona Andrews, Milla Vane, and Makenna Frazier (Berkley)
Four masters of urban fantasy and paranormal romance plunge readers into the dangerous, captivating world unearthed beyond the dark…
New York Times bestselling author Nalini Singh delivers a smoldering story with Secrets at Midnight, as the scent of Bastien Smith's elusive lover ignites a possessiveness in him that's as feral as it is ecstatic. And now that he's found his mate, he'll do anything to keep her.
In #1 New York Times bestselling author Ilona Andrews' novella, Magic Steals, when people start going missing, shapeshifting tigress Dali Harimau and jaguar shifter Jim Shrapshire must uncover the truth about the mysterious creatures responsible.
From Milla Vane—a warrior princess must tame The Beast of Blackmoor to earn a place among her people. But she quickly discovers that the beast isn't a monster, but a barbarian warrior who intends to do some taming himself.
It's seer Makenna Frazier's first day on the job at Supernatural Protection and Investigations, and her first assignment is more than she bargained for when bodyguard duty for a leprechaun prince's bachelor party goes every which way but right in national bestselling author Lisa Shearin's Lucky Charms.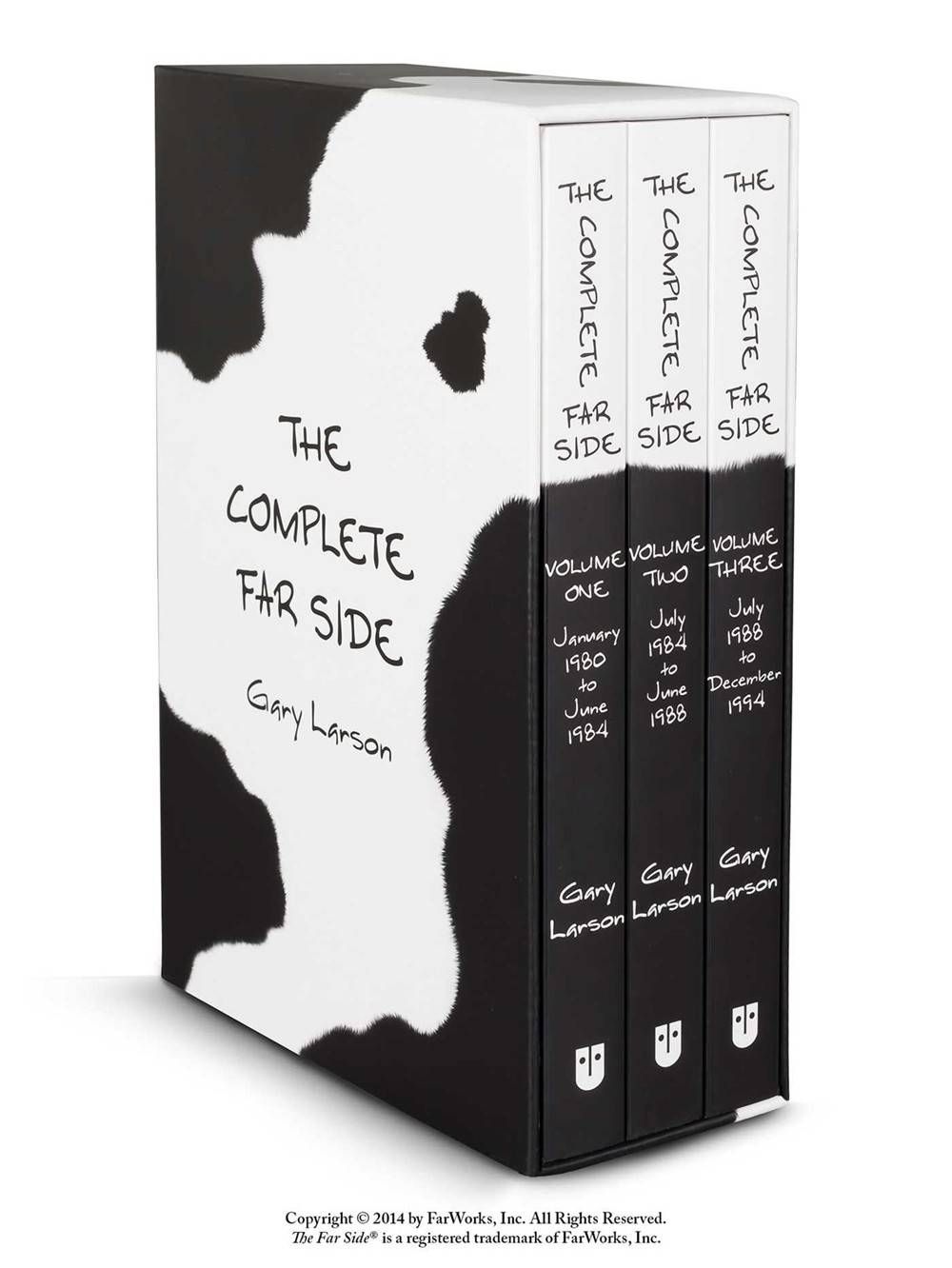 The Complete Far Side by Gary Larson (Andrews McMeel)
Originally published in hardcover in 2003, The Complete Far Side was a New York Times bestseller. Now it's back as a paperback set with a newly designed slipcase that will delight Far Side fans.
Revered by its fans as the funniest, most original, most "What the … ?"-inspiring cartoon ever, The Far Side® debuted in January 1980 and enjoyed an illustrious 14 years on the world's comics pages until Gary Larson's retirement in 1994. The Complete Far Side celebrates Larson's twisted, irreverent genius in this ultimate Far Side book.
A masterpiece of comic brilliance, The Complete Far Side contains every Far Side cartoon ever syndicated–over 4,000 if you must know–presented in (more or less) chronological order by year of publication, with more than 1,100 that had never before appeared in a book. Also included are additional Far Side cartoons Larson created after his retirement: 13 that appeared in the last Far Side book, Last Chapter and Worse, and six cartoons that periodically ran as a special feature in the New York Times Science Times section as The Far Side® of Science. Creator Gary Larson offers a rare glimpse into the mind of The Far Side® in quirky and thoughtful introductions to each of the 14 chapters. Complaint letters, fan letters, and queries from puzzled readers appear alongside some of the more provocative or elusive panels. Actor, author, and comedian Steve Martin offers his sagacious thoughts in a foreword, and Larson's former editor describes what it was like to be "the guy who could explain every Far Side cartoon."
The Look of Love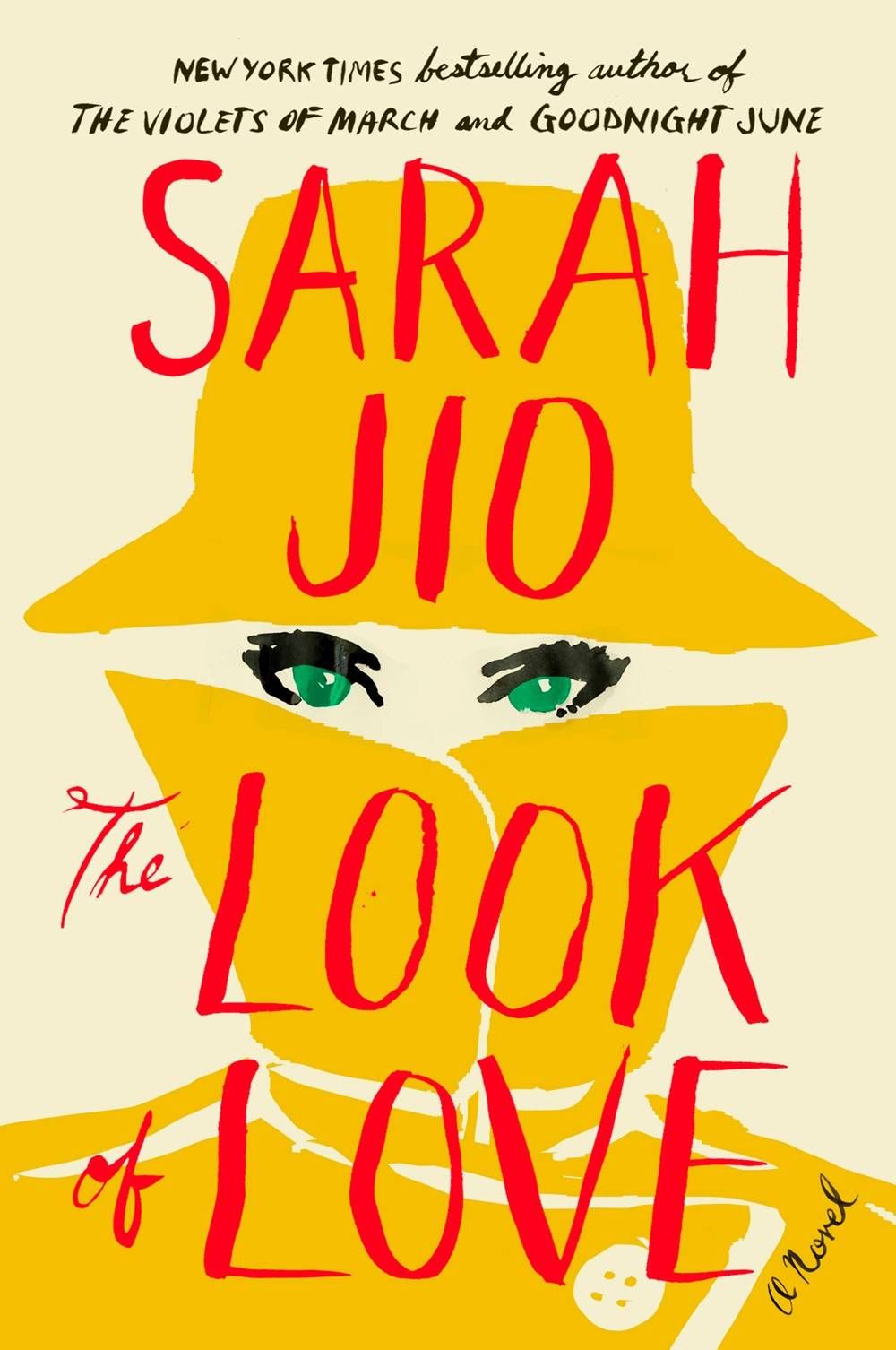 by Sarah Jio (Plume)
Born during a Christmas blizzard, Jane Williams receives a rare gift: the ability to see true love. Jane has emerged from an ailing childhood a lonely, hopeless romantic when, on her twenty-ninth birthday, a mysterious greeting card arrives, specifying that Jane must identify the six types of love before the full moon following her thirtieth birthday, or face grave consequences. When Jane falls for a science writer who doesn't believe in love, she fears that her fate is sealed. Inspired by the classic song, The Look of Love is utterly enchanting.
____________________
Expand your literary horizons with New Books!, a weekly newsletter spotlighting 3-5 exciting new releases, hand-picked by our very own Liberty Hardy. Sign up now!