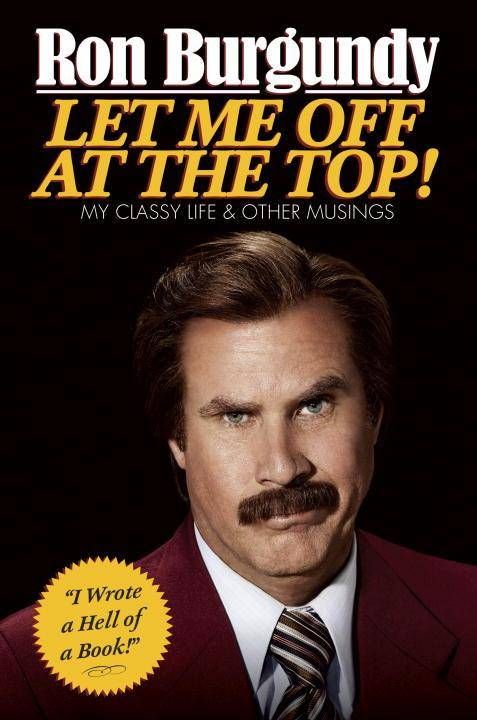 Since we're heading into the holiday season, there aren't as many new books hitting the shelves, and we thought we'd change things up a bit. This week, we're giving you two weeks worth of new releases to look forward to. Next week, we'll have a round up of some of the must-have box sets and special editions that are in stores now.
HARDCOVER RELEASES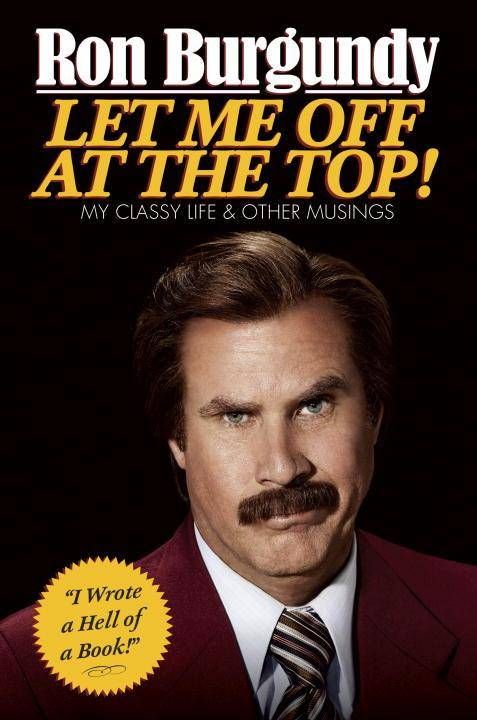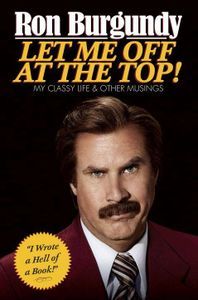 Let Me Off at the Top!: My Classy Life and Other Musings by Ron Burgundy (Crown Archetype)
Ron Burgundy is known to all as the lead anchorman of San Diego's award-winning Action 4 News Team and anchor of the first 24-hour news channel, GNN (Global News Network), but few know the real man behind the news desk. In LET ME OFF AT THE TOP! My Classy Life and Other Musings he will share never-before-told stories of his childhood and the events that led him to choose a career in the news business. He will offer a rare glimpse behind the camera into the real life of a man many consider to be our greatest living news anchor. In his own words, he will share personal anecdotes about the women in his life, about his dog, Baxter, and his legendary news team. Along the way, he'll also give sage advice on a variety of topics that matter most to him. The long wait is over. Ron Burgundy pulls no punches in this widely anticipated, fully authorized tell-all autobiography. -NOVEMBER 19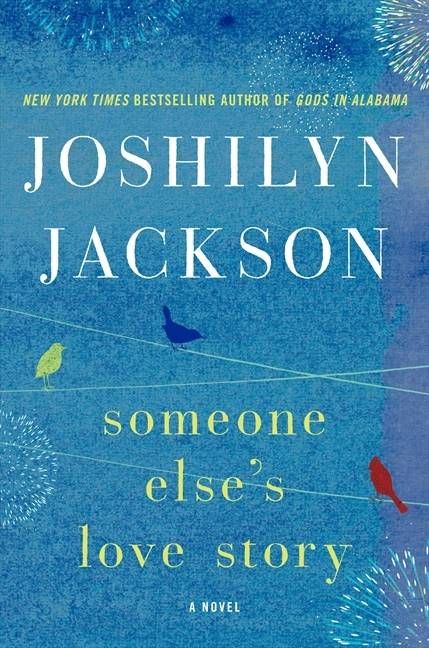 Someone Else's Love Story by Joshilyn Jackson (William Morrow)
At twenty-one Shandi Pierce is juggling finishing college, raising her delightful three-year-old genius son Nathan, aka Natty Bumppo, and keeping the peace between her eternally warring, long-divorced Christian mother and Jewish father. She's got enough complications without getting caught in the middle of a stick-up in a gas station mini-mart and falling in love with a great wall of a man named William Ashe, who willingly steps between the armed robber and her son.
Shandi doesn't know that her blond god Thor has his own complications. When he looked down the barrel of that gun he believed it was destiny: It's been one year to the day since a tragic act of physics shattered his world. But William doesn't define destiny the way other people do. A brilliant geneticist who believes in science and numbers, destiny to him is about choice. Now, he and Shandi are about to meet their so-called destinies head on, making choices that will reveal unexpected truths about love, life, and the world they think they know. -NOVEMBER 19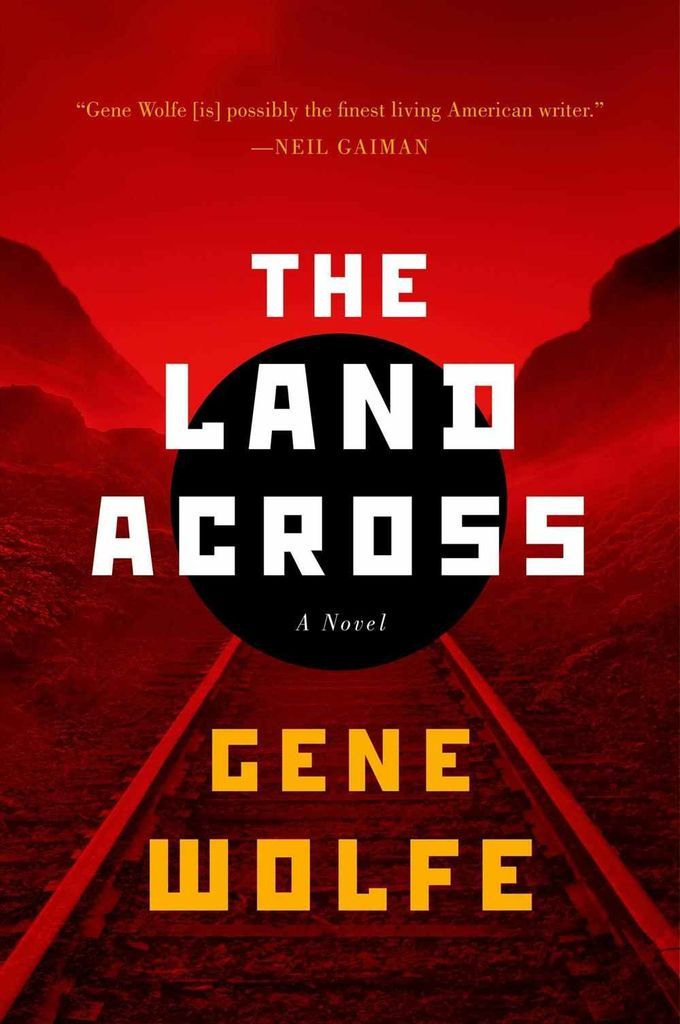 The Land Across by Gene Wolfe (TOR Books)
An American writer of travel guides in need of a new location chooses to travel to a small and obscure Eastern European country. The moment Grafton crosses the border he is in trouble, much more than he could have imagined. His passport is taken by guards, and then he is detained for not having it. He is released into the custody of a family, but is again detained. It becomes evident that there are supernatural agencies at work, but they are not in some ways as threatening as the brute forces of bureaucracy and corruption in that country. Is our hero in fact a spy for the CIA? Or is he an innocent citizen caught in a Kafkaesque trap? – NOVEMBER 26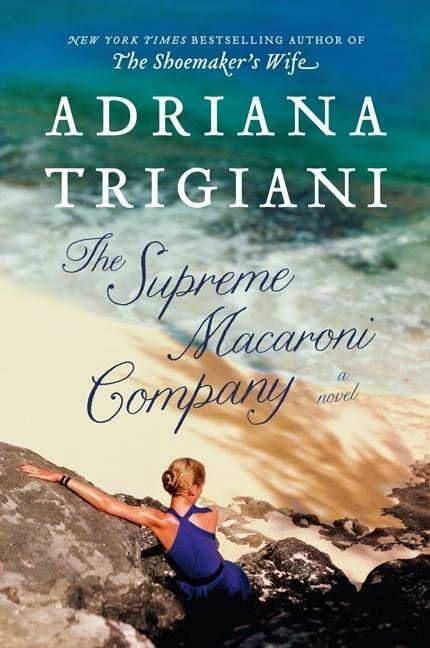 The Supreme Macaroni Company by Adriana Trigiani (Harper)
For over a hundred years, the Angelini Shoe Company in Greenwich Village has relied on the leather produced by Vechiarelli & Son in Tuscany. This historic business partnership provides the twist of fate for Valentine Roncalli, the school teacher turned shoemaker, to fall in love with Gianluca Vechiarelli, a tanner with a complex past . . . and a secret.
A piece of surprising news is revealed at The Feast of the Seven Fishes when Valentine and Gianluca join her extended family on a fateful Christmas Eve. Now faced with life altering choices, Valentine remembers the wise words that inspired her in the early days of her beloved Angelini Shoe Company: "A person who can build a pair of shoes can do just about anything." The proud, passionate Valentine is going to fight for everything she wants and savor all she deserves-the bitter and the sweetness of life itself.
Romantic and poignant, told with humor and warmth, and bursting with a cast of endearing characters, The Supreme Macaroni Company is a sumptuous feast of delights: a portrait of a woman and the man she loves, her passion for craftsmanship, and the sacrifices it takes to build and sustain a family business while keeping love and laughter at the center of everything. – NOVEMBER 26
PAPERBACK RELEASES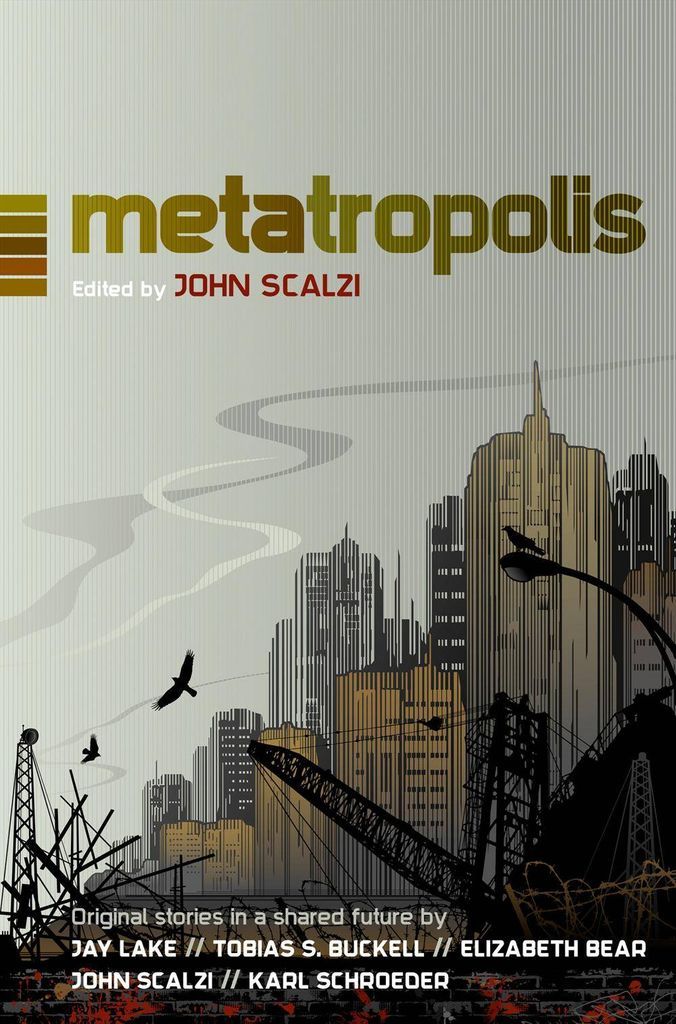 METAtropolis edited by John Scalzi (TOR Books)
More than an anthology, Metatropolis is the brainchild of five of science fiction's hottest writers-Elizabeth Bear, Tobias Buckell, Jay Lake, Karl Schroeder, and project editor John Scalzi–who combined their talents to build a new urban future, and then wrote their own stories in this collectively-constructed world. The results are individual glimpses of a shared vision, and a reading experience unlike any you've had before.
A strange man comes to an even stranger encampment…a bouncer becomes the linchpin of an unexpected urban movement…a courier on the run has to decide who to trust in a dangerous city…a slacker in a "zero-footprint" town gets a most unusual new job…and a weapons investigator uses his skills to discover a metropolis hidden right in front of his eyes.
Welcome to the future of cities. Welcome to Metatropolis. – NOVEMBER 19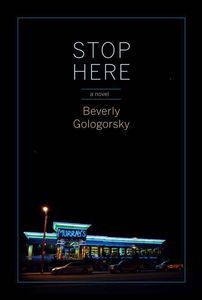 Stop Here by Beverly Gologorsky (Seven Stories Press)
Ava, Mila, and Rosalyn all work at Murray's Diner in Long Island. They are friends and coworkers struggling to hold together their disordered lives. While Ava privately grieves the loss of her husband in the first Iraq War, Mila struggles to dissuade her seventeen-year-old daughter from enlisting in the second. Rosalyn works as an escort by night until love and illness conspire to disrupt the tenuous balance she'd found and the past she'd kept at a safe distance. The promise of a new relationship with a coworker soon begins to restore Ava's faith in her own ability to feel, and Mila learns through wrenching loss that children must learn from their own mistakes. But ultimately it is love-for one another and for their wayward families-that sustains them through the pain and uncertainty of a world with no easy answers. -NOVEMBER 19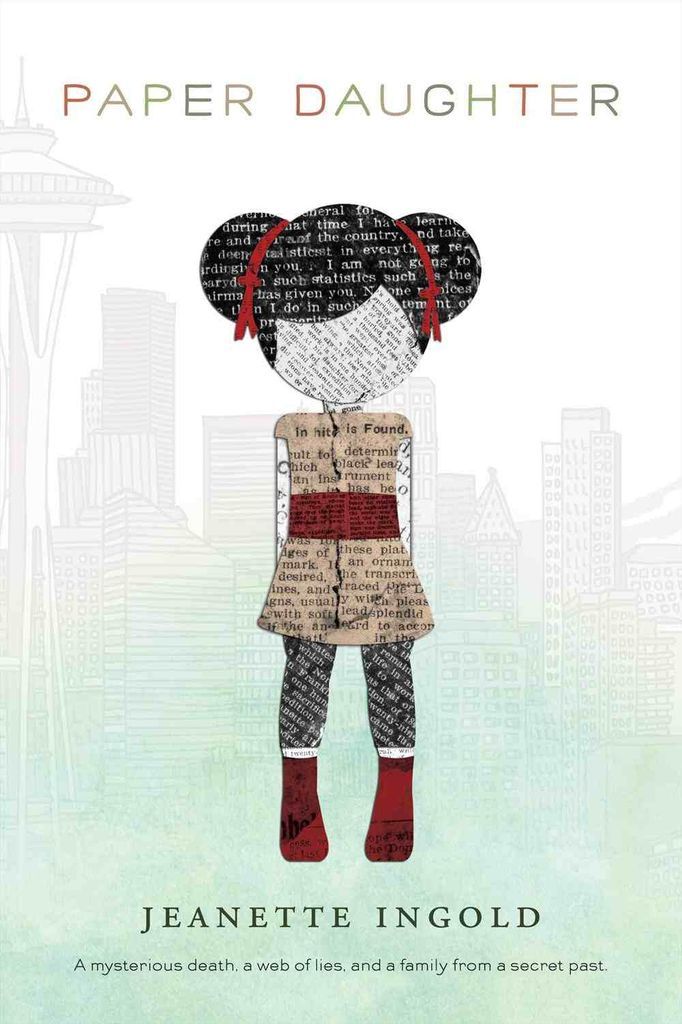 Paper Daughter by Jeannette Ingold (HMH Books For Young Readers)
After her father's mysterious death, up-and-coming journalist Maggie Chen must sift through her family's secretive past. What she finds may have been easier left uncovered, as she confronts her ethnicity and identity in this moving novel.
Maggie Chen's journalist father has fired her imagination with the thrill of the newsroom, and when her father is killed, she is determined to keep his dreams alive by interning at the newspaper.
While assisting on her first story, Maggie learns that her father is suspected of illegal activity, and knows she must clear his name. Drawn to Seattle's Chinatown, she discovers things that are far from what she expected: secrets, lies, and a connection to the Chinese Exclusion Era. Using all of her newspaper instincts and resources, Maggie is forced to confront her ethnicity-and a family she never knew. – NOVEMBER 19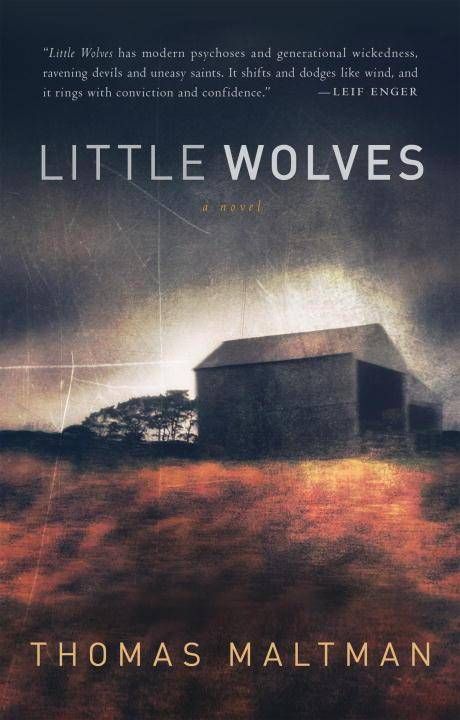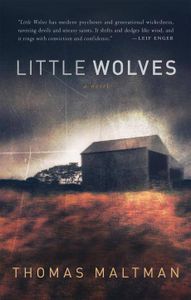 Little Wolves by Thomas Maltman (Soho Press)
Set on the Minnesota prairie in the late 1980s during a drought season that's pushing family farms to the brink,Little Wolves features the intertwining stories of a father searching for answers after his son commits a heinous murder, and a pastor's wife (and washed-out scholar of early Anglo-Saxon literature) who has returned to the town for mysterious reasons of her own. A penetrating look at small-town America from the award-winning author of The Night Birds, Little Wolves weaves together elements of folklore and Norse mythology while being driven by a powerful murder mystery; a page-turning literary triumph. – NOVEMBER 26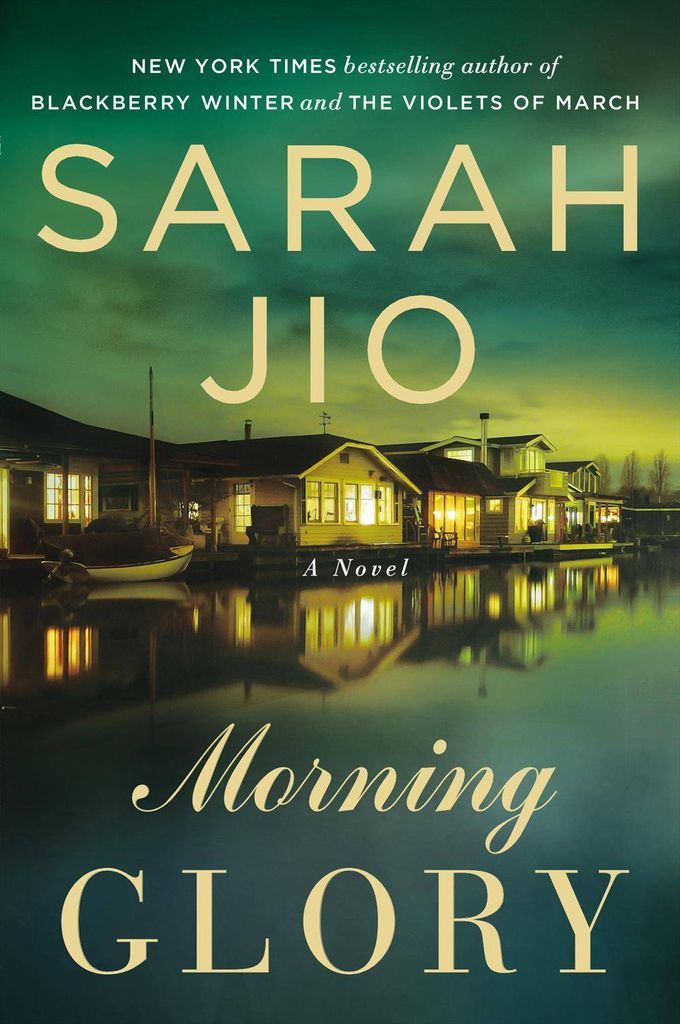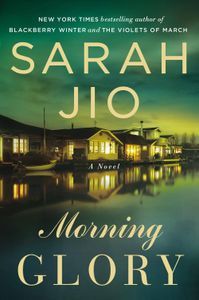 Morning Glory by Sarah Jio (Plume)
Fleeing an East Coast life marred by tragedy, Ada Santorini takes up residence on houseboat number seven on Boat Street. She discovers a trunk left behind by Penny Wentworth, a young newlywed who lived on the boat half a century earlier. Ada longs to know her predecessor's fate, but little suspects that Penny's mysterious past and her own clouded future are destined to converge. -NOVEMBER 26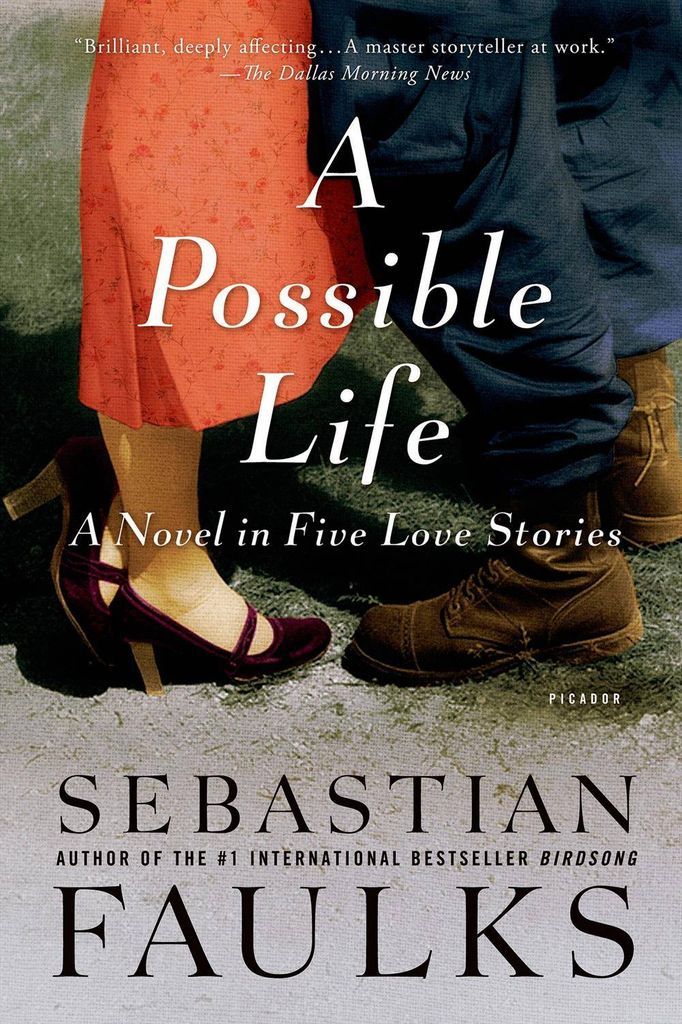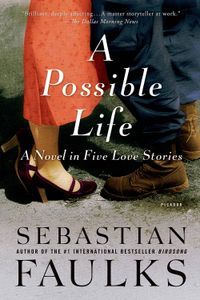 A Possible Life by Sebastian Faulks (Picador)
Throughout A Possible Life, exquisitely drawn and unforgettable characters risk their bodies, hearts, and minds in pursuit of manna of human connection.
Victorian London, Billy survives the workhouse to become the longtime companion of Alice—as well as of another woman. A few years from now, in Italy, the brilliant scientist Elena Duranti will make one startling discovery about human consciousness and another about her only love. In seventeenth-century France, simpleminded Jeanne makes a tough choice about passion. And in 1970s America, are the loves of singer-songwriter Anya anything more than raw materials for her songs?
Provocative and profound, Sebastian Faulks's dazzling new novel journeys across continents and centuries not only to entertain with superb old-fashioned storytelling but to show that occasions of understanding between humans are the one thing that defines us—the one thing that endures. – NOVEMBER 26
________________________
Sign up for our newsletter to have the best of Book Riot delivered straight to your inbox every week. No spam. We promise.

To keep up with Book Riot on a daily basis, follow us on Twitter, like us on Facebook, and subscribe to the Book Riot podcast in iTunes or via RSS. So much bookish goodness–all day, every day.