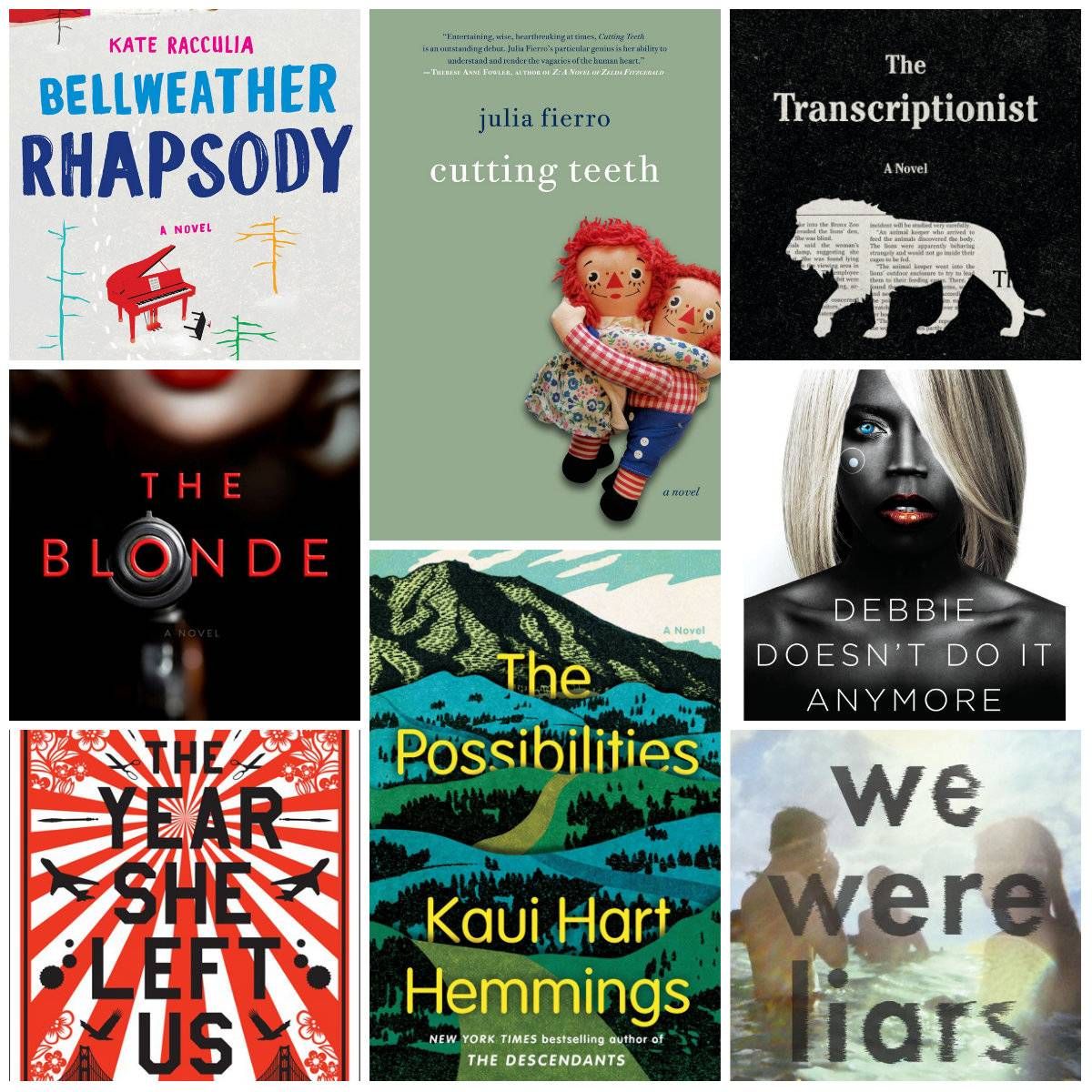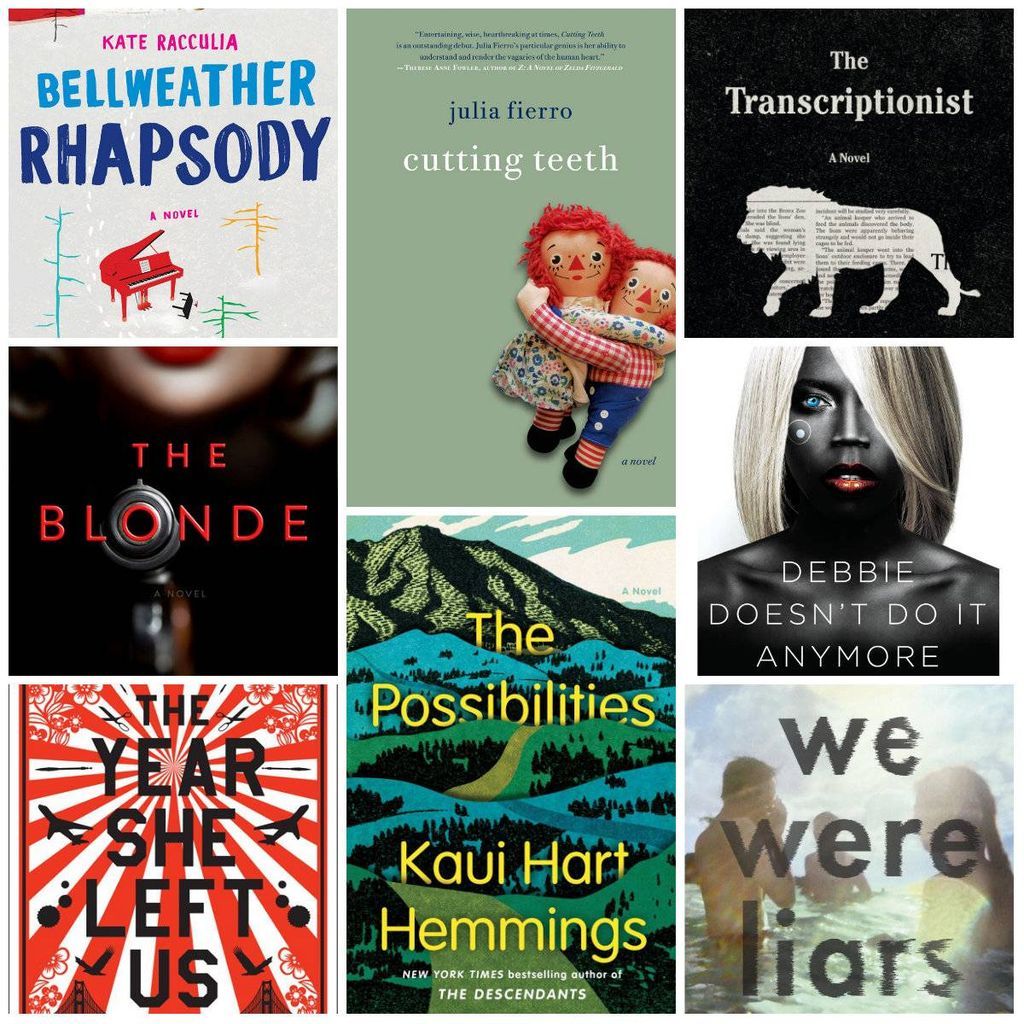 This content contains affiliate links. When you buy through these links, we may earn an affiliate commission.
HARDCOVER RELEASES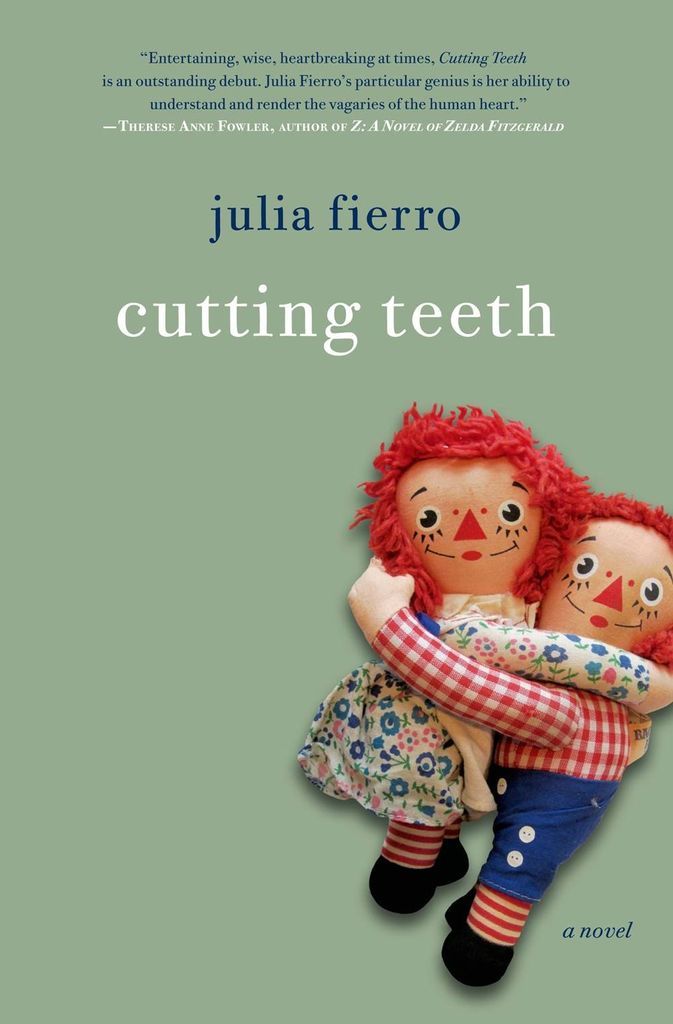 Cutting Teeth by Julia Fierro (St. Martin's Press)
One late-summer weekend, a group of thirty-something Brooklyn parents and their children gather at a shabby beach house called "Eden," but their trip is a far cry from paradise
The parents include:
—Nicole: the beach house is her parents'. She's made sure to be there for the weekend, terrified by internet rumors that something big and bad is going to happen in New York City that week.
—Susanna and Allie: the enviable two-mommy couple with twins, they've tied the knot the day they drove out to Long Island; it's easy to reduce them to a modern urban cliché but nobody sees the reality of their struggles.
—Rip: the sole dad in the playgroup, desperate to have a second child, but his take-no-prisoners wife Grace isn't on board; after all, they had to use a sperm donor for Hank, so why does Rip even care?
—Tiffany: beyond comfortable with her (amazing) body, she wasn't born into the upper middle class world all the others were; she propelled herself from a chaotic childhood to land a nice life; will what she brings to this weekend blow it all up?
—Leigh: has hired the magic nanny everyone wants, and has rubbed that in the other parents' faces by bringing Tenzin along. Tenzin, however, whose own children live thousands of miles away in India, sees the parents from a different perspective.
As the weekend unfolds and conflicts intensify, painful truths surface. Friendships crack. Two days together in Eden will change the group forever.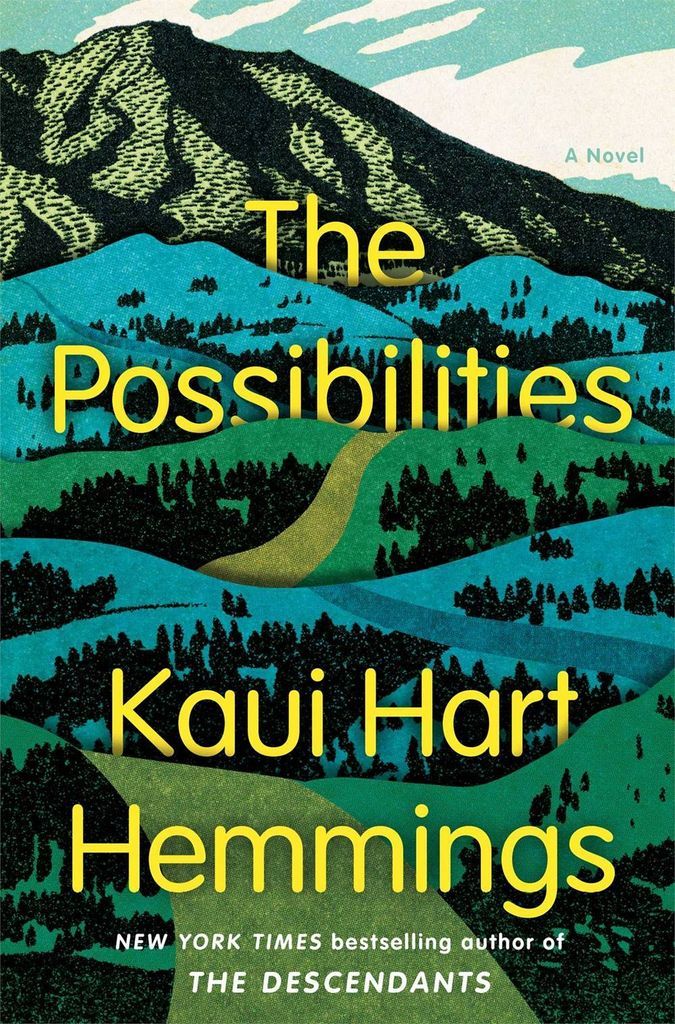 The Possibilities by Kaui Hart Hemmings (Simon & Schuster)
Sarah St. John, a single mother, is reeling from grief: Three months ago, her twenty-one-year-old son, Cully, died in an avalanche near their home in the ski resort town of Breckenridge, Colorado.
As Sarah tries her best to go through the stages—the anger, the sadness, the letting go—she has trouble keeping her grief at bay and moving on with life. Her father, a retiree who has become addicted to QVC, urges Sarah to go back to work at Breckenridge's local morning show. Her best friend, a recent divorcee who always manages to say the wrong things, convinces Sarah to sort through Cully's belongings. Slowly, she comes to terms with a world without the swish of her son's ski pants or the rolling of his skateboard outside her window. Then a girl named Kit appears on Sarah's doorstep—and she's carrying Cully's child.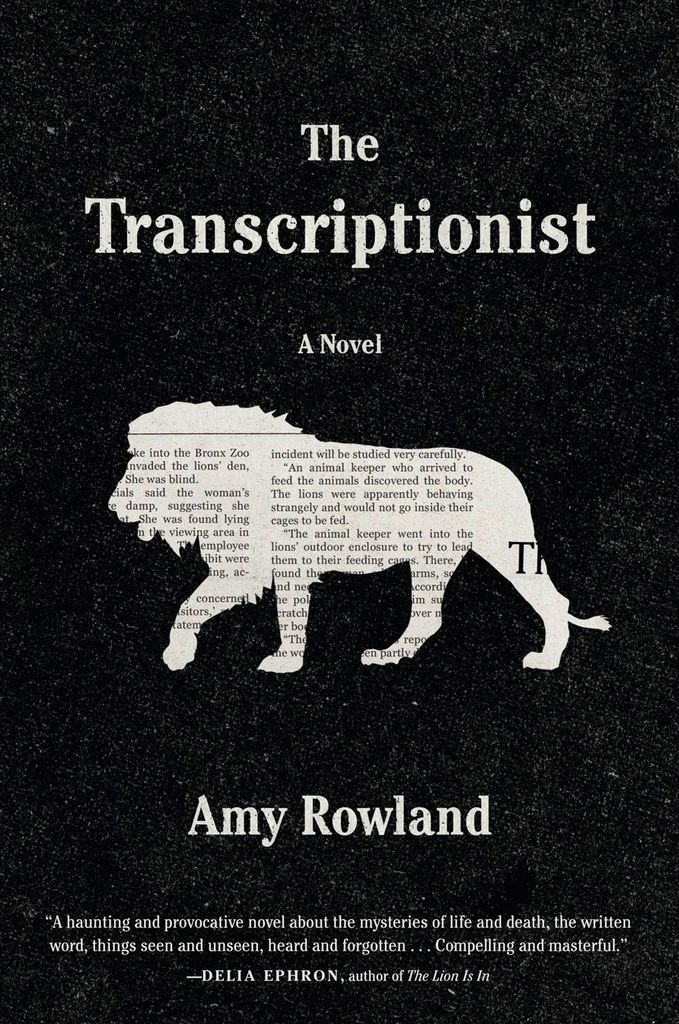 The Transcriptionist by Amy Rowland (Algonquin Books)
Once, there were many transcriptionists at the Record, a behemoth New York City newspaper, but new technology and the ease of communication has put most of them out of work. So now Lena, the last transcriptionist, sits alone in a room–a human conduit, silently turning reporters' recorded stories into print–until the day she encounters a story so shocking that it shatters the reverie that has become her life.
This exquisite novel, written by a woman who spent more than a decade as a transcriptionist at the New York Times, asks probing questions about journalism and ethics, about the decline of the newspaper and the failure of language. It is also the story of a woman's effort to establish her place in an increasingly alien and alienating world.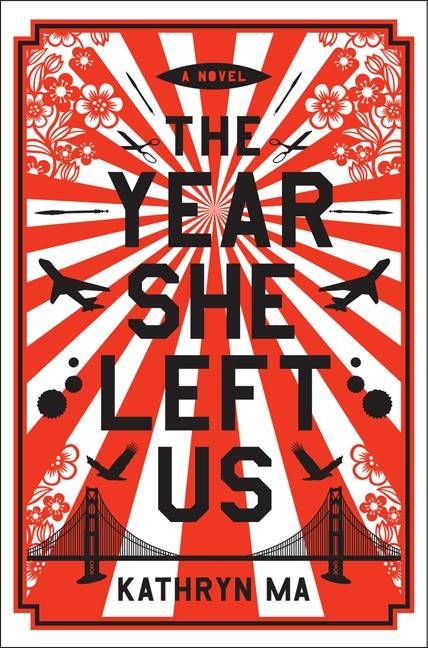 The Year She Left Us by Kathryn Ma (Harper)
The Kong women are in crisis. A disastrous trip to visit her "home" orphanage in China has plunged eighteen-year-old Ari into a self-destructive spiral. Her adoptive mother, Charlie, a lawyer with a great heart, is desperate to keep her daughter safe. Meanwhile, Charlie must endure the prickly scrutiny of her beautiful, Bryn Mawr educated mother, Gran—who, as the daughter of a cultured Chinese doctor, came to America to survive Mao's Revolution—and her sister, Les, a brilliant judge with a penchant to rule over everyone's lives.
As they cope with Ari's journey of discovery and its aftermath, the Kong women will come face to face with the truths of their lives—four powerful intertwining stories of accomplishment, tenacity, secrets, loneliness, and love.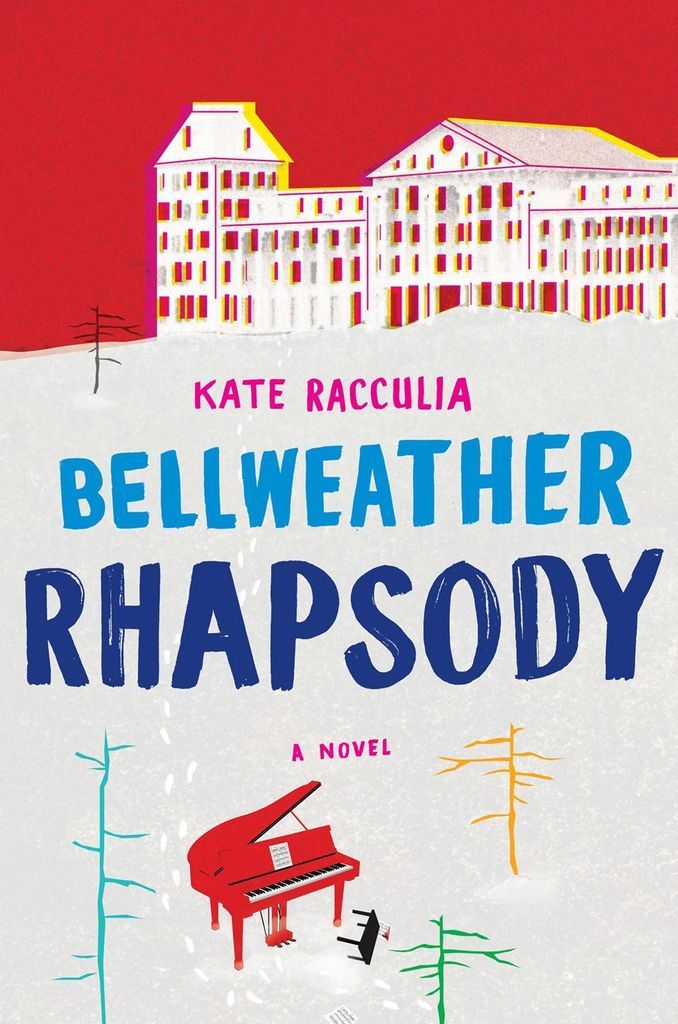 Bellweather Rhapsody by Kate Racculia (Houghton Mifflin Harcourt)
Fifteen years ago, a murder/suicide in room 712 rocked the grand old Bellweather Hotel and the young bridesmaid who witnessed it. Now hundreds of high school musicians, including quiet bassoonist Rabbit Hatmaker and his brassy diva twin, Alice, have gathered in its cavernous, crumbling halls for the annual Statewide festival; the grown-up bridesmaid has returned to face her demons; and a snowstorm is forecast that will trap everyone on the grounds. Then one of the orchestra's stars disappears-from room 712. Is it a prank, or has murder struck the Bellweather once again?
The search for answers entwines a hilariously eccentric cast of characters-conductors and caretakers, failures and stars, teenagers on the verge and adults trapped in memories. For everyone has come to the Bellweather with a secret, and everyone is haunted.
Bird Box by Josh Malerman (Ecco)
Something is out there . . .
Something terrifying that must not be seen. One glimpse and a person is driven to deadly violence. No one knows what it is or where it came from.
Five years after it began, a handful of scattered survivors remain, including Malorie and her two young children. Living in an abandoned house near the river, she has dreamed of fleeing to a place where they might be safe. Now, that the boy and girl are four, it is time to go. But the journey ahead will be terrifying: twenty miles downriver in a rowboat—blindfolded—with nothing to rely on but her wits and the children's trained ears. One wrong choice and they will die. And something is following them. But is it man, animal, or monster?
Engulfed in darkness, surrounded by sounds both familiar and frightening, Malorie embarks on a harrowing odyssey—a trip that takes her into an unseen world and back into the past, to the companions who once saved her. Under the guidance of the stalwart Tom, a motely group of strangers banded together against the unseen terror, creating order from the chaos. But when supplies ran low, they were forced to venture outside—and confront the ultimate question: in a world gone mad, who can really be trusted?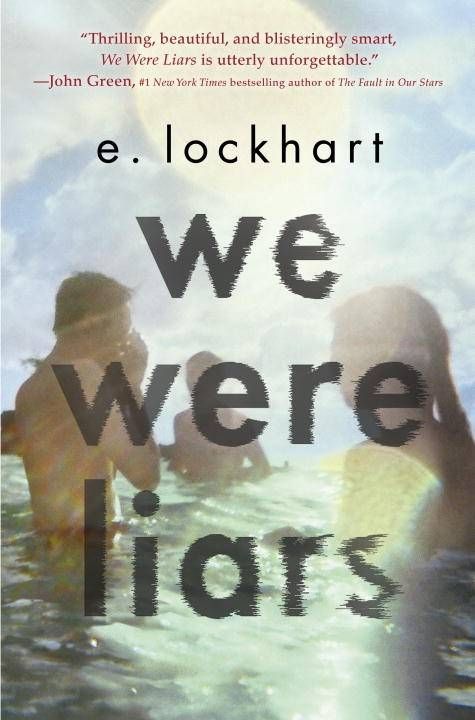 We Were Liars by E. Lockhart (Delacorte Press)
A beautiful and distinguished family. A private island.
A brilliant, damaged girl; a passionate, political boy.
A group of four friends-the Liars-whose friendship turns destructive.
A revolution. An accident. A secret.
Lies upon lies. True love. The truth.
Read it. And if anyone asks you how it ends, just LIE.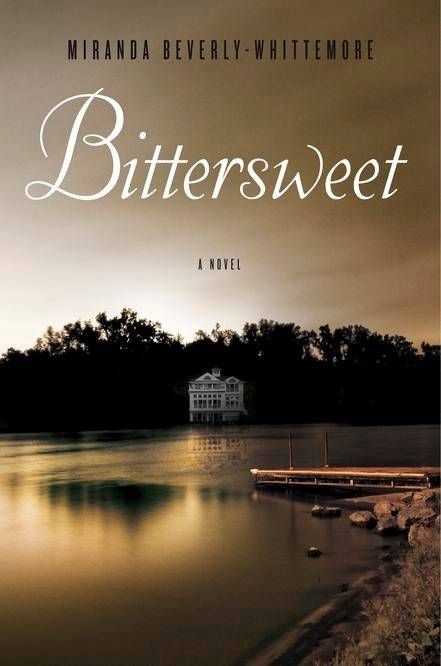 Bittersweet by Miranda Beverly-Whittemore (Crown)
Ordinary and unassuming, Mabel wins a scholarship at a prestigious East Coast college and is assigned the beautiful, blue-blooded Genevra Winslow as her roommate. Ev soon invites Mabel to spend the summer at her cottage, Bittersweet, on the lakeside Vermont estate where her family has held court for more than a century.
Usually an outsider, Mabel is thrilled to be surrounded by WASPs, yachts, and wealth she'd only imagined-but when everything isn't exactly as she pictured it, she can't put her finger on what's wrong. At first, she is overjoyed to spend her days basking in the Winslows' pristine privilege; she swims in the lake, flirts with handsome men, and plays house with the roommate she worships. But ever so gradually she discovers that this glittering façade masks ambiguous morals and dark truths, both about personal indiscretions and the sources of the family fortune. Mabel must choose: expose the lies surrounding her and face expulsion from paradise, or immerse herself in their darkness and fulfill her dreams by becoming one of Them.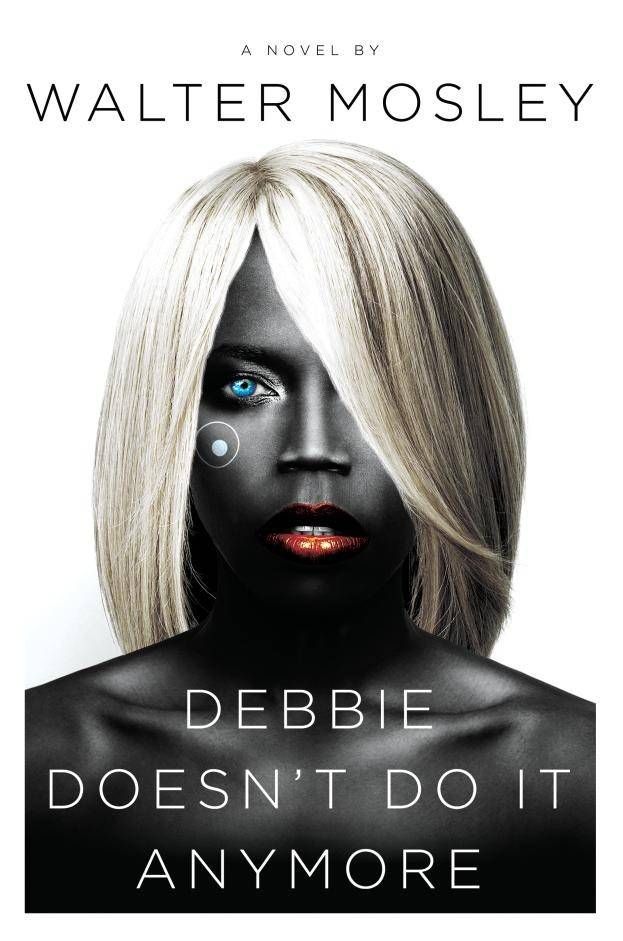 Debbie Doesn't Do It Anymore by Walter Mosley (Doubleday)
Millions of men (and no doubt many women) have watched famed black porn queen Debbie Dare-she of the blond wig and blue contacts-"do it" on television and computer screens every which way with every combination of partners the mind of man can imagine. But one day an unexpected and thunderous on-set orgasm catches Debbie unawares, and when she returns to the mansion she shares with her husband, insatiable former porn star and "film producer" Theon Pinkney, she discovers that he's died in a case of hot tub electrocution, "auditioning" an aspiring "starlet." Burdened with massive debts that her husband incurred, and which various L.A. heavies want to collect on, Debbie must reckon with a life spent in the peculiar subculture of the pornography industry and her estrangement from her family and the child she had to give up. She's done with porn, but her options for what might come next include the possibility of suicide. Debbie…is a portrait of a ransacked but resilient soul in search of salvation and a cure for grief.
Queen of the Dark Things by C. Robert Cargill (Harper Voyager)
Six months have passed since the wizard Colby lost his best friend to an army of fairies from the Limestone Kingdom, a realm of mystery and darkness beyond our own. But in vanquishing these creatures and banning them from Austin, Colby sacrificed the anonymity that protected him. Now, word of his deeds has spread, and powerful enemies from the past—including one Colby considered a friend—have resurfaced to exact their revenge.
As darkness gathers around the city, Colby sifts through his memories desperate to find answers that might save him. With time running out, and few of his old allies and enemies willing to help, he is forced to turn for aid to forces even darker than those he once battled.
The Blonde by Anna Godberson (Weinstein Books)
At the height of the Cold War, Marilyn Monroe was the most infamous woman in the world. But what if she was also a secret Soviet spy?
In 1947, a young, unknown Norma Jeane Baker meets a mysterious man in Los Angeles who transforms her into Marilyn Monroe, the star. Twelve years later he comes back for his repayment, and Marilyn is given her first assignment from the KGB: uncover something about JFK that no one else knows.
But a simple job turns complicated when Marilyn falls in love with the bright young President, and learns of plans to assassinate Kennedy. More than anything, Marilyn wants to escape her Soviet handlers and save her love-and herself. Desperate, ruthless and brilliant, what she does next will leave readers reeling.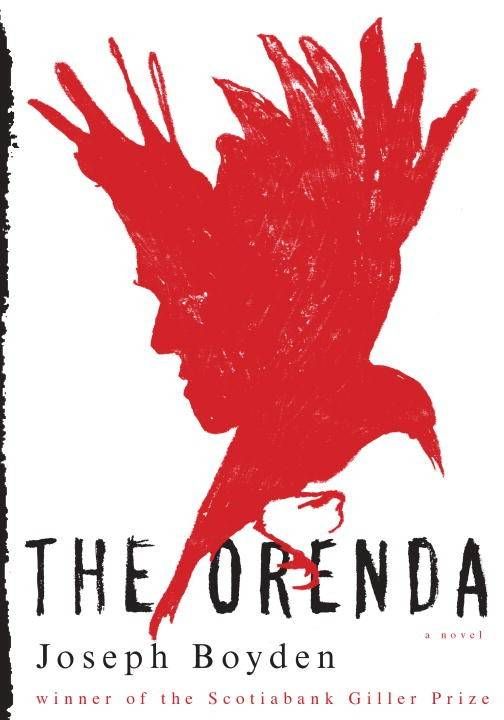 The Orenda by Joseph Boyden (Knopf)
Christophe, as educated as any Frenchman could be about the "sauvages" of the New World whose souls he has sworn to save, begins his true enlightenment shortly after he sets out when his native guides-terrified by even a scent of the Iroquois-abandon him to save themselves. But a Huron warrior and elder named Bird soon takes him prisoner, along with a young Iroquois girl, Snow Falls, whose family he has just killed. The Huron-Iroquois rivalry, now growing vicious, courses through this novel, and these three are its principal characters.
Christophe and Snow Falls are held captive in Bird's massive village. Champlain's Iron People have only lately begun trading with the Huron, who mistrust them as well as this Jesuit Crow who has now trespassed onto their land; and Snow Falls's people, of course, have become the Hurons' greatest enemy. Bird knows that to get rid of them both would resolve the issue, but he sees Christophe, however puzzling, as a potential envoy to those in New France, and Snow Falls as a replacement for the two daughters he'd lost to the Iroquois.
These relationships wax and wane as life comes at them relentlessly: a lacrosse match with an allied tribe, a dangerous mission to trade furs with the French for the deadly shining wood that could save the Huron nation, shocking victories in combat and devastating defeats, then a sickness the likes of which none of them has ever seen. The world of The Orenda blossoms to include such unforgettable characters as Bird's oldest friend, Fox; his lover, Gosling, who some believe possesses magical powers; two more Jesuit Crows who arrive to help form a mission; and boys from both tribes whose hearts veer wildly from one side to the other, for one reason or another. Watching over all of them are the spirits that guide their every move.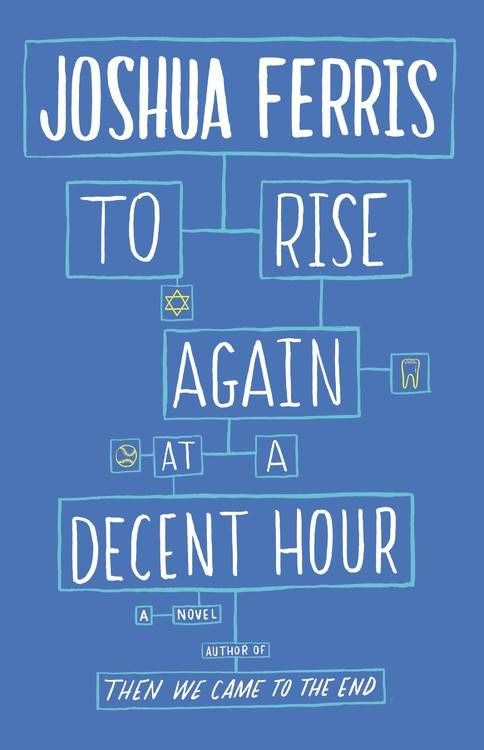 To Rise Again at a Decent Hour by Joshua Farris (Little, Brown and Company)
Paul O'Rourke is a man made of contradictions: he loves the world, but doesn't know how to live in it. He's a Luddite addicted to his iPhone, a dentist with a nicotine habit, a rabid Red Sox fan devastated by their victories, and an atheist not quite willing to let go of God.
Then someone begins to impersonate Paul online, and he watches in horror as a website, a Facebook page, and a Twitter account are created in his name. What begins as an outrageous violation of his privacy soon becomes something more soul-frightening: the possibility that the online "Paul" might be a better version of the real thing. As Paul's quest to learn why his identity has been stolen deepens, he is forced to confront his troubled past and his uncertain future in a life disturbingly split between the real and the virtual.
PAPERBACK RELEASES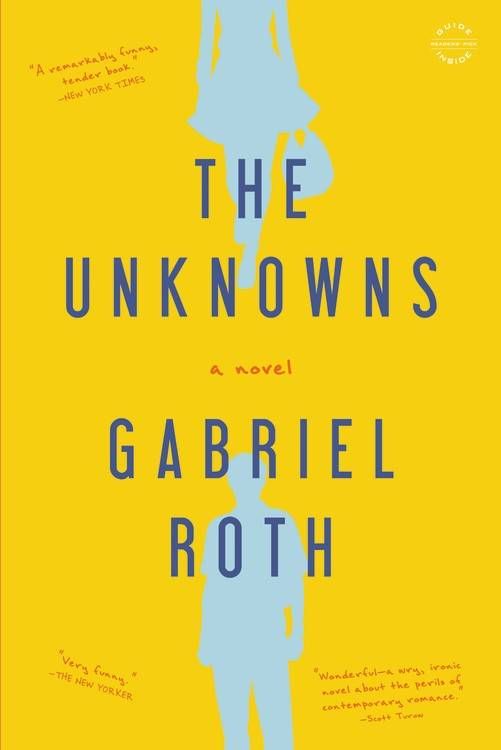 The Unknowns by Gabriel Roth (Back Bay Books)
Eric Muller has been trying to hack the girlfriend problem for half his life. As a teenage geek, he discovered his gift for programming computers-but his attempts to understand women only confirm that he's better at writing code than connecting with human beings. Brilliant, neurotic, and lonely, Eric spends high school in the solitary glow of a screen.
By his early twenties, Eric's talent has made him a Silicon Valley millionaire. He can coax girls into bed with ironic remarks and carefully timed intimacies, but hiding behind wit and empathy gets lonely, and he fears that love will always be out of reach.
So when Eric falls for the beautiful, fiercely opinionated Maya Marcom, and she miraculously falls for him too, he's in new territory. But the more he learns about his perfect girlfriend's unresolved past, the further Eric's obsessive mind spirals into confusion and doubt. Can he reconcile his need for order and logic with the mystery and chaos of love?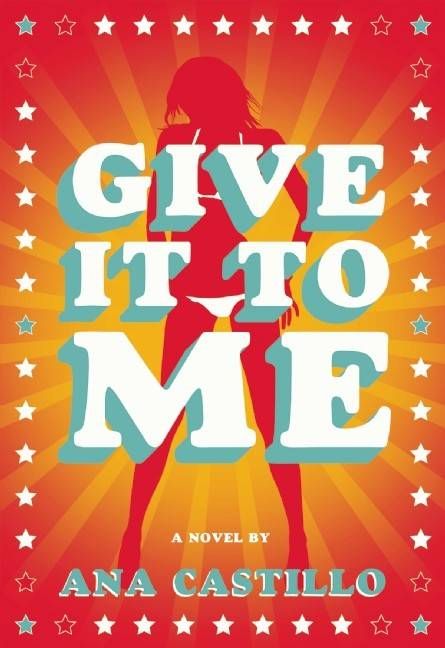 Give It To Me by Ana Castillo (The Feminist Press at CUNY)
Recently divorced, Palma, a forty-three-year-old Latina, takes stock of her life when she reconnects with her gangster younger cousin recently released from prison. As she checks out her other options, her sexual obsession with her cous' ignites but their family secrets bring them together in unexpected ways. In this wildly entertaining and sexy novel, Ana Castillo creates a memorable character with a flare for fashion, a longing for family, and a penchant for adventure. Give It to Me is Sex in the City for a Chicana babe who's looking for love in all the wrong places.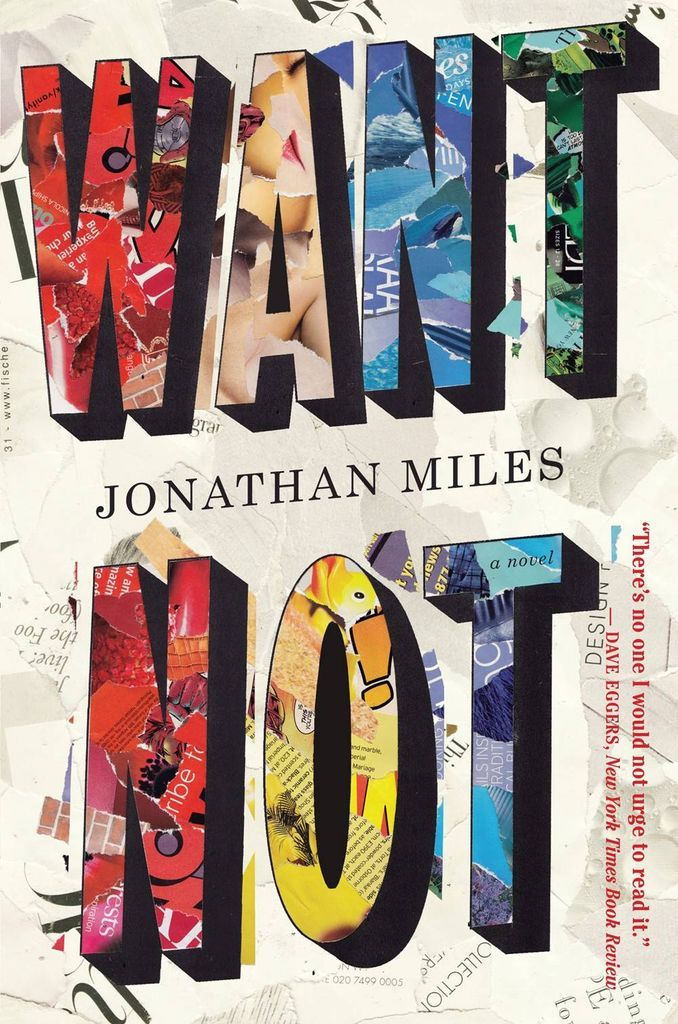 Want Not by Jonathan Miles (Mariner Books)
A highly inventive and corrosively funny story of our times, Want Not exposes three different worlds in various states of disrepair-a young freegan couple living off the grid in New York City; a once-prominent linguist, sacked at midlife by the dissolution of his marriage and his father's losing battle with Alzheimer's; and a self-made debt-collecting magnate, whose brute talent for squeezing money out of unlikely places has yielded him a royal existence, trophy wife included.
Want and desire propel these characters forward toward something, anything, more, until their worlds collide, briefly, randomly, yet irrevocably, in a shattering ending that will haunt readers long after the last page is turned.
Fatherhood and Other Stories by Thomas H. Cook (Pegasus)
Over his distinguished career, Cook's novels have haunted, riveted, and spellbound readers across the world, and his short stories are equally acclaimed. They range from the intensely focused world of "Fatherhood," the Herodotus prize-winning title story, to the Edgar nominated "Rain," a dark, kaleidoscopic tale of Manhattan on a single, rain-swept night. "The Fix," the story of a famous boxing fix that was, well, not a fix at all, was selected for inclusion in Best Mystery Stories of the Year. "What She Offered," the gripping tale of a one-night stand, was included in The Best Noir Stories of the Century.
From a backwoods Appalachian shack during the Depression ("Poor People") to a Midwestern college campus in the throes of Sixties revolt ("The Sun-Gazer") to a midtown Manhattan bookstore on Christmas Eve, "The Lessons of the Season," this collection demonstrates precisely that, in the words of Michael Connolly, "no one tells a story better than Thomas H. Cook."
All Decent Animals by Oonya Kempadoo (Farrar, Straus and Giroux)
Oonya Kempadoo's moving third novel, All Decent Animals, looks at the personal and aesthetic choices of a multifaceted cast of characters on the island of Trinidad—a country still developing economically but rich culturally, aiming at world-class status amid its poor island cousins. It is a novel about relationships, examined through the distinct rhythms of the city of Port of Spain.
Loyalties, love, conflicting cultures, and creativity come into play as Ata, a young woman working in carnival design but curious about writing, and her European boyfriend, Pierre, negotiate the care of their friend Fraser, a closeted gay man dying from AIDS. The contradictory Trinidadian setting becomes a parallel character to Fraser's Cambridge-derived artistic sensibility and an antagonist to Ata's creative journey.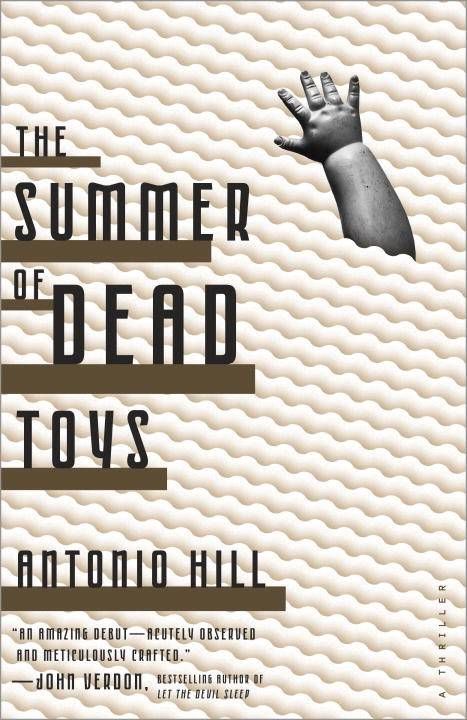 The Summer of Dead Toys by Antonio Hill (Broadway Books)
Inspector Hector Salgado is a transplanted Argentine living in Barcelona. He's got a fiery temper, a runaway wife, and would rather be watching old films than interacting with people. He's also a brilliant cop.
When a young boy falls to his death from a balcony in one of Barcelona's ritzier neighborhoods, Salgado is brought on to investigate, despite having been on probation for a violent outburst. As Salgado begins to piece together the life and world of the victim, he realizes that his death was not all that simple: his teenage friends are either overly paranoid or deceptively calm, and drugs might be involved. Hector begins to follow a trail that leads him deep into the squalid underworld of Barcelona's high society, where he must face human trafficking, voodoo, and long-buried secrets that reunite him with his own dark past. Whether or not this fierce, complex detective can expose shadows from beneath the sweltering Barcelona sun is the ultimate test for him as a cop, if he can make it out alive.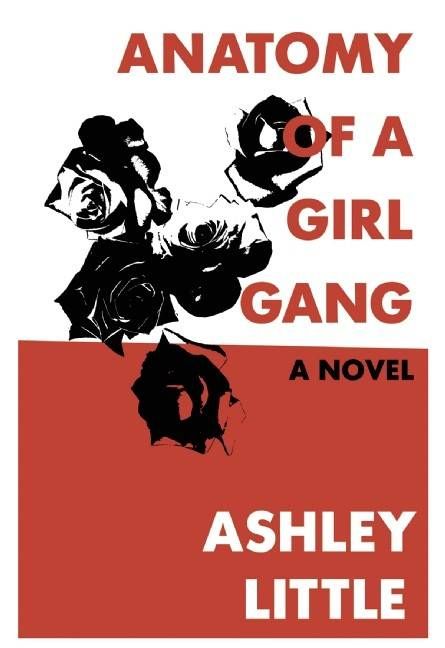 Anatomy of a Girl Gang by Ashley Little (Arsenal Pulp Press)
A sharp and gritty novel told in multiple voices, Anatomy of a Girl Gang is the powerful story of a gang of teenage girls in Vancouver called the Black Roses, a.k.a. "the city's worst nightmare": Mac, the self-appointed leader and mastermind; Mercy, the Punjabi princess with a skill for theft; Kayos, a high-school dropout who gave birth to a daughter at age thirteen; Sly Girl, who fled her First Nations reserve for a better life, only to find depravity and addiction; and Z, a sixteen-year-old graffiti artist.
Cast out by mainstream society, the Black Roses rob ATMs, cook crack on stoves, and savagely beat down anyone who dares to harm them. Brutal and broken, they claw at the knot of darkness and violence that tightens around their lives.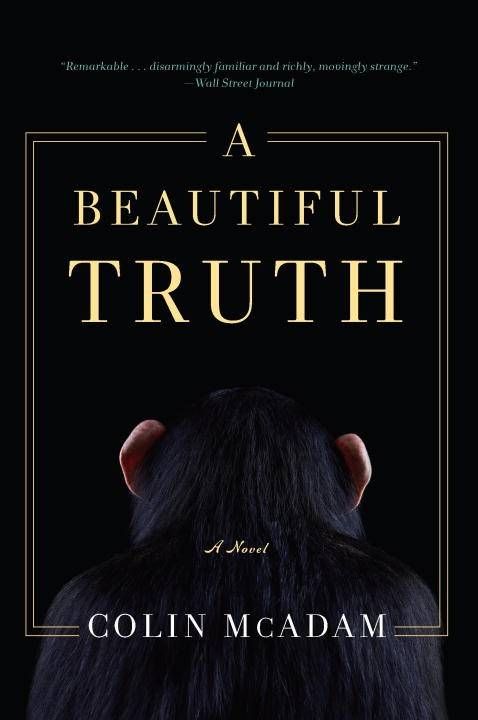 A Beautiful Truth by Colin McAdam (Soho Press)
A powerful and haunting meditation on human nature told from the dual perspectives of a Vermont family that has adopted a chimp as a surrogate son, and a group of chimpanzees in a Florida research institute.
Looee, a chimp raised by a well-meaning and compassionate human couple who cannot conceive a baby of their own, is forever set apart. He's not human, but with his peculiar upbringing he is no longer like other chimps. One tragic night Looee's two natures collide and their unique family is forever changed.
At the Girdish Institute in Florida, a group of chimpanzees has been studied for decades. The work at Girdish has proven that chimps have memories and solve problems, that they can learn language and need friends, and that they build complex cultures. They are political, altruistic, get angry, and forgive. When Looee is moved to the Institute, he is forced to try to find a place in their world.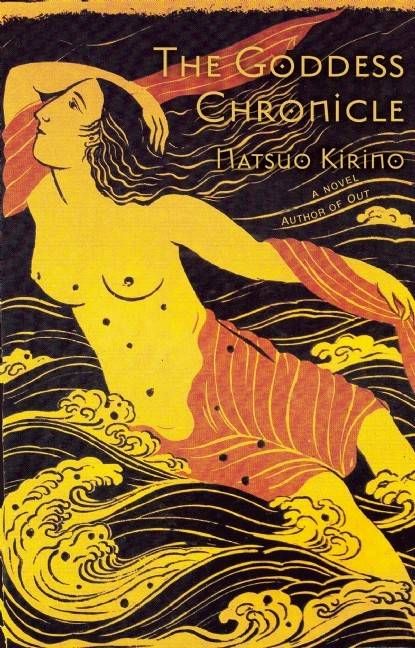 The Goddess Chronicle by Natsuo Kirino (Grove Press)
In a place like no other, on a mystical island in the shape of tear drop, two sisters are born into an esteemed family of oracles. Kamikuu is admired far and wide for her otherworldly beauty; small and headstrong Namima learns to live in her sister's shadow. On her sixth birthday, Kamikuu is chosen to become the next Oracle, serving the realm of light, while Namima is forced to serve the realm of darkness-destined to spend eternity guiding the spirits of the deceased to the underworld.
As the sisters undergo opposite fates, Namima embarks on a journey that takes her from the experience of first love to the aftermath of scalding betrayal. Caught in an elaborate web of treachery, she travels between the land of the living and the Realm of the Dead, seeking retribution and closure.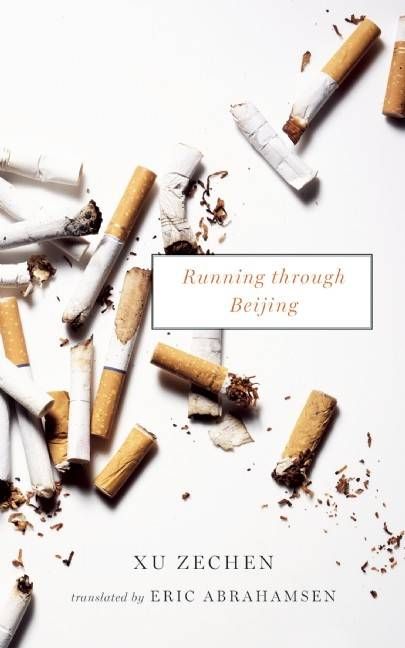 Running Through Beijing by Xu Zechen (Two Lines Press)
Chinese literature published in the United States has tended to focus on politics – think the Cultural Revolution and dissidents – but there's a whole other world of writing out there. It's punk, dealing with the harsh realities lived by the millions of city-dwellers struggling to get by in the grey economy. Dunhuahg, recently out of prison for selling fake IDs, has just enough money for a couple of meals. He also has no place to stay and no prospects for earning more yuan. When he happens to meet a pretty woman selling pirated DVDs, he falls into both an unexpected romance and a new business venture. But when her on-and-off boyfriend steps back into the picture, Dunhuahg is forced to make some tough decisions. Running Through Beijing explores an underworld of constant thievery, hardcore porn, cops (both real and impostors), prison bribery, rampant drinking, and the smothering, bone-dry dust storms that blanket one of the world's largest cities. Like a literary Run Lola Run, it follows a hustling hero rushing at breakneck speed to stay just one step ahead. Full of well-drawn, authentic characters, Running Through Beijing is a masterful performance from a fresh Chinese voice.