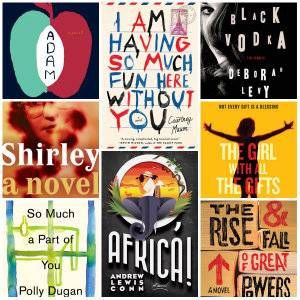 This content contains affiliate links. When you buy through these links, we may earn an affiliate commission.
HARDCOVER RELEASES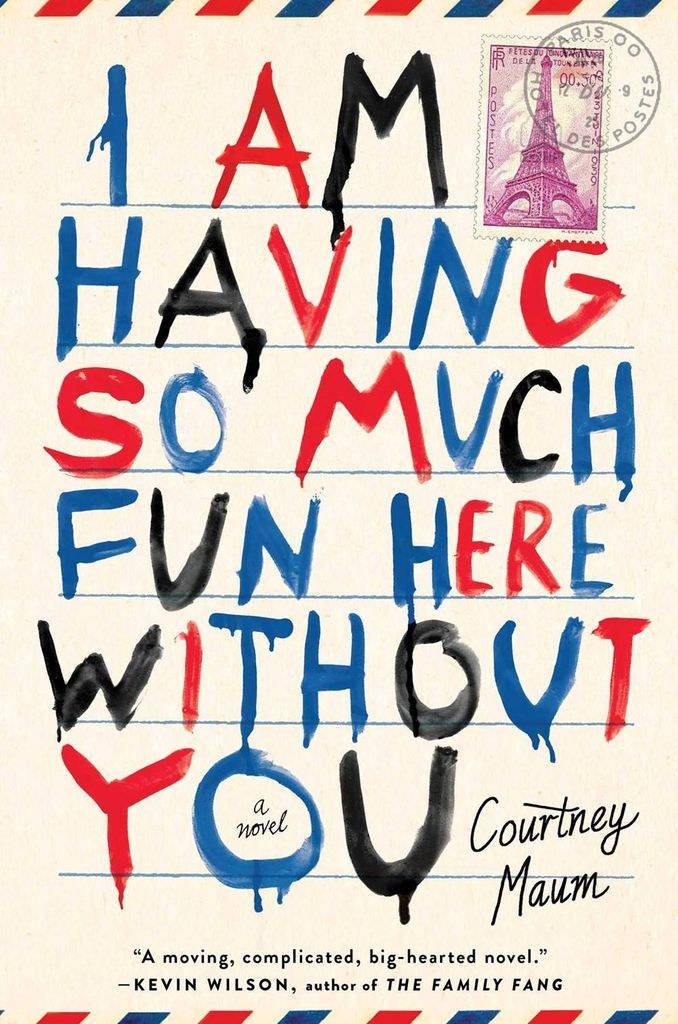 I Am Having So Much Fun Here Without You by Courtney Maum (Touchstone)
Despite the success of his first solo show in Paris and the support of his brilliant French wife and young daughter, thirty-four-year-old British artist Richard Haddon is too busy mourning the loss of his American mistress to a famous cutlery designer to appreciate his fortune.

But after Richard discovers that a painting he originally made for his wife, Anne—when they were first married and deeply in love—has sold, it shocks him back to reality and he resolves to reinvest wholeheartedly in his family life…just in time for his wife to learn the extent of his affair. Rudderless and remorseful, Richard embarks on a series of misguided attempts to win Anne back while focusing his creative energy on a provocative art piece to prove that he's still the man she once loved.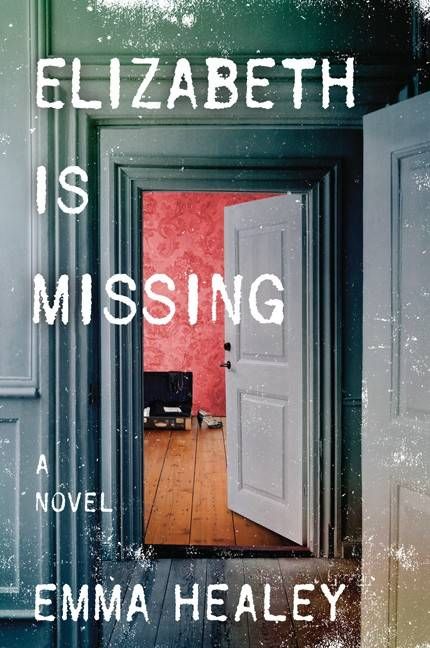 Elizabeth is Missing by Emma Healey (Harper)
Maud, an aging grandmother, is slowly losing her memory—and her grip on everyday life. Yet she refuses to forget her best friend Elizabeth, whom she is convinced is missing and in terrible danger. But no one will listen to Maud—not her frustrated daughter, Helen, not her caretakers, not the police, and especially not Elizabeth's mercurial son, Peter. Armed with handwritten notes she leaves for herself and an overwhelming feeling that Elizabeth needs her help, Maud resolves to discover the truth and save her beloved friend.

This singular obsession forms a cornerstone of Maud's rapidly dissolving present. But the clues she discovers seem only to lead her deeper into her past, to another unsolved disappearance: her sister, Sukey, who vanished shortly after World War II. As vivid memories of a tragedy that occurred more fifty years ago come flooding back, Maud discovers new momentum in her search for her friend. Could the mystery of Sukey's disappearance hold the key to finding Elizabeth?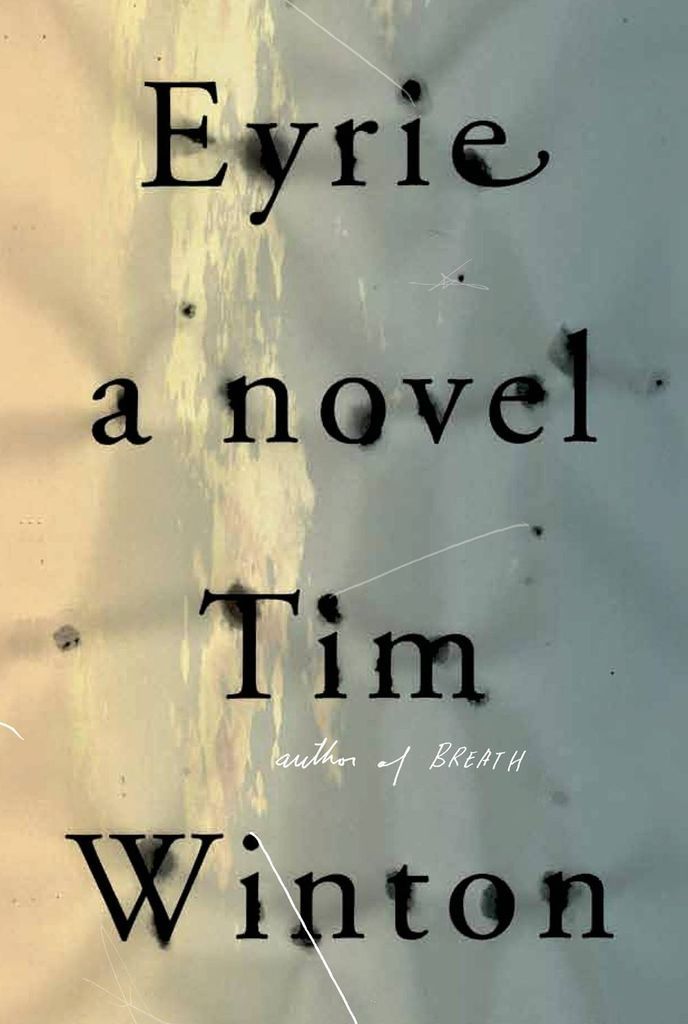 Eyrie by Tim Winton (Farrar, Straus and Giroux)
In Eyrie, Winton crafts the story of Tom Keely, a man struggling to accomplish good in an utterly fallen world. Once an ambitious, altruistic environmentalist, Keely now finds himself broke, embroiled in scandal, and struggling to piece together some semblance of a life. From the heights of his urban high-rise apartment, he surveys the wreckage of his life and the world he's tumbled out of love with. Just before he descends completely into pills and sorrow, a woman from his past and her preternatural child appear, perched on the edge of disaster, desperate for help.
When you're fighting to keep your head above water, how can you save someone else from drowning? As Keely slips into a nightmarish world of con artists, drug dealers, petty violence, and extortion, Winton confronts the cost of benevolence and creates a landscape of uncertainty.
Monster's Chef by Jervey Tervalon (Amistad)
Once upon a time, Gibson was a successful chef with a popular restaurant and a beautiful loving wife. He was also a drug addict with a habit that nearly destroyed him. Fresh out of rehab, he's now using his skills to feed his fellow halfway house residents budget gourmet meals—a talent that attracts two shady women who offer him a job cooking for a music superstar named Monster. Though Gibson doesn't have a good feeling about his seeming good fortune, he needs a job.

Arriving on Monster's compound, Gibson senses that trouble is still on his tail. First, he's asked to sign a confidentiality agreement. Then he meets the compound's gardener, who warns him not to go outside at night—and tells him that to stay alive he must see nothing, hear nothing, say nothing. It is advice that proves all too true when Gibson discovers a dead body near his bungalow a few nights later. Suddenly, all hell is breaking loose . . . and Gibson is at the center. Now he has to figure out how to escape this terrifying nightmare . . . and whether he can.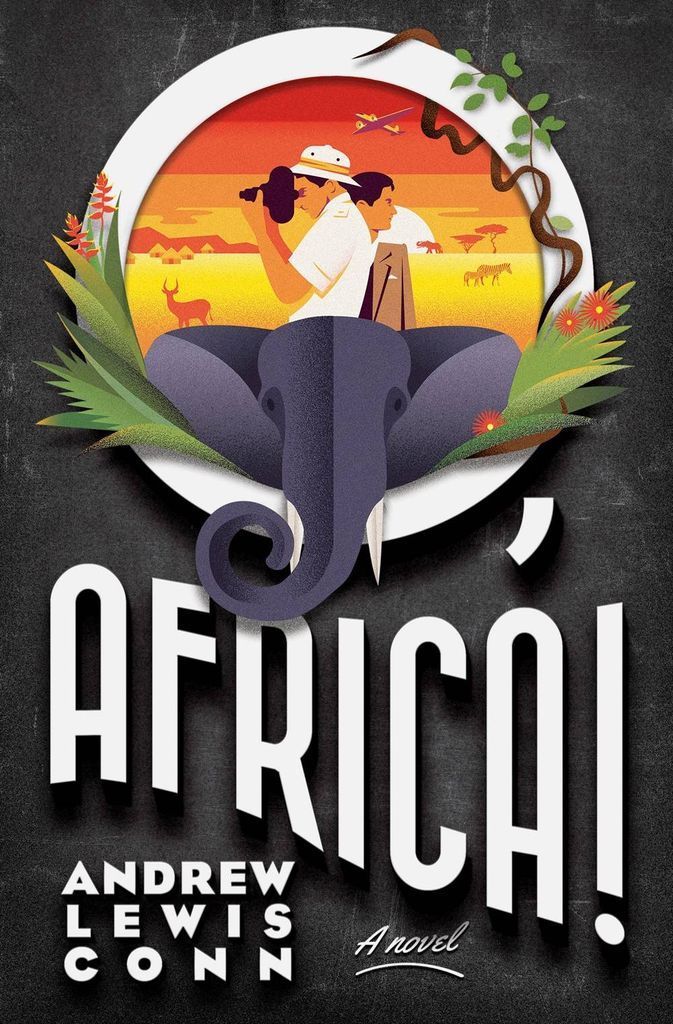 O, Africa! by Andrew Lewis Conn (Hogarth)
O, Africa!, a spirited and stylish novel set in the early days of filmmaking in the 1920s, follows twin brothers Micah and Izzy Grand, the sons of Jewish immigrants to New York who have made their name producing slapstick comedies. When Micah finds himself in trouble with a group of Harlem gangsters, the brothers' opportunity to shoot the first movie on the African continent arrives at just the right time. Together with an unlikely band of producers, stars, and hangers-on, they set out for Malwiki, where they will each discover unforeseen truths about themselves, their lovers, and their future in the movies.

Back in the U.S., Micah and Izzy must adapt to a glittering and dangerous world that is suddenly unfamiliar to them, and find the audience that their new film deserves, while hoping to preserve the loyalty between them that was severely tested in Africa.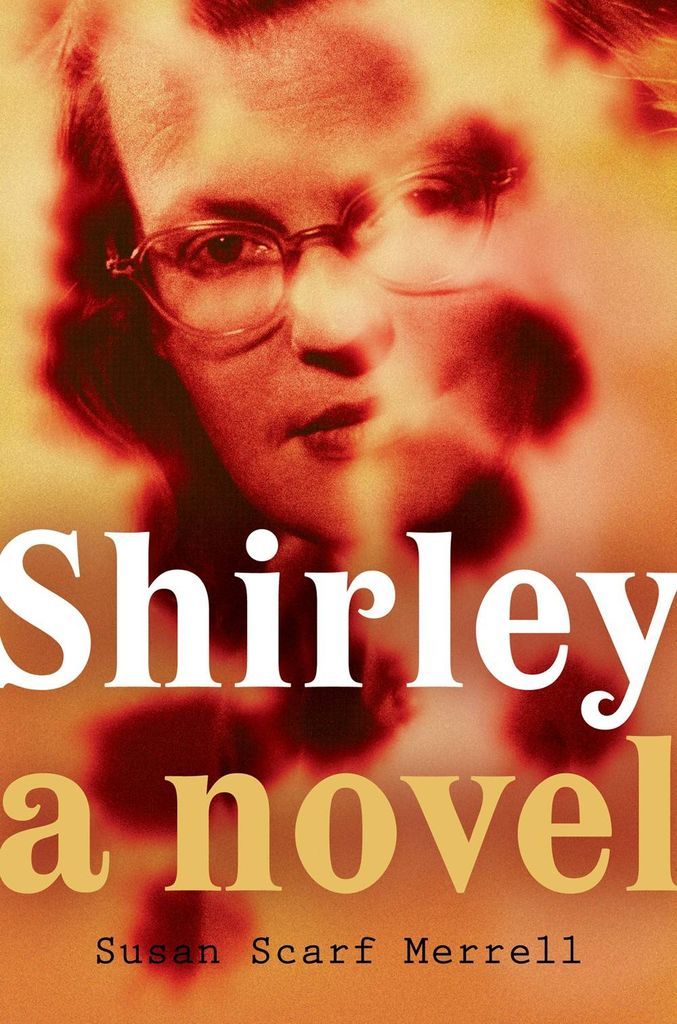 Shirley by Susan Scarf Merrell (Blue Rider Press)
Two imposing literary figures are at the center of Susan Scarf Merrell's suspenseful new novel, Shirley. The celebrated Shirley Jackson, best known for her short story "The Lottery," and her husband, Stanley Edgar Hyman, a literary critic and professor at Bennington College, made a fascinating, commanding couple in their day. Brilliant, flamboyant, and proudly unconventional, they cast an almost magnetic spell of intellectual grandeur.

A young couple, Fred and Rose Nemser, a graduate student and his pregnant wife, move into Shirley and Stanley's home on the Bennington campus in the summer of 1964. With her husband teaching all day, Rose forms an unlikely, turbulent friendship with the troubled and unpredictable Shirley. Intrigued by the Hymans' tempestuous marriage and inexplicably drawn to the darkly witty author, Rose nonetheless senses something amiss—something to do with nightly unanswered phone calls and inscrutable accounts of a long-missing female student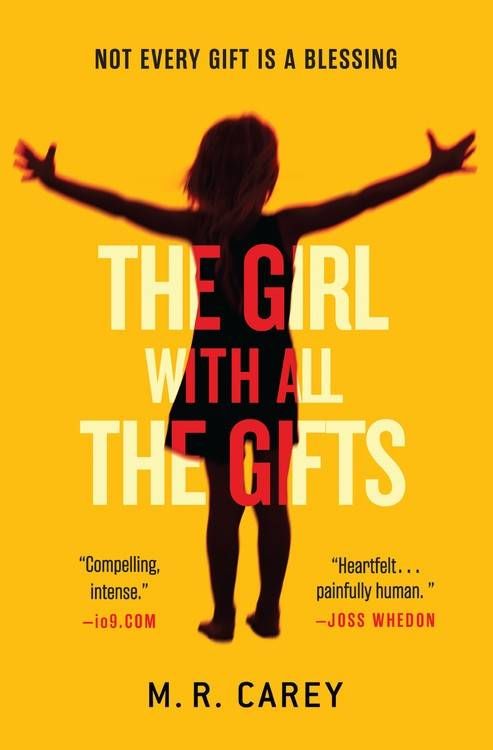 The Girl With All the Gifts by M. R. Care (Orbit)
Melanie is a very special girl. Dr Caldwell calls her 'our little genius'. Every morning, Melanie waits in her cell to be collected for class. When they come for her, Sergeant keeps his gun pointing at her while two of his people strap her into the wheelchair. She thinks they don't like her. She jokes that she won't bite, but they don't laugh. Melanie loves school. She loves learning about spelling and sums and the world outside the classroom and the children's cells. She tells her favourite teacher all the things she'll do when she grows up. Melanie doesn't know why this makes Miss Justineau look sad.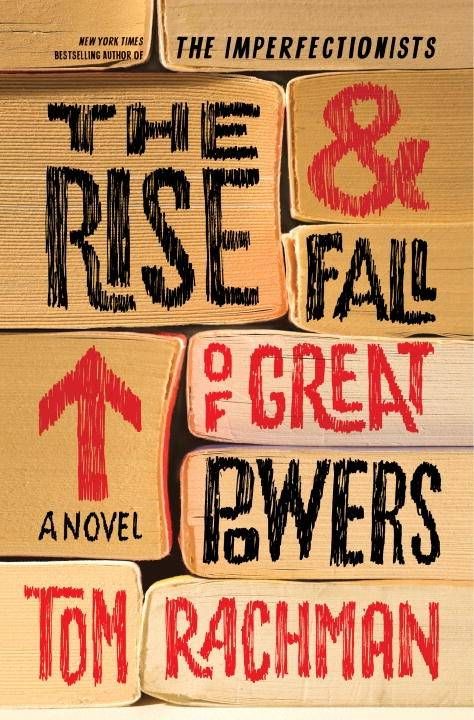 The Rise and Fall of Great Powers by Tom Rachman (The Dial Press)
Tooly Zylberberg, the young American owner of an isolated bookstore in the Welsh countryside, fills her life with much reading material but few human beings. After all, books are safer than people, who might ask awkward questions about her life. She prefers never to mention the strange events of her childhood, which mystify and worry her still. Taken from home as a girl, she found herself shuttled from one country to another, implicated in capers from Asia to Europe to the United States. But who were her abductors and why did they take her? There was Humphrey, a lovable old Russian with a passion for books; there was the seductive but tempestuous Sarah, who sowed chaos wherever she went; and there was Venn, the charismatic leader of them all, whose worldview transformed the growing girl forever. Until, inexplicably, Venn disappeared one day, leaving Tooly – then twenty – unmoored and bereft for years to come. More than a decade later, she believes herself condemned to never understand what happened. Then, quite unexpectedly, she receives word from a long-lost boyfriend, whose astonishing news stirs up all the old mysteries-and hints that clues may lie in New York City. Desperate for answers, Tooly begins a quest that leads her from America to Italy and back, as she pieces together her own life story.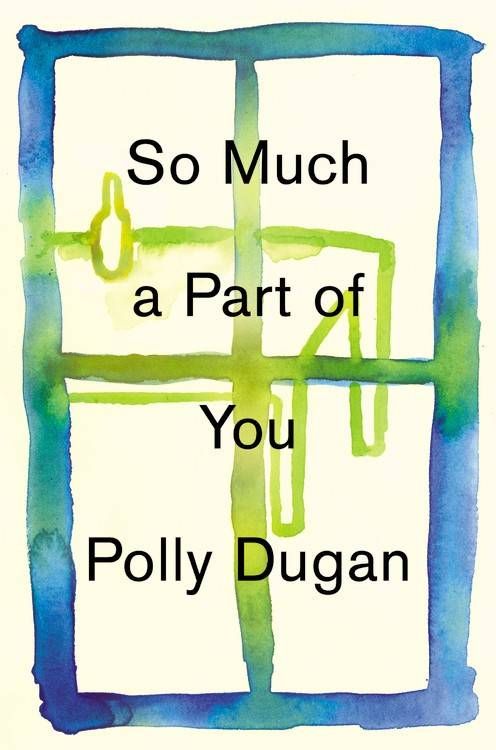 So Much a Part of You by Polly Dugan (Little, Brown and Company)
Anna Riley and Anne Cavanaugh have had a lover in common, but it's not until a pivotal moment in one of their lives that their paths unforgettably converge.

Peter Herring was the center of Anne's universe in college, and now, a few years later, he's become the center of Anna's, and merely a minor player in his ex-girlfriend's world. That is, until Peter and Anna are invited into Anne's parents' home to visit with her dying mother, and he finds himself drawn back into her orbit. Years later, when her own mother is dying, Anna will find herself yearning to reach out to Anne, with whom she had shared such a brief but intimate bond, and find solace in that moment from long ago.

Perspective evolves with time, and so with time, what Peter means to each woman-as lover, as friend, as connection to the past-also evolves. Through exploring Anne's and Anna's ties to Peter and unfolding the narratives of the people who weave meaningfully in and out of their lives, Polly Dugan reveals the power of family secrets, the ripple effects of her characters' emotional choices, and how poignantly their intertwined relationships shape who they are and how they love.
The Ways of the Dead by Neely Tucker (Viking Adult)
When the teenage daughter of a powerful Washington, D.C., judge is found dead, three local black kids are arrested for her murder—but reporter Sully Carter suspects there's more to the case. From the city's grittiest backstreets to the elegant halls of power, wry yet wounded Sully pursues a string of cold cases, all the while fighting against pressure from government officials, police, suspicious locals, and his own bosses at the newspaper.
Black Vodka by Deborah Levy (Bloomsbury USA)
The stories in Black Vodka, by acclaimed author Deborah Levy, are perfectly formed worlds unto themselves, written in elegant yet economical prose. She is a master of the short story, exploring loneliness and belonging; violence and tenderness; the ephemeral and the solid; the grotesque and the beautiful; love and infidelity; and fluid identities national, cultural, and personal.
In "Shining a Light," a woman's lost luggage is juxtaposed with far more serious losses. An icy woman seduces a broken man in "Vienna," and a man's empathy threatens to destroy him in "Stardust Nation." "Cave Girl" features a girl who wants to be a different kind of woman—she succeeds in a shocking way. A deformed man seeks beauty amid his angst in the title story.
These are twenty-first century lives dissected with razor-sharp humor and curiosity. Published simultaneously with Things I Don't Want to Know: On Writing, Levy's stories will send you tumbling into a rabbit hole, and you won't be able to scramble out until long after you've turned the last page.
PAPERBACK RELEASES
Adam by Ariel Schrag (Mariner Books)
When Adam Freedman – a skinny, awkward, inexperienced teenager from Piedmont, California – goes to stay with his older sister Casey in New York City, he is hopeful that his life is about to change. And it sure does.

It is the summer of 2006. Gay marriage and transgender rights are in the air, and Casey has thrust herself into a wild lesbian subculture. Soon Adam is tagging along to underground clubs, where there are hot older women everywhere he turns. It takes some time for him to realize that many in this new crowd assume he is trans-a boy who was born a girl. Why else would this baby-faced guy always be around?

Then Adam meets Gillian, the girl of his dreams – but she couldn't possibly be interested in him. Unless passing as a trans guy might actually work in his favor . . .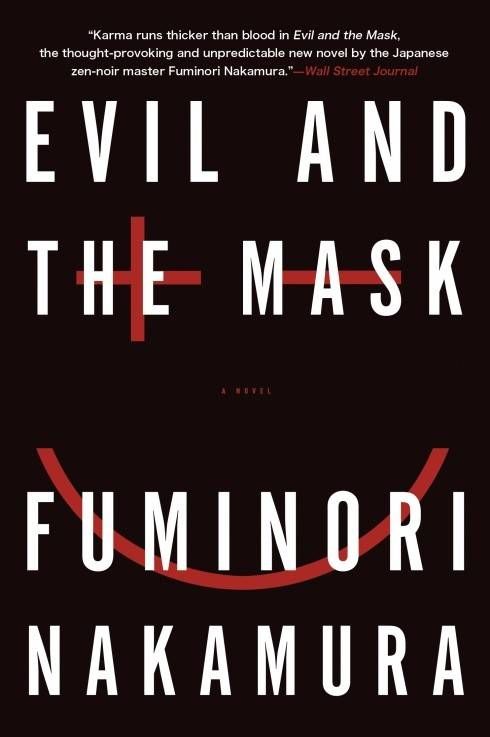 Evil and the Mask by Fuminori Nakamura (Soho Crime)
When Fumihiro Kuki is eleven years old, his elderly, enigmatic father calls him into his study for a meeting. "I created you to be a cancer on the world," his father tells him. It is a tradition in their wealthy family: a patriarch, when reaching the end of his life, will beget one last child to cause misery in a world that cannot be controlled or saved. From this point on, Fumihiro will be specially educated to learn to create as much destruction and unhappiness in the world around him as a single person can. Between his education in hedonism and his family's resources, Fumihiro's life is one without repercussions. Every door is open to him, for he need obey no laws and may live out any fantasy he might have, no matter how many people are hurt in the process. But as his education progresses, Fumihiro begins to question his father's mandate, and starts to resist.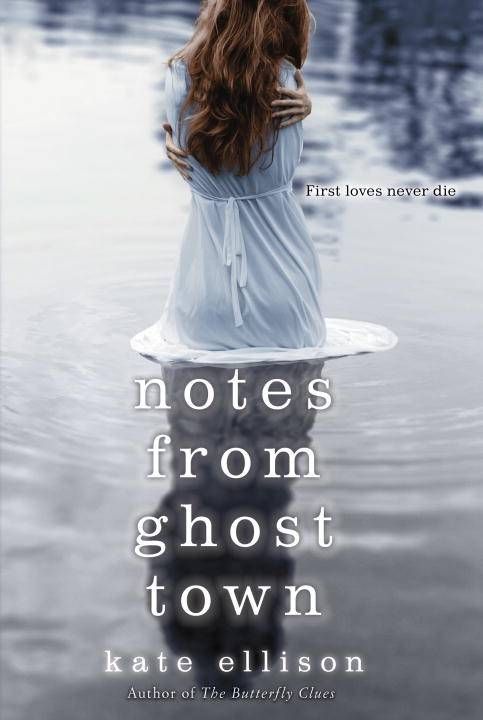 Notes From Ghost Town by Kate Ellison (Egmont USA)
Olivia Tithe was excited for the summer and spending it with her best friend, Stern. But that was ruined when he was mur­dered…by Olivia's mother. Flashing forward, Olivia's life has been transformed since that awful night.

After her mother's incarceration, Olivia must move on, but she hates her father's new fiancée, Heather, and with her dad's new real estate development (she calls it Ghost Town) in the works, she barely sees him. But a new boy, Austin, has kindled feelings inside her that she hasn't felt since Stern's death.

Arriving at the same time as this new guy is a mysterious note that brings Stern's murder back to the forefront; Olivia knows that she must discover the truth behind her friend's death once and for all.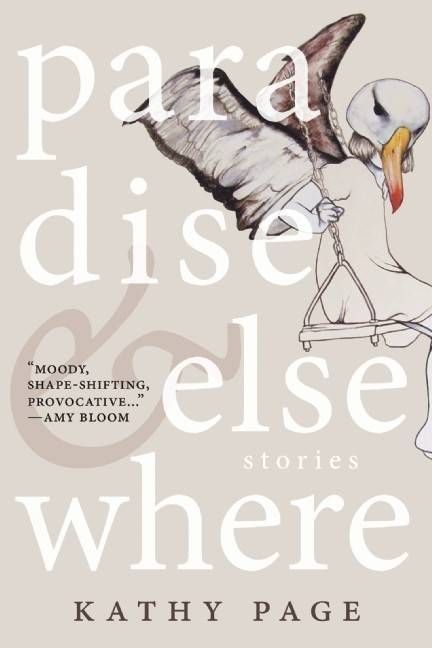 Paradise & Elsewhere by Kathy Page (Biblioasis)
The rubble of an ancient civilization. A village in a valley from which no one comes or goes. A forest of mother-trees, whispering to each other through their roots; a lakeside lighthouse where a girl slips into human skin as lightly as an otter into water; a desert settlement where there was no conflict, before she came; or the town of Wantwick, ruled by a soothsayer, where tourists lose everything they have. These are the places where things begin.

New from the author of The Story of My Face, Paradise & Elsewhere is a collection of dark fables at once familiar and entirely strange: join the Orange Prize-nominated Kathy Page as she notches a new path through the wild, lush, half-fantastic and half-real terrain of fairy tale and myth.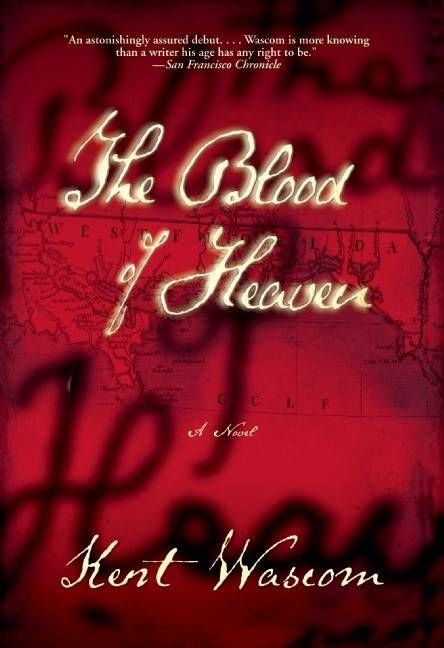 The Blood of Heaven by Kent Wascom (Grove Press)
The Blood of Heaven is the story of Angel Woolsack, a preacher's son, who flees the hardscrabble life of his itinerant father, falls in with a charismatic highwayman, then settles with his adopted brothers on the rough frontier of West Florida, where American settlers are carving their place out of lands held by the Spaniards and the French. The novel moves from the bordellos of Natchez, where Angel meets his love Red Kate to the Mississippi River plantations, where the brutal system of slave labor is creating fantastic wealth along with terrible suffering, and finally to the back rooms of New Orleans among schemers, dreamers, and would-be revolutionaries plotting to break away from the young United States and create a new country under the leadership of the renegade founding father Aaron Burr.
The Oakdale Dinner Club by Kim Moritsugu (Dundurn)
After Mary Ann's husband cheats on her, the suburban mom decides to have her own affair. She starts up a neighbourhood dinner club as a cover and invites three men she has earmarked as potential lovers. Along for the ride is her best friend, Alice, who has recently returned with her young daughter to Oakdale, the cozy bedroom community where the two women grew up and briefly shared a telepathic past.
Over good food and wine, new friendships develop, new dreams simmer, Mary Ann pursues her affair candidates, and Alice opens her heart and mind to ways out of her single-working-mother social rut. The stars align on the night the core dinner club members consume an aphrodisiac, go to a local dive bar, hit the dance floor, and rock their worlds.
The Silent History by Eli Horowitz, Matthew Derby, Kevin Moffett (FSG Originals)
Sometime right around now, doctors, nurses, and—most of all—parents begin to notice an epidemic spreading among children. Children who are physically normal in every way except that they do not speak and do not respond to speech; they don't learn to read, don't learn to write. Theories spread—maybe it's related to a popular antidepressant. Maybe these children, without the ability to use or comprehend language, have special skills of their own.
Unfolding in a series of brief testimonials from parents, teachers, friends, doctors, cult leaders, profiteers, impostors—everyone touched by the silent phenomenon except, of course, the children themselves—The Silent History is both a bold storytelling experiment and an unexpectedly propulsive reading experience. Originally conceived and serially published as an award-winning iPhone/iPad app by Eli Horowitz, the former publisher of McSweeney's, along with the acclaimed novelists Matthew Derby and Kevin Moffett and the intrepid coder Russell Quinn, the book has been reedited and, at times, rewritten into a definitive, nuanced, and unputdownable text, a story that is timely, timeless, and terrifying.
Bellman & Black by Diane Setterfield (Atria/Emily Bestler Books)
Caught up in a moment of boyhood competition, William Bellman recklessly aims his slingshot at a rook resting on a branch, killing the bird instantly. It is a small but cruel act, and is soon forgotten. By the time he is grown, with a wife and children of his own, William seems to have put the whole incident behind him. It was as if he never killed the thing at all. But rooks don't forget…

Years later, when a stranger mysteriously enters William's life, his fortunes begin to turn—and the terrible and unforeseen consequences of his past indiscretion take root. In a desperate bid to save the only precious thing he has left, he enters into a rather strange bargain, with an even stranger partner. Together, they found a decidedly macabre business. And Bellman & Black is born.
Dirty Love by Andre DuBos III (W.W. Norton & Company)
In these linked novellas in which characters walk out the back door of one story and into the next, love is "dirty"-tangled up with need, power, boredom, ego, fear, and fantasy. On the Massachusetts coast north of Boston, a controlling manager, Mark, discovers his wife's infidelity after twenty-five years of marriage. An overweight young woman, Marla, gains a romantic partner but loses her innocence. A philandering bartender/aspiring poet, Robert, betrays his pregnant wife. And in the stunning title novella, a teenage girl named Devon, fleeing a dirty image of her posted online, seeks respect in the eyes of her widowed great-uncle Francis and of an Iraq vet she's met surfing the Web.
Doctor Sleep by Stephen King (Gallery Books)
On highways across America, a tribe of people called the True Knot travel in search of sustenance. They look harmless—mostly old, lots of polyester, and married to their RVs. But as Dan Torrance knows, and spunky twelve-year-old Abra Stone learns, the True Knot are quasi-immortal, living off the steam that children with the shining produce when they are slowly tortured to death.

Haunted by the inhabitants of the Overlook Hotel, where he spent one horrific childhood year, Dan has been drifting for decades, desperate to shed his father's legacy of despair, alcoholism, and violence. Finally, he settles in a New Hampshire town, an AA community that sustains him, and a job at a nursing home where his remnant shining power provides the crucial final comfort to the dying. Aided by a prescient cat, he becomes "Doctor Sleep."

Then Dan meets the evanescent Abra Stone, and it is her spectacular gift, the brightest shining ever seen, that reignites Dan's own demons and summons him to a battle for Abra's soul and survival.