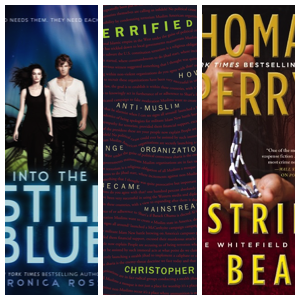 HARDCOVER RELEASES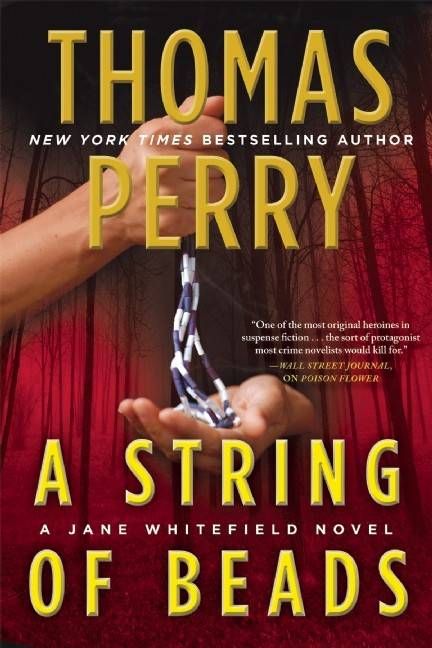 A String of Beads by Thomas Perry (Mysterious Press)
After two decades protecting innocent victims on the run, and a year after getting shot on a job that took a dangerous turn for the worse, Jane McKinnon, née Whitefield, has settled into the quiet life of a suburban housewife in Amherst, New York-or so she thinks.
One morning as she comes back from a long run, Jane is met by an unusual sight: all eight clan mothers, the female leaders of the Seneca clans, parked in her driveway in two black cars. A childhood friend of Jane's from the reservation, Jimmy, is wanted by the police for the murder of a local white man. But instead of turning himself in, he's fled, and no one knows where he is hiding out. At the clan mothers' request, Jane retraces a walking trip she and Jimmy took together when they were fourteen in hopes that he has gone the same way again. But it soon becomes clear that the police aren't the only ones after him. As the chase intensifies, the number of people caught up in this twisted plot multiplies, and Jane is the only one who can protect those endangered by it. A String of Beads is an addictive, fast-paced thriller about how abandoning the past can sometimes be the hardest thing to do, even when your life-and the life of those you love-depends on it.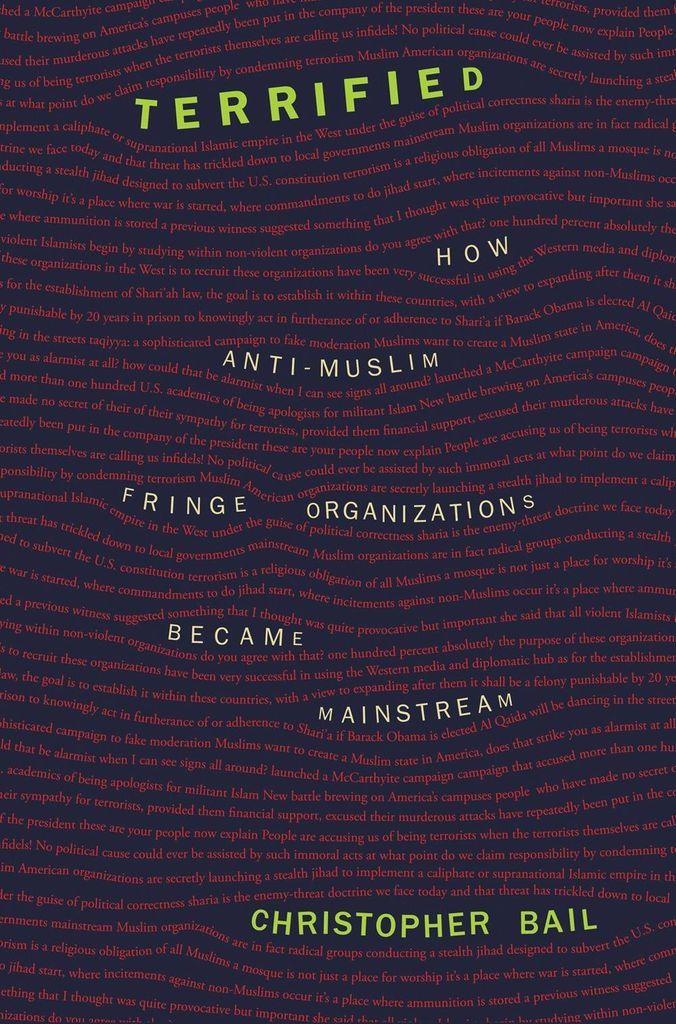 Terrified: How Anti-Muslim Fringe Organizations Became Mainstream by Christopher Bail (Princeton University Press)
In July 2010, Terry Jones, the pastor of a small fundamentalist church in Florida, announced plans to burn two hundred Qur'ans on the anniversary of the September 11 attacks. Though he ended up canceling the stunt in the face of widespread public backlash, his threat sparked violent protests across the Muslim world that left at least twenty people dead. In Terrified, Christopher Bail demonstrates how the beliefs of fanatics like Jones are inspired by a rapidly expanding network of anti-Muslim organizations that exert profound influence on American understanding of Islam.
Bail traces how the anti-Muslim narrative of the political fringe has captivated large segments of the American media, government, and general public, validating the views of extremists who argue that the United States is at war with Islam and marginalizing mainstream Muslim-Americans who are uniquely positioned to discredit such claims. Drawing on cultural sociology, social network theory, and social psychology, he shows how anti-Muslim organizations gained visibility in the public sphere, commandeered a sense of legitimacy, and redefined the contours of contemporary debate, shifting it ever outward toward the fringe. Bail illustrates his pioneering theoretical argument through a big-data analysis of more than one hundred organizations struggling to shape public discourse about Islam, tracing their impact on hundreds of thousands of newspaper articles, television transcripts, legislative debates, and social media messages produced since the September 11 attacks. The book also features in-depth interviews with the leaders of these organizations, providing a rare look at how anti-Muslim organizations entered the American mainstream.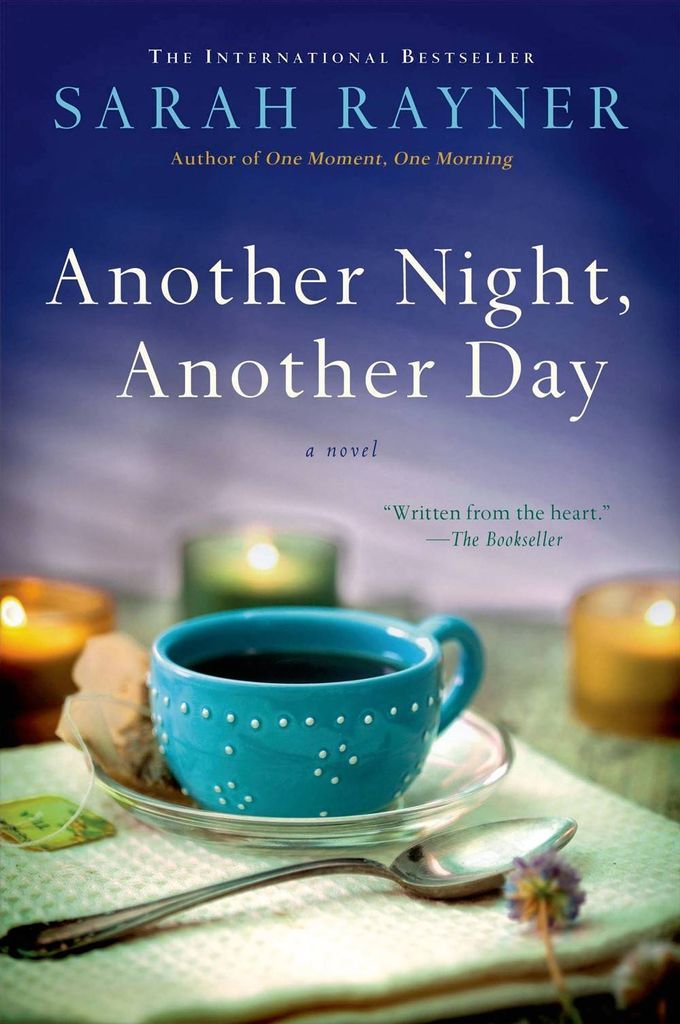 Another Night, Another Day by Sarah Rayner (St. Martin's Griffin)
From the international bestselling author of One Moment, One Morning comes the emotional story of a group of strangers who come together to heal, creating lifelong friendships along the way.
Three people, each crying out for help.
There's Karen, about to lose her father; Abby, whose son has autism and needs constant care, and Michael, a family man on the verge of bankruptcy. As each sinks under the strain, they're brought together at Moreland's Clinic.
Here, behind closed doors, they reveal their deepest secrets, confront and console one another, and share plenty of laughs. But how will they cope when a new crisis strikes?
Identity Crisis: 10th Anniversary Edition by Brad Meltzer and Rags Morales
New York Times best-selling novelist Brad Meltzer (The Inner Circle, The Book of Fate) unleashed a murder mystery featuring some of the biggest pop icons in the world: Superman, Batman, Wonder Woman and the rest of the Justice League. The most talked-about and successful miniseries of 2004, IDENTITY CRISIS is a graphic novel written by Meltzer with art by Rags Morales and Michael Bair. The book delivers murder, betrayal, intrigue and an inventive look at the world of superheroes, fantastic powers and secret identities.
When the spouse of a JLA member is brutally murdered, the entire superhero community searches for the killer, fearing their own loved ones may be the next targets. Before the mystery is solved, a number of long-buried secrets will threaten to divide the heroes before they can bring the mysterious killer to justice. IDENTITY CRISIS is an all-too-human look into the lives of superheroes, and the terrible price they pay for doing good.
PAPERBACK RELEASES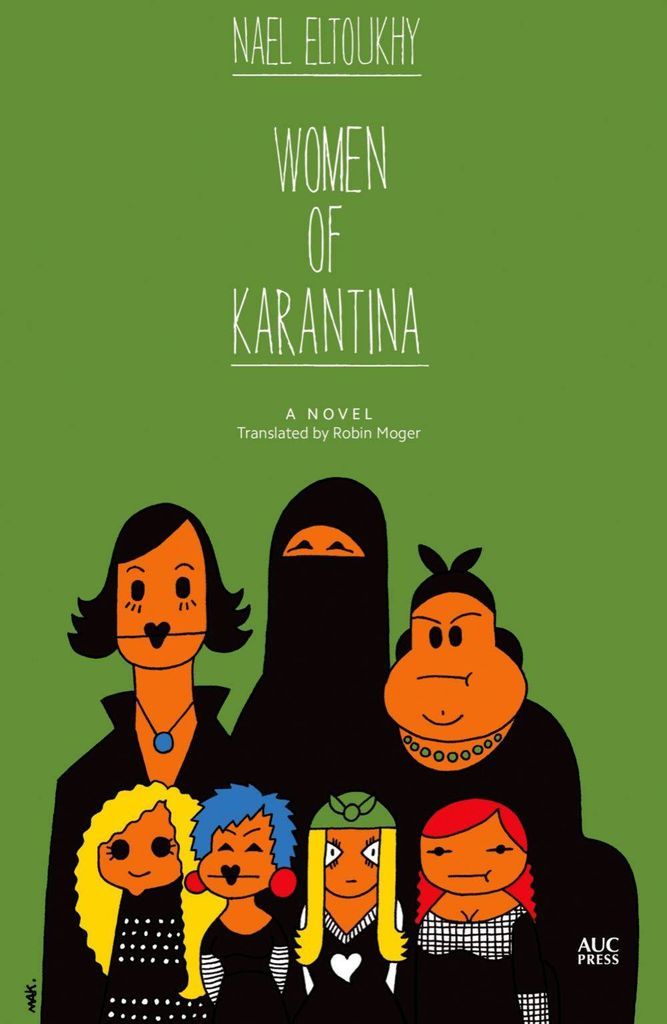 Woman of Karantina by Nael Eltoukhy (The American University in Cairo Press)
Back in the dog days of the early twenty-first century a pair of lovebirds fleeing a murder charge in Cairo pull in to Alexandria's main train station. Fugitives, friendless, their young lives blighted at the root, Ali and Injy set about rebuilding, and from the coastal city's arid soil forge a legend, a kingdom of crime, a revolution: Karantina.
Through three generations of Grand Guignol insanity, Nael Eltoukhy's sly psychopomp of a narrator is our guide not only to the teeming cast of pimps, dealers, psychotics, and half-wits and the increasingly baroque chronicles of their exploits, but also to the moral of his tale. Defiant, revolutionary, and patriotic, are the rapists and thieves of Alexandria's crime families deluded maniacs or is their myth of Karantina-their Alexandria reimagined as the once and future capital-what they believe it to be: the revolutionary dream made brick and mortar, flesh and bone?
Subversive and hilarious, deft and scalpel-sharp, Eltoukhy's sprawling epic is a masterpiece of modern Egyptian literature. Mahfouz shaken by the tail, a lunatic dream, a future history that is the sanest thing yet written on Egypt's current woes.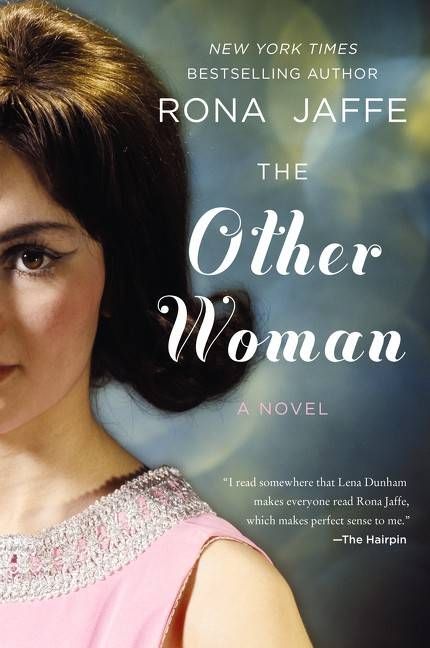 The Other Woman by Rona Jaffe (William Morrow Paperbacks)
Carol Prince realized very early on that the life of a slavish housewife was not for her. Instead of finding a husband, she builds a career as a features writer for a glossy magazine and enjoys the freedom and indulgences the position affords her. Soon enough, all of her friends are divorced, Women's Lib has arrived, and Carol is quite satisfied conducting interviews on glittering film sets or in swanky bars, and having flings with gorgeous men.
But then she meets Matthew Fitzgerald. He is handsome and successful and rich…and married. Over time, they become more and more enamored of each other and Carol is forced to make a decision. She may preserve her status as an independent woman, or sacrifice her ideals for the one thing she never thought she needed—a man.
Before Carrie Bradshaw, there was Carol Prince. The Other Woman is a witty and captivating novel about the choices we make, and how they define us.
Into the Still Blue by Veronica Rossi (HarperCollins)
Their love and their leadership have been tested. Now it's time for Perry and Aria to unite the Dwellers and the Outsiders in one last desperate attempt to bring balance to their world.
The race to the Still Blue has reached a stalemate. Aria and Perry are determined to find this last safe-haven from the Aether storms before Sable and Hess do—and they are just as determined to stay together.
Meanwhile, time is running out to rescue Cinder, who was abducted by Hess and Sable for his unique abilities. And when Roar returns to camp, he is so furious with Perry that he won't even look at him, and Perry begins to feel like they have already lost.
Out of options, Perry and Aria assemble a team to mount an impossible rescue mission—because Cinder isn't just the key to unlocking the Still Blue and their only hope for survival, he's also their friend. And in a dying world, the bonds between people are what matter most.
In this final book in her stunning Under the Never Sky trilogy, Veronica Rossi raises the stakes to their absolute limit and brings her epic love story to an unforgettable close.
____________________
Expand your literary horizons with New Books!, a weekly newsletter spotlighting 3-5 exciting new releases, hand-picked by our very own Liberty Hardy. Sign up now!