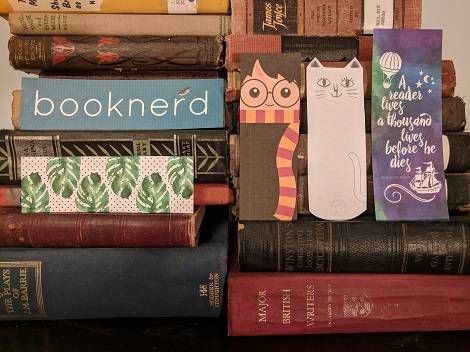 45 of the Cutest Free Printable Bookmarks Online Right Now
I scoured Pinterest for some cute printable bookmarks, and here are the results: 45 of the cutest, most inspiring, most aesthetic bookmarks you can download for free and print today.
That's enough for you to use and lose a different one for each of the books you read for a 45 book challenge.
I'm notorious for losing bookmarks. I collect cute ones from libraries and bookstores, but they often end up tucked in the back of the book I just returned to the library, never to be seen again.
That's why I've compiled a list of free printable bookmarks. If (okay, when) I lose them, I can easily replace them. No more resorting to a miscellaneous receipt dug out of my purse or a shred of notebook paper.
For your browsing ease, I've divided these printable bookmarks into 7 categories: bookish quotes from famous authors, bookish phrases, pretty designs, black and white (for coloring), cute animals, miscellaneous, and Harry Potter, which obviously needed an entire category to itself.
Click the caption below each picture to go straight to the designer's website for the download link. Minimal assembly required—just print on card stock and cut into rectangles.
Printable Bookmarks with Quotes from Famous Authors
These watercolor bookmarks with quotes about reading feature Jane Austen, Dr. Seuss, and J.K. Rowling. Design by Courtney of Paperelli.
Speaking of Dr. Seuss, check out these two Seussical quote bookmarks by One Artsy Mama.
Just a few more Dr. Seuss bookmarks from Artsy-Fartsy Mama, these featuring your favorite Seuss characters.
Matilda is one of the biggest literary bookworms; channel her reading fervor with these Roald Dahl bookmarks, also from Artsy-Fartsy Mama.
My life motto is, "Never trust anyone who has not brought a book with them." Now when anyone questions my bulky purse decisions I can pull out this Lemony Snicket bookmark and wave it in their face.
Ten more printable bookmarks with quotes from C.S. Lewis, J.K. Rowling, and George R.R. Martin, and some cute bookish phrases from Inside the Fox Den.
Printable bookmarks with quotes about reading on watercolor backgrounds from College Life Made Easy (a fitting source for the George R.R. Martin quote "Sleep is good, and books are better").
A few more bookmarks with bookish quotes from Stephen King, Jane Austen, George R.R. Martin, and Neil Gaiman. Design by L'atelier de Magie.
Floral bookmarks with Neil Gaiman quote "A book is a dream you hold in your hand," designed by Inkstruct.
Bookmarks with quotes by Jane Austen featuring your favorite heroines. Designed by The Happy Honeybee.
Bookmarks with quotes by John Green, these from The Fault in Our Stars. Designed by Delicious Reads.
Printable Bookmarks with Bookish Phrases
Booknerd bookmarks by Jenetta Penner.
The perfect bookmark for Book Rioters: I like big books and I cannot lie. Designed by Oh My! Handmade.
Encouraging bookmarks for the slow-readers among us by Alpha Mom.
Bookmarks with bookish phrases from Marilyn Nassar.
Cool bookmark designs featuring the word "read" by Pickle Bums.
Keep Calm and Read On bookmark and more by Blooming Homestead.
Printable Bookmarks with pretty designs
Didn't see your favorite quote above? Then write it in the center of one of these Floral frame bookmarks by Cultura Creas.
Botanical bookmarks by Lilac-n-Lavender.
Vintage map bookmarks by Bookmark Bee.
Vintage map of London bookmarks by The Prudent Homemaker. Even more gorgeous in color!
Vintage hot air balloon bookmark by Winged Bullet.
Ombre watercolor bookmarks by Molly at Almost Makes Perfect.
Floral patterned bookmarks by Lemon Squeezy.
Pretty patterned bookmarks by Carrie Elle.
Marble and gold bookmarks by Savor and Savvy. Choose from nine colors!
Roses and vintage music bookmarks by Vintage Glam Studio.
Black and White Printable Bookmarks To Color
Don't have access to a color printer? Here are some designs you can print off in black and white. They're designed to color in, too, so knock yourself out with some colored pencils.
Black and white bookmarks with geometric patterns by Hanna Nilsson Design
Floral bookmarks to color feat. my favorite quote from the new Cinderella film: "Have courage and be kind."
Printable bookmarks to color with bookish quotes by Dawn Nicole. (I particularly like: "I like to party! And by party I mean read books!")
Winter-themed bookmarks to color, also by Dawn Nicole.
cute Printable Bookmarks with animals
Owl feather bookmarks by Sash-kash on Deviantart
Cute cat bookmarks by Mr. Printables.
The Cheshire cat is an infamous character, but a cat nonetheless, so I'm including this Lewis Carroll bookmark here.
Cute fox bookmarks by Lemon Squeezy.
More cute fox bookmarks, these by Bookmark Bee.
Adorable dinosaur bookmarks for World Book Day, designed by Mr. Wonderful. The website is in Spanish, but the bookmarks are available to download in English, too, as well as Catalan (just click "Descargar Punto de libro en inglés").
Fun Miscellaneous Printable Bookmarks
Motivate yourself (or the kids in your life) to read more with these punch-card bookmarks from Over the Big Moon! Treat yourself when you finish a row.
Track your reading in 20-minute stints or motivate yourself to find out what happens next with these super-reader bookmarks by Organize and Decorate Everything.
Cute patterned bookmarks by Sharon Rowan. You can write your name in the left one, and fill out the one on the right for a specific genre.
You can mark your spot with words like "higgledy-piggledy" and "squelch" thanks to Mr. Printables.
Enjoy these eight Disney bookmarks featuring iconic animated characters reading. My favorite is the Winnie the Pooh bookmark that says "Reading is never a bother."
Cute Star Wars bookmarks, complete with corny quotes like "Reading: it's out of this world." Design by Our Handcrafted Life.
A few more Star Wars bookmarks because they're just too cute, these by Carrie Elle.
On the fandom bandwagon, here's a ridiculous Doctor Who bookmark from Doodle Craft Blog featuring David Tennant peeking over the top of your book.
That's all 45 free printable bookmarks! If you're looking to be a little fancier with your bookmarks, get crafty with Amanda's post on DIY bookmarks or Susie's on how to make origami bookmarks! Can't get enough? Here's 50 more nifty bookmarks.