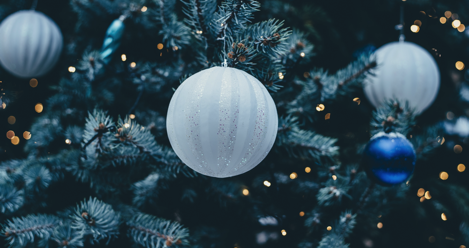 9 (Mostly) Free Gifts Readers Can Give Over The Holidays
When we think "reading" and gifts" we tend to think about giving the gift of books. But giving a book is sometimes complicated—people like what they like and might not be interested in books that were picked out for them. Giving a book can also be expensive if you're short on cash. And what if you're just remembering you need to get something for a book lover now?
Luckily, you are a reader. You have a very particular set of skills. Skills you have acquired thanks to years of reading all the books. Skills that make you uniquely qualified to give very thoughtful gifts to the people you love, gifts that—in some cases—cost nothing. (Most of these gifts can be put together on very short notice as well.)
What are these gifts? I'm so glad you asked.
Have a read aloud party: I know this sounds corny, but have you ever read favorite books aloud with other adults who love the same book? It's like getting together to watch your favorite show with friends, except people are taking turns reading chapters. I recommend doing this with a bunch of friends (so you don't go hoarse), and choosing a book/series you've all read and loved, or something you think they might love. Harry Potter books, The Hobbit, and Terry Pratchett books are great for this.
Read to someone who can't read for themselves: This could be a child, or it could be an older relative, or someone who is sick and can't read. Some of my own relatives have lost their eyesight and can no longer read their favorite books. While audiobooks are an option for them, sometimes it's nice to have someone read to you instead.
Make your own audiobook: Maybe you want to read to someone but don't live nearby. Maybe you just know your best friend, who has a long commute to work, would love a book. Record yourself reading it and send her the file. This can be a little time consuming, but you don't have to hold yourself to professional voice actor standards here. Your friend would love to hear your voice.
Read your friend's manuscript/essay/poem: Have a writer in your life? I guarantee they need someone to read their manuscript, and you, my speed reading friend who has read many books, are the person to do it. Word of advice: ask what sort of criticism—if any—they would like to receive. This is a gift, after all.
Be someone's regular ride to the library: Can you commit to giving someone a regular ride to and from the library this year? Maybe you go that way anyway once a week and can bring your friend with you. Maybe you can make it your thing to do with your elderly neighbor every Saturday. People use the library for so many reasons, so if you drive and can commit to bringing someone who doesn't drive to the library on the regular, that's a wonderful gift.
Make a bookmark: O sweet bookmark, thou easiest of book-related gifts to make! We've written about free printable bookmarks, so you can definitely print out a bookmark for a friend, but if you're more artistically inclined, you can also make your own out of almost anything. (May I suggest using comic books?)
A personalized list of book recommendations:  You know books, and you know your friends better than anyone. Who better to give them a list of titles they'll love than you? (Short on cash? I recommend pairing this gift with a handmade bookmark.)
Tutor someone: Know a college kid who's having trouble passing an English course? What about a high schooler who needs help with a college essay? A child in the family who has trouble with reading homework? Reading is your super-power. You can totally pass that super-power on.
Donate in someone's name to a literacy group. This one isn't free. But it is something you can do on short notice. If you don't know what to get someone who loves reading but is hard to buy a book for for whatever reason, donate in their name to a bookish charity or literacy group. That way you can give the gift of reading to someone—even if you're not giving a book.
I'm sure I missed some (mostly) free bookish gift ideas in this post. What are your best ideas? Share them in the comments.