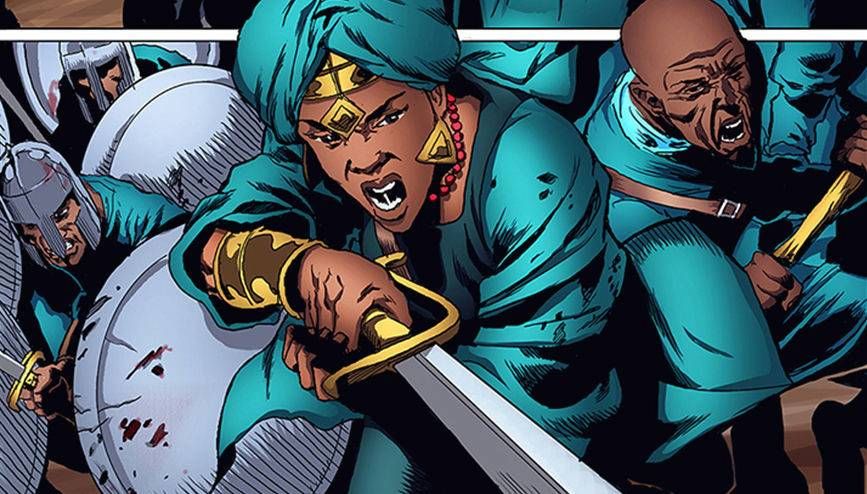 This content contains affiliate links. When you buy through these links, we may earn an affiliate commission.
This most recent Free Comic Book Day brought me an unexpected treasure: Roye Okupe's Malika Warrior Queen.
The first Saturday in May is always a ton of fun. One of the high holy days of geekdom, we come together to venerate the holy texts of our people and to obtain swag designed specifically to convince us to spend money.
The kid-oriented fare was pretty decent at this year's event and my husband was pleased with the DC offerings. I, as an historic Marvel fan, was less enthusiastic than I have been in past years, mostly because I refused to touch anything that stinks of Secret Empire with a fifty-foot pole. The Image offering was pretty spectacular but I already have I Hate Fairyland on my pull list and think Skottie Young is very much a god among comic-people. None of the independent books really caught my eye until I noticed Malika behind a taller stack of something else (I honestly can't remember what it was).
Malika's FCBD debut is a mere taste of what promises to be a sweeping epic of a series, published by YouNeek Studios, which is also home to E.X.O. (covered by Rioter Troy L. Wiggins last year) and WindMaker – The History of Atala (a prequel to bother Malika and WindMaker, both forthcoming).
The issue introduces readers to the titular character who is a daughter to the emperor and a tactical prodigy. It then jumps ahead to show us Queen Malika attempting to reunite a divided empire after a decade of civil war and an as yet undiscovered invasion from a Ming Dynasty army in search of mysterious "dragon stones."
What's new in this story? you may be asking yourself.
As with YouNeek's other properties, Maika's story is based in African mythology and its heroine is a powerful woman of color who, when challenged, stands her ground and declares, "I am my own champion."
That statement seems even more poignant given the recent discussions of diversity in comics and the disappointing, reactionary responses of comic executives when asked about declining sales. They blame lady-centric books. Books featuring diverse characters. They cancel books such as Chelsea Cain's spectacular Mockingbird and David Walker and Sanford Greene's stunning PowerMan and Iron Fist in favor of a solo Iron Fist book I couldn't even get through the first issue of and the aforementioned Secret Empire.
What can we, as readers, do to change things? Do we stop buying books from the big two altogether? What about the fallout that would cause for G. Willow Wilson's Ms. Marvel and Jeremy Whitley's Unstoppable Wasp? Sam Wilson: Captain America (which should be taken away from it's current writer and given to pretty much anyone else). Gabby Rivera's America, which is only just getting started?
We need to keep buying those books. The ones which speak to us and reflect the world we want to see. A diverse America, a diverse world, in which anyone, regardless of gender or ethnicity, skin color or sexual preference, is welcome.
But, at the same time, readers, like Malika, need to be our own champions. We need to search deeper and further. We need to ask our local shops to order books like Malika. Like Paul Jenkins' Alters from Afterhock. Like Robert Rodi's Merry Men from Oni (anyone know where that one went? I haven't gotten a new issue in months). We need to bring attention to those, like Okupe, who are doing it right and support them in their endeavors to show those with the will to look, how massive and incredible and diverse the world is.
As readers, a fundamental part of our lives is looking beyond what is to what could be. It falls to us to show everyone else how it's done.