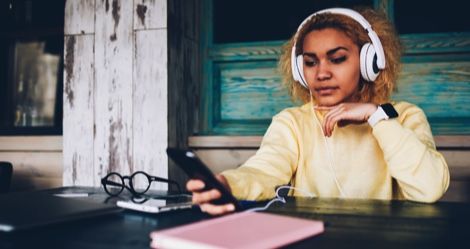 This content contains affiliate links. When you buy through these links, we may earn an affiliate commission.
I am a huge fan of ambient sounds when I work, write, and read. Often, especially when reading or writing, I like to match the sounds to what I am working on. We already mentioned the fantastic Harry Potter ambient sounds from Ambient-Mixer.com, but this site has so many more bookish ambient sound mixes, in case Harry Potter just isn't your thing. You can also adjust the mixes to be your style. Here are 13 literature-inspired sound mixes to add to the soundtrack of your reading life—and they're all free.
Mr. Tumnus' House, inspired by the beloved character from The Lion, the Witch, and the Wardrobe, combines sounds which include a crackling fire, a Narnia lullaby, and the soft hooting of an owl. There is also an occasional tea kettle whistle that almost made me jump up and walk to the stove because I didn't expect it.
In Rivendell evokes the Elvish home mentioned in Tolkien's works, starting with The Hobbit. Sound clips used are waterfalls, a Celtic harp, and bird songs. It's pretty heavy on the birds. If you want a different part of Rivendell (without birds), check out the Rivendell Library.
221b Baker Street is, of course, the home of Sherlock Holmes and Dr. John H. Watson. Among the sounds of violin and typing (on a typewriter), there is an occasional snoring which you have the option to turn down or off.
Neverland, inspired by Peter Pan, mixes a bunch of nighttime sounds (toads, crickets) with a softly playing flute. And yes, every now and then there is a light tinkling of bells. If that's a little too twee for you, check out Captain Hook's Quarters.
Loki's Chambers imagines what Loki's personal space in Asgard is like. This might be one of my favorites, with the sounds of a choir, torches, writing with a quill, Arctic wind, and an occasional flipping of pages.
In the TARDIS Library has the sounds of the only place I ever really want to be. Aside from the obvious TARDIS sounds, there's also a crackling fire, pages turning, and a clock ticking.
Xavier's School for Gifted Youngsters has your typical school sounds: students, writing, creaking chairs and footsteps. What makes me happy every time is the occasional sound of a spacecraft zooming by.
When I read The Night Circus, I wished desperately that it were real. A Walk in the Night Circus is a pretty good estimation of what I imagine the Night Circus to sound like: tents flapping, applause, music, crowds, and crackling fire.
When I listened to Stark's Lab for the first time, I actually giggled with delight. It's absolutely perfect, with the electric guitar, tinker, drilling, and occasional sigh.
There are hundreds more bookish ambient mixes on this site that I won't go into detail about, including ones inspired by A Game of Thrones and Star Wars. And a whole bunch more Harry Potter mixes we haven't even mentioned, of course.
I highly recommend checking it out!