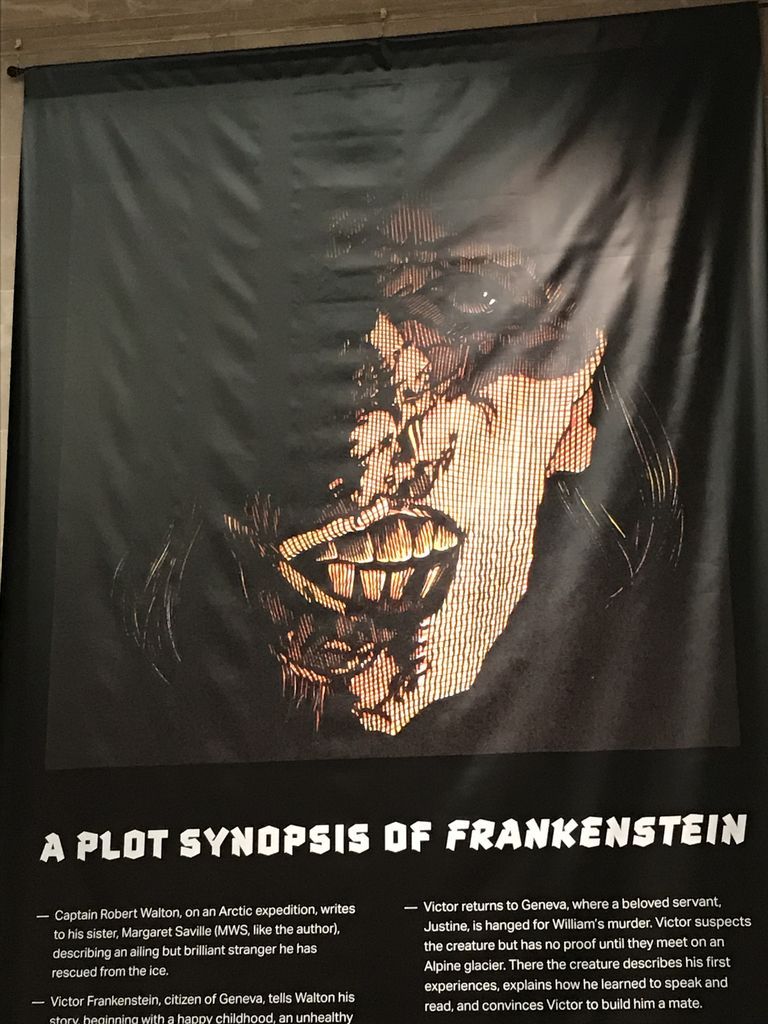 This content contains affiliate links. When you buy through these links, we may earn an affiliate commission.
It's alive! That famous exclamation by Dr. Frankenstein rang out in the 1931 version of the movie Frankenstein. Before the 1931 movie, Frankenstein was, of course, a novel. This tale emerged 200 years ago when Mary Shelley created a spooky story during a stormy night to amuse her writer friends. The Morgan Library and Museum in NYC is commemorating all things Frankenstein on this 200th anniversary of the good doctor's experimentation with life.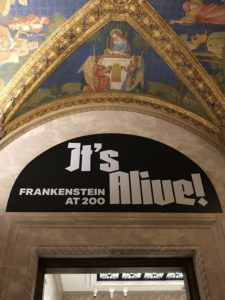 Some pertinent info first:
The actual title of the novel is Frankenstein, Or The Modern Prometheus.
Frankenstein is the name of the doctor. The sewn-together reanimated corpse is Frankenstein's Monster. (I know, lots of people know this, but I figured I'd cover it just in case).
This novel is frequently called the world's first science fiction novel.
Now onto the exhibit!
In the first steps of the Frankenstein exhibit, we're hit with the background of Mary Shelley, a wall-sized synopsis of the novel, and a digital interactive version of Mary Shelley's annotated book.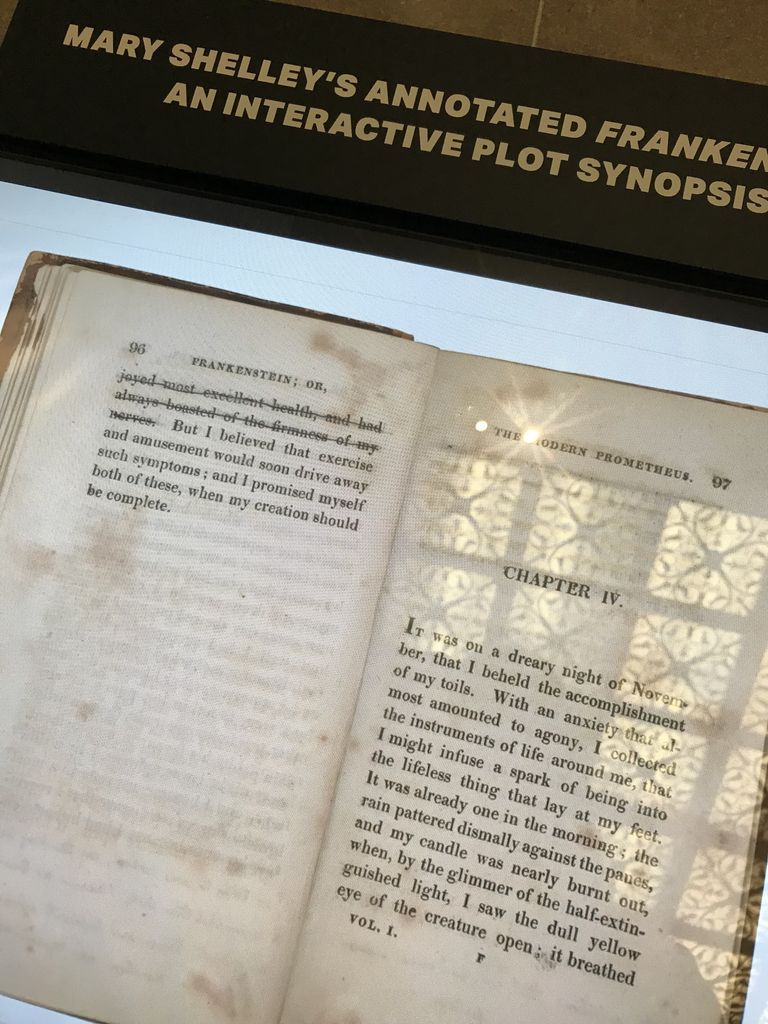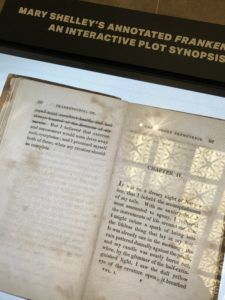 If that's not enough, the shiny screen of the digitized book also reflects the wrought ceiling. So pretty!
On display are various versions of Frankenstein in manuscript form and book form. Mary Shelley's handwritten drafts hang, showing off her thinking process with self-edits. Also available is the physical annotated version. Even after it was published, Shelley continued to make changes for the next publishing run. A writer's work is really never done.
Together in one display are a stack of the first printed version of Frankenstein next to the last version issued while Shelley was still alive.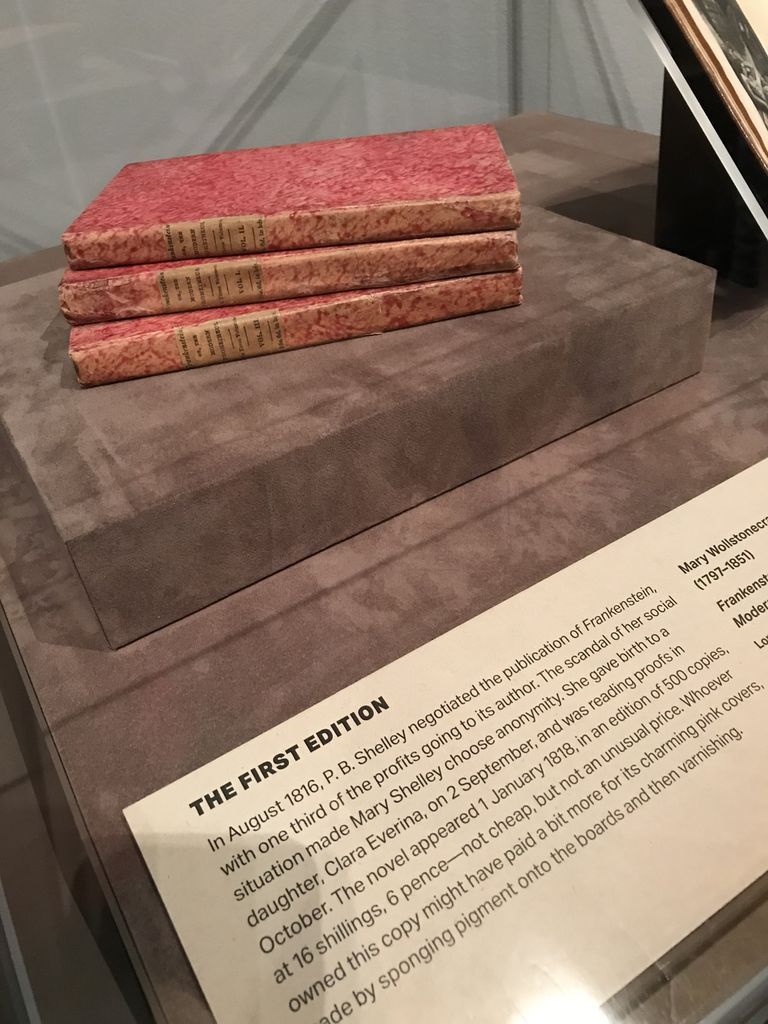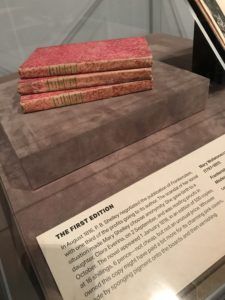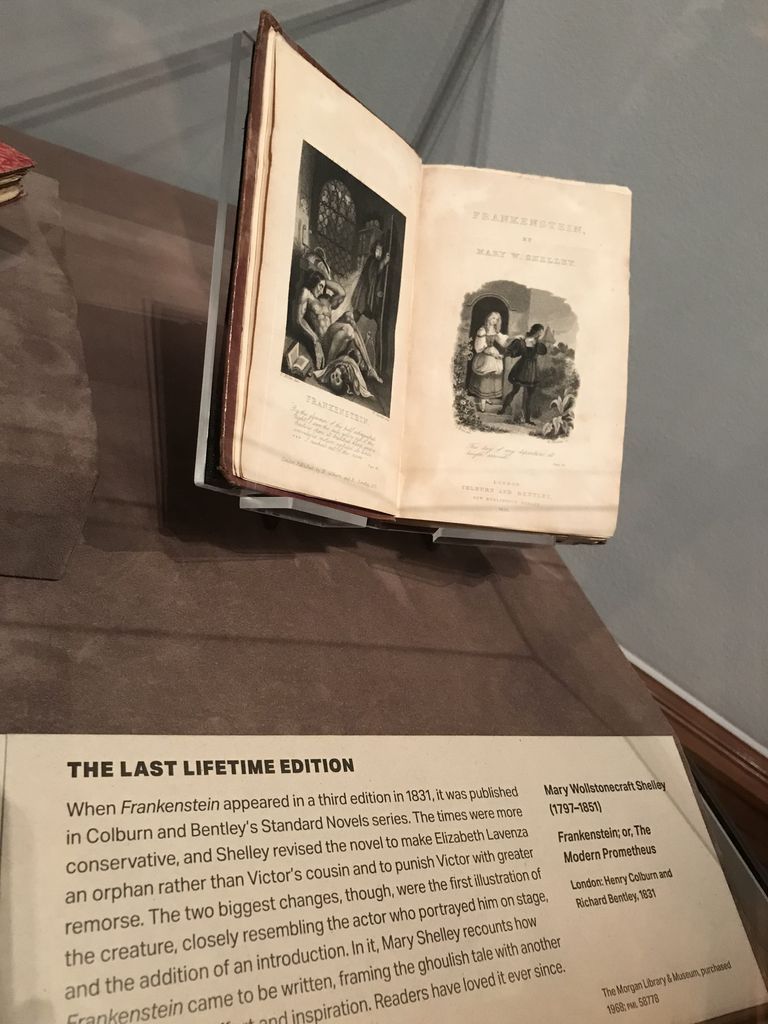 In addition to the novels, we can find lots of Gothic artifacts that inspired the horror. Then we find the products of how Frankenstein has inspired others.
Gothic inspiration comes from long told tales as well as paintings. Here's a particular painting by Henry Fuseli (1741–1825) entitled The Nightmare. Notice the languished lady lying on the bed. That's the same pose we see in so many of the posters for later movie versions of Frankenstein (none of which I can share because they are copyrighted and guards quietly scold No Pictures! when you try to take one because that's the law).
Some more Gothic fare appears in the form of collections of creepy tales circa the late 1700s, complete with drawings of dancing skeletons.
What comes after the novel varies in a vast array of Frankensteinian stuff.
A lot of productions unfolded in the movies and on stage. France had a burlesque version of Frankenstein. Let's all take a moment to take that in.
Various other versions popped up in theatres.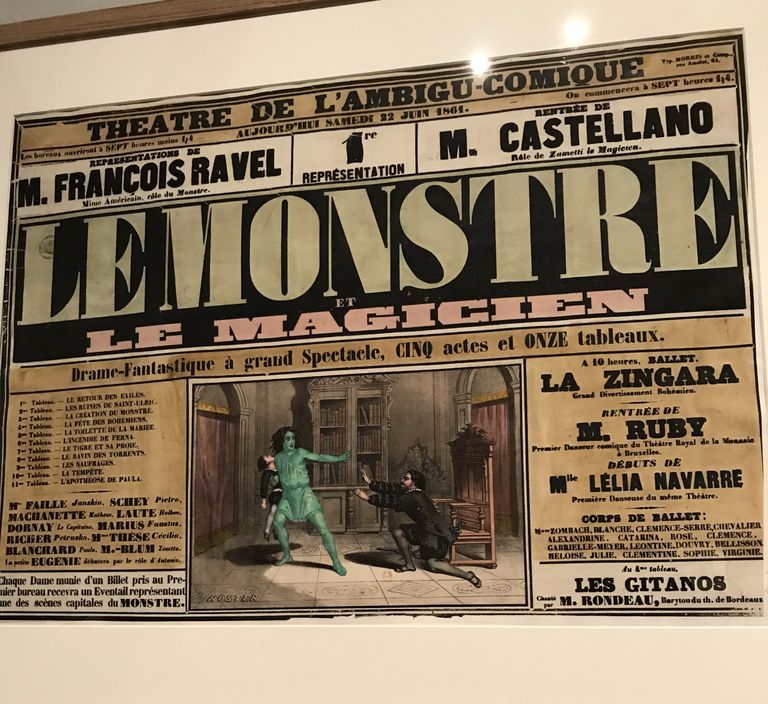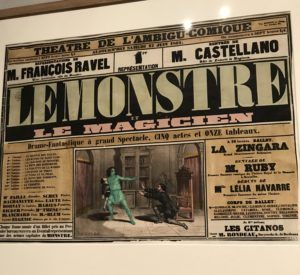 Here's a lithograph–it's wall-sized in the exhibit–based on a reenacted scene. Very meta.
If you're a fan of comic books, then here's some more Frankenstein for you, too.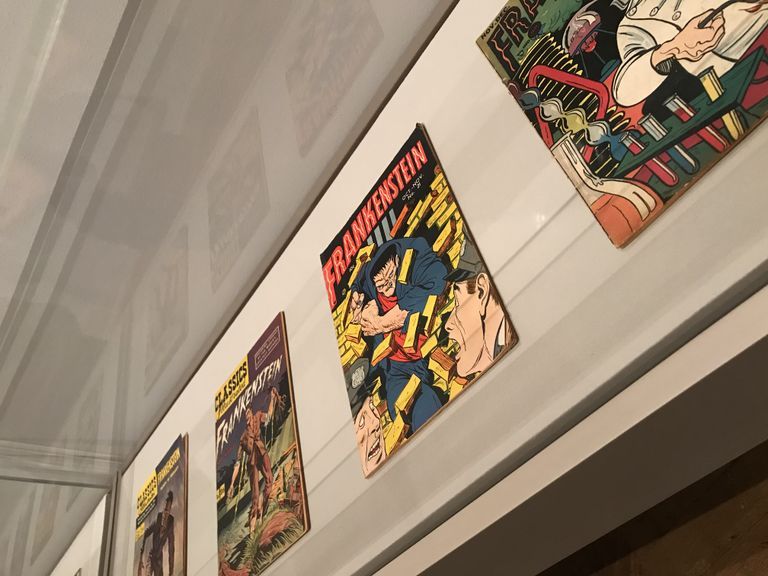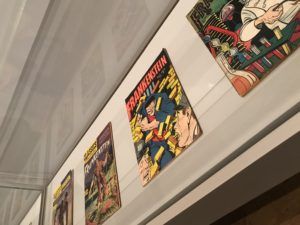 The whole other side of Frankenstein is science. It's chemistry and electricity. It's experimentation. On display are early versions of batteries, a kit of pointy and sharp instruments for cadaver cutting, and several notebooks of anatomy-experimentation-notes.
The story of Frankenstein is famous, sure, but so is the story of the Shelleys. They are entangled in huge web of family and writer friends. A whole lot of loss and gloom occurs throughout the family history. The exhibit lets us into much of the backstory, which includes a disastrous Italian adventure. Children die. There's a nurse who causes stress in the Shelley marriage. And then P. B. Shelley dies in a boating incident with his friend and cabin boy.
I tell you all this so I can explain the next two chilling artifacts: found fragments of a poem and then found fragments of what some say is P. B. Shelley's skull.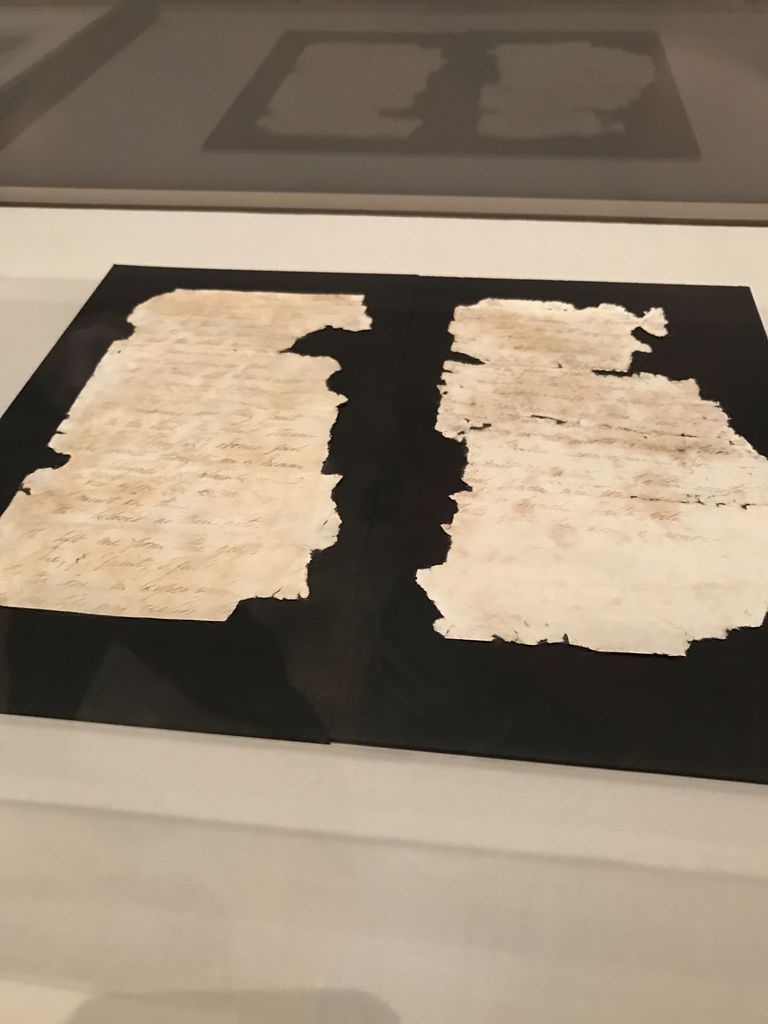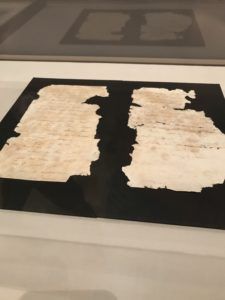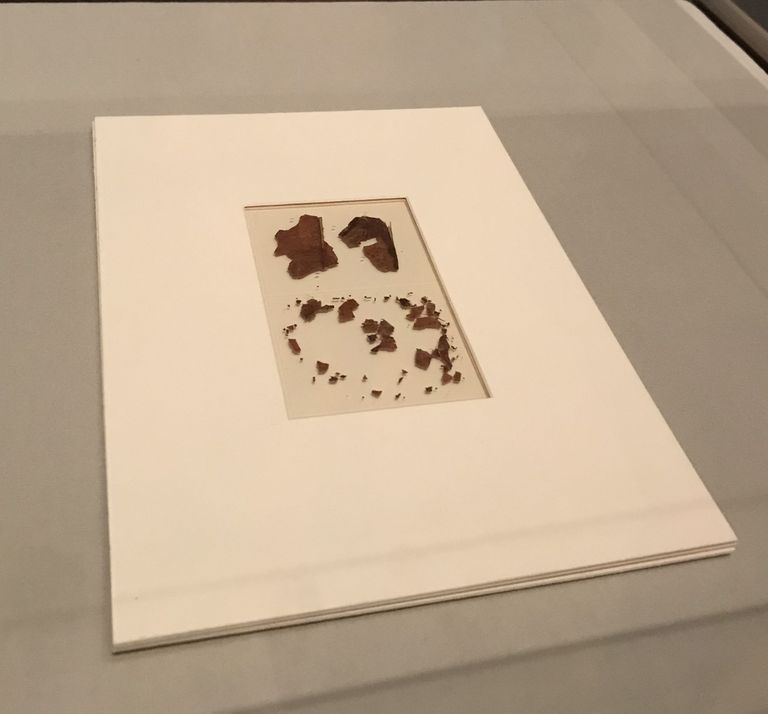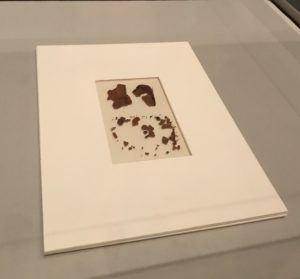 Through all its editions and parodies and ephemera, Frankenstein remains at the forefront of sci-fi, Gothic, monster tales. If you're in NYC between now and January 27, 2019, swing by The Morgan to take it all in up close.
You can read more about Mary Shelley here and one rioter's obsession with Frankenstein here.
As always, if you have your own Frankenstein story, feel free to share.