This content contains affiliate links. When you buy through these links, we may earn an affiliate commission.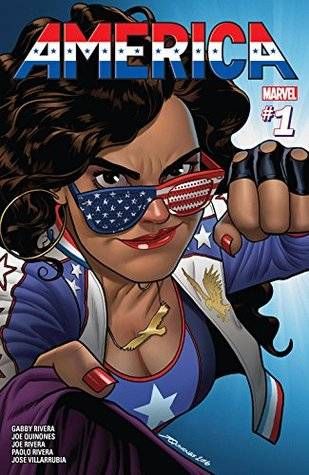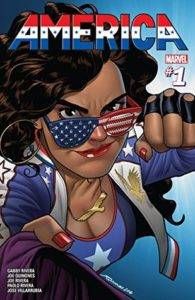 When I heard about America #1, starring America Chavez, I was all about it. I've only recently started reading more superhero comics – some Ms. Marvel, Captain Marvel – but I liked the little of America I'd seen already in Young Avengers. (The "America, no!" "America, yes." thing was a source of endless amusement.)
What sealed the deal for me was learning that the America issues would be written by Gabby Rivera, author of the YA book Juliet Takes a Breath. Kickass queer Latina superhero written by an awesome YA author? Sign me up. Also, if you haven't read Juliet Takes a Breath – it's worth taking a look at the book, a coming-of-age journey for Juliet as she gets ready to intern with feminist author Harlowe Brisbane over the summer.
What I love even more than queer superheroes in comics is queer superheroes in YA lit. Maybe that wishlist is a little specific, but that's the beauty of it.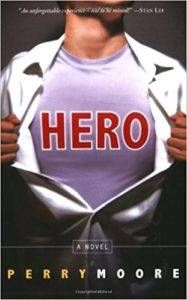 Right now, there's currently three LGBTQ superhero YA books out that I can reel off. Currently burning a hole in my to-read list is Dreadnought by April Daniels. Dreadnought centers on Danny, who's hiding that she's transgender up until the superhero Dreadnought dies and passes his powers onto her. When that happens, the secret's out…
And then there's Hero by Perry Moore. The book's been out for quite some time now (2007! whoa), and it was one of the first queer YA books I read in high school. True to its title, Hero is about a superhero, but one with a few secrets. Thom Creed has superpowers, is gay but not out, and has been invited to join the League.
Finally, there's Not Your Sidekick by C.B. Lee, whose heroine Jessica Tran is the daughter of the town's two superheroes. As she struggles to figure out what her superpowers are, or if she even has any, she ends up in a paid internship working for the town supervillains.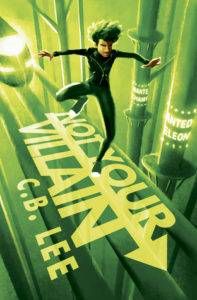 Not Your Sidekick is one of my favorite books that I've read in the last year, and I am way too excited for the sequel, Not Your Villain, which focuses on one of the awesome side characters from Not Your Sidekick.
So those are my four on my to-read and my re-read list, alongside the America comics (!!). It's a trend – can I call it a trend? – that I'm loving. Are there any queer superhero YA books I need to get on my radar? Are there any weirdly specific (but not actually that niche if you take heteronormativity out of the equation) types of YA books that you love?