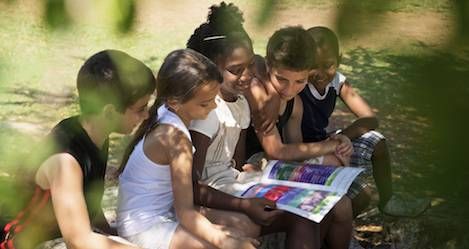 Children's
For International Children's Book Week: Around the World in 10 Books
This content contains affiliate links. When you buy through these links, we may earn an affiliate commission.
When global children's literature is being celebrated in English, the map is often distorted to one where European books take up 90 percent of the non-Anglophone space. Beyond that, there might be a translation or two from some of the stunning children's literature coming out of Japan. This is understandable: Pippi Longstocking, The Moomins, The Rainbow Fish, Polo, and dozens of other translated European titles are accessible, enjoyable, and can be found in many Anglophone libraries and bookshops.
Finding books from many other Asian, Middle Eastern, African, and South American countries can be a much bigger challenge.
Indeed, when lists are made of African or Middle Eastern children's literature, these are often books "set in" a wide array of African or Middle Eastern countries (or no particular country at all), rather than books written by Ghanaian, Egyptian, Zimbabwean, or Yemeni authors — as though the whole idea were just to have a book with a palm tree in it.
Part of the problem is how few titles are available in translation. While there is a wealth of Palestinian children's literature in Arabic, for instance, very little of this can be found in translation. The titles that are in translation can be difficult to find. Even translations of Mexican children's books are surprisingly difficult to get one's hands on. And so, for this year's International Children's Book Week (May 1-7):
to begin our border- and visa-free journey in Mexico…
1) Sky Blue Accident, Jorge Luján, illustrations by Piet Grobler, translated by Elisa Amado.
Sky Blue Accident comes recommended as one of the favorites of one of my favorite children's book author-illustrators, the Syrian Nadine Kaadan. Told in whimsical rhyme, it's the story of a boy who falls from his bicycle and crashes into the sky. The sky shatters, unfortunately. But the boy squirrels away some of the broken pieces in his pocket and thus manages to save the world.
From there, to Chile…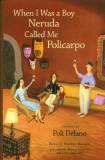 2) When I Was a Boy Neruda Called Me Policarpo, by Poli Delani, translated by Sean Higgins.
Chilean writer Poli Délano was born in 1936, when his family was living in Madrid. There, they become friends with the poet Pablo Neruda and his wife Delia del Carril.
This memoir is set in the 1940s, when Poli got to know Pablo. From the review in Outside in World: " Perhaps the most touching story is that of Poli wanting to buy a fountain pen and a watch and in order to find the money he decided to sell chewing gum at the cinema and clean cars in the car park. When the poor children saw him taking over their job, they violently sent him away. Poli was very angry and frustrated by the incident but his parents and Tio (uncle) Neruda calmly explained that those children needed the job to eat while his motives where purely superficial."
Are there direct flights from Santiago de Chile to Lagos?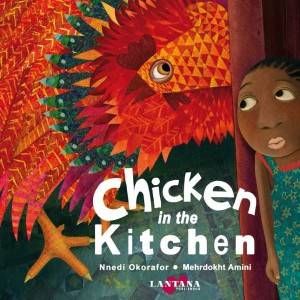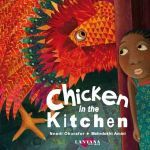 3) Chicken in the Kitchen, by Nnedi Okorafor, illustrated by Mehrdokht Amini.
I'm fairly certain everything that Nnedi has written is worth reading, from her childrn's books, to her YA, to her wild fantasy novels and short stories for adults. This multi-award-winning book follows Anyaugo, who follows a giant chicken into her kitchen one warm night, thus heading out on a wonderful adventure where nothing is quite as it seems.
From here it's not far to the Ivory Coast…
4) The Aya Series, by Marguerite Abouet, illustrated by Clément Oubrerie, translated by Helge Dascher.
The original six books were published in French between 2005 and 2010, with English translations by published between 2007 and 2013. These could be for young or adult readers. As BookShy writs: "Aya won the 2006 award for Best First Album at the Angouleme International Comics Festival. It also won the Children's Africana Book Award in 2008 and the Glyph Award (in 2008 for Rising Star Award, 2010 for Best Female Character and in both years for best Reprint Publication) and was adapted into an animated film."
The flight to Beirut will be over before you know it. Plus, no laptop ban!
5) A Game for Swallows, by Zeina Abirached, translated by Edward Gauvin.
This is a beautiful children's graphic novel about the Lebanese civil war — and what it was like to be a child during that war. Abirached's acount of her own childhood, it's told and illustrated with great feeling. As the NYT review notes, its strengths are myriad. Not just a window on conflict for young readers, but a story of all childhood anxieties.
For our token European book, a flight to Paris…
6) Polo: The Runaway Book, by Regis Faller, nearly wordless, originally published in France.
For my children and many others, this is a a terrific, magical child-pleaser that goes to all sorts of improbable lands to recover a runaway book. Indeed: All of the Polo books are magical. You can make up your own words to fit the pictures or just sit and flip.
From Paris to Tehran, preferably by train…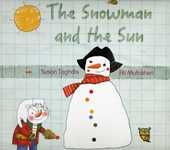 7) The Snowman and the Sun, by Susan Taghdis, translated by Azita Rassi, illustrated by Ali Mafakheri.
Iranian children's literature is a site of wonderful creative foment and development, and those looking for more should check out Tiny Owl. A snowman might seem an improbable topic for Iranian kid lit, but this charming picture book, rendered from a snowman's point of view, is filled with tiny beautiful touches: a bumblebee riding a bicycle, a cat in a variety of poses, and the ice cream that appears on every page.
From Tehran to Kolkata, India…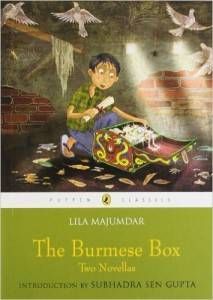 8) The Burmese Box: Two Novellas, by Lila Majumdar, translated by Subhadra Sen Gupta.
"Aunt Podi's treasured Burmese box was a part of family history. When Panchu Mama narrates the hair-raising story of how it was acquired and the mysterious circumstances in which it got lost, Goopy decides to find the fabled box and its precious contents." A fun, fast-paced detective novel by a beloved Bengali children's-book author.
Then on a plane from India to Tokyo…

9) 999 Tadpoles, by Ken Kimura, illustrated by Yasunari Murakami, translated by Peter Howlett.
This book comes highly recommended by publisher Heather Lennon (who puts out gorgeous books at North South):
"'We'll have to move,' says Mother, after realizing the pond is too small. But moving a family of 999 young frogs is fraught with danger! Hungry snakes are crawling through the grass. Hungry hawks are flying through the sky. A young frog makes a mighty tasty morsel.
Never underestimate the quick wits of 999 young frogs!"
And then sadly, our last flight, from Tokyo to Shanghai: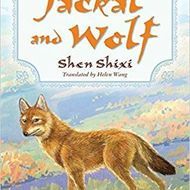 10) Jackal and Wolf, by Shen Shixi, translated by Helen Wang.
My then-five-year-old (now six) loved this book, although translator Helen Wang emphasizes that it's a 12+ title and there are deaths, and I am probably a terrible parent. Nonetheless! This is a classic wildlife story in which Flame, a red jackal, lives in a cave in the mountains. One day, a wolf attacks, killing all of her newborn pups. (All right, yes, I'm a terrible parent.) Although she wants to revenge herself on all wolves, she ultimately finds herself adopting one.