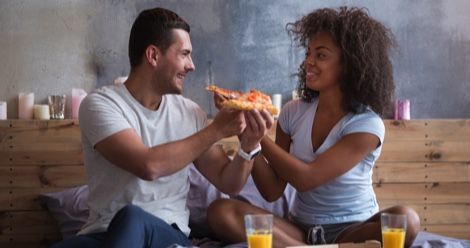 Lists
6 Romance Novels That Should Come With Snacks Included
This content contains affiliate links. When you buy through these links, we may earn an affiliate commission.
I have seen one constant refrain in the weeks since Adriana Herrera's novel American Dreamer was released: this book will make you hungry. Which makes sense. One of the main characters owns an Afro-Caribbean food truck. For me and my money, there are not enough food truck romances. But this got me thinking: what other fantastic romances feature a heavy food element? Here are six romance novels that should come with snacks included. (So, food trucks, I'll be looking for you to roll up.)
Let's start with the inspiration for this post. Nesto Vasquez is trying something new, moving his Afro-Caribbean food truck out of NYC and upstate. He's got six months to make this thing float, otherwise he has to go back to a miserable day job. Jude Fuller is a local and has a great life, good job, but he's single and feeling lonely. When he tries Nesto's food truck, he finds he can't get enough of the food or the hunky truck owner. Nesto is trying to focus on work, Jude is trying not to get hurt, but these gentlemen can't resist the pull between them.
One of our High Priestesses of Romance, Trisha Brown, reported that she made many trips to the Indian restaurant near her house while she was reading this book. Mili Rathod has not seen her husband in 25 years, not since she was promised to him at the age of four. That betrothal, however, opened the doors for Mili to leave India and study in America. Now she waits for her husband to claim her. Famous Bollywood director Samir Rathod has come to Michigan to secure a divorce for his brother. He assumes this will be an easy task, but Mili is not the simple village girl he was expecting. Before Samir can realize what's happening, he is enveloped into her life, cooking traditional food, escorting her to a wedding, and—it would seem—falling a bit in love.
When pastry chef Olivia Rawlings flambés not only her dessert but the whole dining room while her lover and his wife are in attendance, she knows she needs a change. She escapes to Guthrie, Vermont, where she gets a job as pastry chef at a hotel working for Margaret Hurley, a cantankerous woman who offers Olivia a place to live in the sugar shack on the premises. What Olivia doesn't realize, however, is that this job comes with a high-stakes apple pie contest, loads of deep new friendships, and Martin McCracken, beloved local boy returned home to care for his ailing father. The sparks between Martin and Olivia fly, but this book is more than just their romance: it's about family, redemption, and oh Lordy, so much pie.
If you can read this book without craving tacos and cupcakes, then you're made of stronger stuff than I. Carlos is a character brought over from the first book in this series, The Wedding Date, and while this book definitely has a lot less sex in it than The Wedding Date did, the connection between the characters is undeniable. A fun premise, great characters, and cooking up food that makes me want to show up at Carlos's house with plate in hand.
Bet Me by Jennifer Crusie
Minerva Dobbs doesn't believe in happily-ever-after, and definitely not with a man who asks her out to dinner to win a bet. Calvin Morrisey isn't interested in commitment or Minerva. After their date, they both expect to go their separate ways. But fate brings them back together, and this time, they're stuck with each other, and there are Krispy Kreme donuts and Chicken Marsala, and a whole lot of hijinks. These two characters are in risk management, but it seems the risk they need to take is with their own hearts.
Now, it's been years since I read this book, but it has stuck with me. Rachel Bauer is still smarting from a recent breakup, and she's set up on a blind date with Griffin Sutton, a sexy celebrity chef. Rachel knows Griffin's reputation as a bit of a playgirl, so she holds Griffin at arm's length. Griffin has never met a woman she couldn't seduce, so she proposes a month of dates: each Sunday, they'll tour the world in food. For these women, let's hope the truth holds, that the way to Rachel's heart is truly through her stomach.
For more on foodie romances, check out 6 Spicy Food Truck Romances.