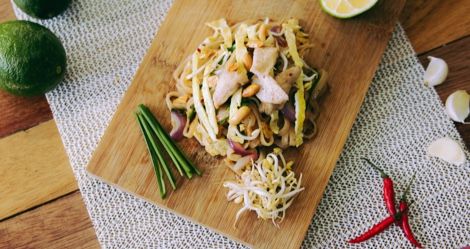 Lists
6 Foodie Books to Add to Your TBR in 2019
This content contains affiliate links. When you buy through these links, we may earn an affiliate commission.
I get really excited when I hear about new food books coming out. For me, the intersection of food and story is a precious one. We take a physical need for food, we make and share food to satiate that hunger, and we then combine it with the deeply ingrained impulse we have to make and share stories. Delicious writing, cool characters, and stories that are almost guaranteed to make you hungry. Here are six foodie books to add to your TBR list in 2019.
Eat Joy: Stories and Comfort Food From 31 Celebrated Writers edited by Natalie Eve Garrett
This illustrated collection of essays and recipes from celebrated writers is sure to tap into our taste buds. Whether it's the food that got them through important life events, the way we remember friends and family we've lost with dishes of food, or the fumbles and foibles of learning our way through cooking, these essays will be relatable, gorgeous, and probably leave me craving all the foods.
Kwame Onwuachi has gained notoriety as a restaurant owner, a chef who pulled himself up by the boot straps, and a contestant on Top Chef. This is Onwuachi's story of how he went from a young boy in the Bronx to being a leading name in the culinary world. Onwuachi's story captures the hope and optimism of a hard-working man grappling against the odds.
Losing Anthony Bourdain last year hit me hard; Kitchen Confidential was one of the books I studied as I tried to learn the ins and outs of writing food memoir. Bourdain's style of journalism on Parts Unknown opened my eyes to parts of the world—areas of cuisine, traditions, and culture—that I don't get to encounter. (And those that I do. One of my favorite is still when he went to Waffle House in Charleston.) This book brings together anecdotes and memories from the likes of Barack Obama, Eric Ripert, Questlove, and more.
Hungry Hearts: 13 Tales of Love and Food edited by Elsie Chapman and Caroline Tung Richmond
I'm not going to lie: I saw the cover of this book and that Sandhya Menon contributed a story, and I was sold. But some people might need more than just that. I get it. Hungry Hearts is an interconnected collection of stories that illuminate the ways that food takes on more than just fuel for energy: it becomes about love and family and home in the lives of 13 teenagers featured in this collection's stories.
Dr. Trisha Raje is the most acclaimed neurosurgeon in San Francisco, but somehow that just isn't enough for her family, an insular group deeply suspicious of outsiders who are deeply protective of Trisha's brother's political career. DJ is an up-and-coming chef who believes he has Trisha's number: he needs the job her family offers him, but that doesn't mean he has to make nice-nice with Trisha. That is, until he finds out that Trisha is the only neurosurgeon who can save his sister's life. This romance novel tackles questions of home, belonging, family, and how to look to the future without the past ensnaring you. I'm super excited for this one.
The Truffle Underground: A Tale of Mystery, Mayhem, and Manipulation In the Shadowy Market of the World's Most Expensive Fungus by Ryan Jacobs
Truffles are intense. Flavor, yes. But the process, from growing truffles until they end up on a plate, is super intense as well. Ryan Jacobs takes a deep dive into the world of truffle farming, where farmers patrol their fields with shotguns to fight off nefarious truffle thieves; hunters plant poisoned meatballs to ward off rival truffle hunting dogs (INTENSE); and buyers, the novice and the knowledgeable, are duped by con artists of the fungal fashion. Who knew?
---
For more on delicious books for your TBR shelf, check out 5 Mouth-Watering Comic Books with Recipes; 8 Non-Cooking Food Books To Read This Summer; 10 Food Science Books to Change the Way You Eat