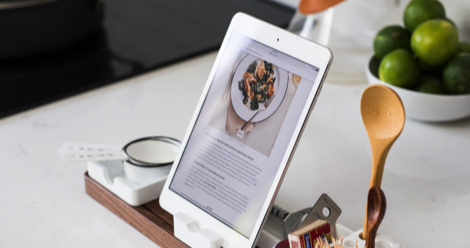 Lists
6 Food and Cookbooks by Women that Make Excellent Holiday or Hostess Gifts
This content contains affiliate links. When you buy through these links, we may earn an affiliate commission.
With most recipes just a click away on the Internet, something seems so nostalgic and glamorous about thumbing through cookbooks in the kitchen. And in the cooking industry, which for too long has been dominated by men, it's wonderful that so many amazing food and cookbooks came out this year written by strong, accomplished women. Whether wrapping something for under a Christmas tree or bringing a gift to a holiday party, any of these books would make an ideal present to the food loving people in your lives.
This collection of essays tackles the mythology and mystery behind Nigerian food. From the magical and aphrodisiac properties of fish stew to the prevalence of the yam and, of course, and exploration of soup, these essays examine cultural and gender politics related to the Nigerian palate. Energetic and detailed, this love letter to Nigeria mixes recipes in with engaging essays.
Samin Nostrat introduces herself on her website with three simple sentences: "I cook. I write. I teach." All three of these talents are put to good use in this new expansive how-to cooking guide, combining 100 essential recipes with a deeper look at mastering the four aspects of good cooking. The beautiful illustrations by Wendy MacNaughton are the metaphorical icing on this perfectly baked cake of a cookbook. Designed to bring reflection and joy to the act of cooking, this is a perfect gift for people with all levels of comfort in the kitchen.
This book, based on Julia Sherman's fabulous blog and instagram, weaves together the food with the art world with one common theme: salad. In it, Julia visits the homes and gardens of working artists. She interviews them and photographs them cooking their favorite salads. The result is a collection of more than seventy five salads and a unique insight into the everyday lives of painters, musicians, sculptures, and photographers.
Have you seen Jessica aka Mister Krisp's Instagram where she posts her amazing rice krispie creations? They never fail to impress and delight the inner nine-year-old in me, especially her amazing book-themed krisps. With beautiful pictures and easy to follow step by step instructions, this quirky no-bake cookbook makes it possible for everyone to make some of Mister Krisp's most popular designs, from Christmas trees and Hanukkah menorahs to emojis and cheese burgers.
This food memoir tracks Amy's journey from growing up near a french fry factory in rural Minnesota to becoming a line cook in some of New York's most prestigious fine dining restaurants and her eventual decision to move back home. Mixing together Midwestern humor, family stories, and her belief in the power of taste memory, this coming of age tale is full of fascinating and mouth watering descriptions of how she puts together a dish.
2017 was a rough year for a lot of people, and 2018 will probably be rough too. Inspired by the activism at the Women's March last January, chef and activist combines recipes from celebrated cooks, essays from grass roots organizers, and lists of resources to inspire readers to get involved. Many protest movements and moments of change begin with people who care sharing a meal. This book is designed to inspire people to fight for the causes they believe in and nurture themselves and their comrades with delicious and inexpensive meals.