This giveaway is sponsored by Tor Teen, proud publisher of Vassa in the Night by Sarah Porter.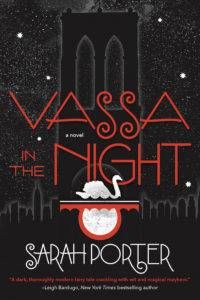 In Vassa's Brooklyn neighborhood it's easy to stumble into magic, it's stumbling away again that's hard. Babs Yagg, the owner of the local convenience store, has a policy of beheading shoplifters—and innocent shoppers. So when Vassa's stepsister sends her out for light bulbs in the middle of night, she knows it could easily become a suicide mission. But Vassa has Erg, a tough-talking wooden doll with sticky fingers, a bottomless stomach, and ferocious cunning. With Erg's help, Vassa just might be able to break the witch's curse and free her Brooklyn neighborhood. But Babs won't be playing fair…
---
There are so many ways to turn a familiar, timeless tale on its head and spin out something refreshingly new. We've seen it done with stories from the Brothers Grimm to Chinese mythology and more. We asked you to tell us your favorite folklore and fairy tale retellings and you responded. Here are 30 of your favorites!
The Golden Braid by Melanie Dickerson
The Queen of Spells by Dahlov Ipcar (Tam Lin retelling)
Deathless by Catherynne Valente
Ash by Malinda Lo
Snow Child by Eowyn Ivey
Rump by Liesl Shurtliff
One Good Knight by Mercedes Lackey
The Lunar Chronicles by Marissa Meyer
The Sleeper and the Spindle by Neil Gaiman
Beauty by Robin McKinley
The Princess and the Frog by Robin McKinley
The Rose and The Beast by Francesca Lia Block
The Great Hunt by Wendy Higgins
Impossible by Nancy Werlin
The Night Dance by Suzanne Weyn
The Wrath and the Dawn by Renee Ahdieh
Uprooted by Naomi Novik
Spindle's End by Robin McKinley
Mirror Mirror by Gregory Maguire
The Reluctant Queen Sarah Beth Durst
Briar Rose by Jane Yolen
The Bear and the Nightingale by Katherine Arden
Beastly by Alex Flinn
Spindle Fire series by Lexa Hillyer
Ash & Bramble by Sarah Prunes
Gretel in the Dark by Eliza Granville
The Mists of Avalon by Marion Zimmer Bradley
Ella, the Slayer by A.W. Exley
The Book of Lost Things by John Connolly
Wicked by Gregory Maguire
Save