Giveaways
Giveaway: What's Your Favorite Folklore/Fairy Tale Retelling?
This giveaway is sponsored by Tor Teen, proud publisher of Vassa in the Night by Sarah Porter.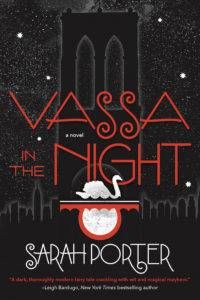 In Vassa's Brooklyn neighborhood it's easy to stumble into magic, it's stumbling away again that's hard. Babs Yagg, the owner of the local convenience store, has a policy of beheading shoplifters—and innocent shoppers. So when Vassa's stepsister sends her out for light bulbs in the middle of night, she knows it could easily become a suicide mission. But Vassa has Erg, a tough-talking wooden doll with sticky fingers, a bottomless stomach, and ferocious cunning. With Erg's help, Vassa just might be able to break the witch's curse and free her Brooklyn neighborhood. But Babs won't be playing fair…
---
There are so many ways to turn a familiar, timeless tale on its head and spin out something refreshingly new. We've seen it done with stories from the Brothers Grimm to Chinese mythology, and more. Tell us your favorite folklore or fairy tale retellings and be entered to win a copy of Vassa in the Night by Sarah Porter.
Just complete the form below to enter. Entries are limited to the United States and will be accepted until 11:59pm, Tuesday, September 19th. Winners will be randomly selected.
Oops! We could not locate your form.