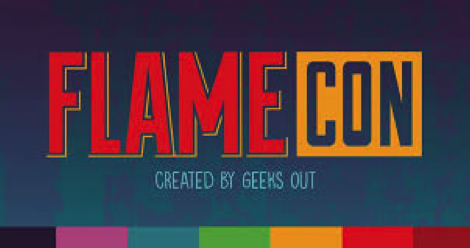 This content contains affiliate links. When you buy through these links, we may earn an affiliate commission.
One of the most heartening sights at this year's Flame Con, New York's premier LGBTQ-oriented comic convention, was the incredibly long line of people waiting to get into the Queer Heroes in YA and All-Ages Comics panel. It was one of the very first panels of the convention, and the palpable, feverish anticipation so early in the afternoon signified the importance of highlighting queer identities in all-ages spaces.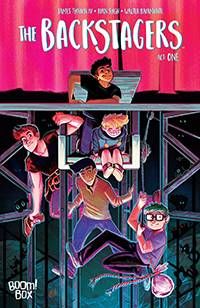 The panel was moderated by James Tynion IV, who has become something of a big-shot at DC Comics, where he works on series such as Detective Comics (DC's flagship, namesake title), Batwoman and others. But Tynion has also made a name for himself with his creator-owned work like The Woods and, most recently, The Backstagers, a book about the young boys who belong to their school's theater crew. Created with an all-ages audience in mind, The Backstagers contradicts standard depictions of masculinity in young boys, showing them that it's okay to be emotionally vulnerable—in fact, it's more than okay; it's a necessary part of life, of growing up. This includes, of course, male queerness. "The seamless introduction of queerness into the world is the heart of all-ages comics," Tynion said. "We have the responsibility to show kids who might not be exposed to it through their other media consumption that queerness is a part of the world that they're going to grow up into."
The artist and co-creator of The Backstagers, Rian Sygh, was also present on the panel, along with Dan Parent, a longtime Archie creator who is perhaps most famous for creating Kevin Keller, Riverdale's most prominent queer character; Vita Ayala, who has written series for DC Comics and Black Mask Studios; Katy Farina, the artist and colorist of the Steven Universe comics; and Nicky Soh, an illustrator who's done work on Boom! Studio's Adventure Time series.
Tynion addressed the first question of the hour to Dan Parent, about the creation of Kevin Keller, about creating a character in a space that hadn't been open to queer content in the past. When Jonathan Goldwater took over as CEO of Archie Comics in 2009, he looked at the line and decided that Archie, a series perpetually stuck in the 1950s, badly needed some diversity. This shake up included an LGBTQ presence. But Parent and the other creators didn't want to do "an after school special" in which a new "downtrodden" gay character is introduced and never seen again. They wanted to introduce Kevin in such a way that he would become part of the "fabric of Riverdale."
"You don't want to do diversity for the sake of diversity," Nicky Soh said. "It has to be done organically."
Ayala agreed that Kevin Keller's introduction into the world of Archie Comics was organic, calling it "flawless." Tynion then asked Ayala (who prefers gender-neutral pronouns) how they navigate bringing their own unique voice as a queer person of color to characters who aren't queer. Ayala's answer, which had the audience in stitches, was simple: "make the characters gay as hell." They love working on characters whose sexualities are ambiguous, which they suggest makes characters more relatable to everyone.
"Seeing yourself in a book not only helps with supporting your own identity," Ayala said, "but also opens up this world to other people's identities. This is especially important for children, who are like sponges." Reading about diverse characters, they said, "helps make a more well-rounded individual no matter how they identify."
Tynion then addressed his Backstagers co-creator, Ryan Sygh, asking him to expound on parts of himself that he brings to the series' artwork. "It's important to me, especially as a trans person, to depict masculinity that subverts what we tell kids all the time. It's okay to cry and show feelings and have strong friendships. This is not something that's socially acceptable. It's okay to be a little more feminine, to show emotions, to be scared." In a medium like comics, where most depictions of masculinity involve some form of violence, it was important for Sygh to show that "the way to go forward is not through violence."
Sygh said it's also significant for him that the people who come up to him and thank him for the book "are the kids of people who I see myself in: young adults and teenagers that didn't have an example of themselves in the media. When I was a kid, I needed that and didn't have it."
Katy Farina offered an emotional agreement. "There are so many reasons queer representation matters to me in YA stuff," she said. "It would've made a big difference to me growing up. I didn't know who I was until 25 so that would've helped. And really just seeing other people represented in kids' media really has an impact on how those kids treat other people. So it's really important that you expose kids to a lot of different kinds of folks when they're young so that they grow up to be more well-rounded people."
"A lot of the way that I draw the characters or a lot of the emotion I try to put behind the words are things that I want to show myself when I was a kid. I really wish I had that. I wish I was able to go back in time and tell myself that it would be okay." When she was younger, she didn't ever think that queer kids would be "gifted" with shows like Steven Universe.
"I want to just put a little arm around myself when I was a kid. Let myself know that these properties will exist. There will be so many more queer creators putting this stuff out there that will change peoples lives. And that's so mind blowing to me. And that's so important to me."
Tynion offered a self-deprecating analysis of his media consumption as a kid: if a character in a piece of media made a homophobic joke, it meant that queer people existed. Queer representation was so sparse that even a negative acknowledgment was still an acknowledgment.
"Like, 'alright, we're in there.' They may not like us, but we're there."
Ayala said, "It's so great to watch kids not know how hard the previous generation struggled to find themselves in media." They want their nieces and nephews and future children to never have to squint to see themselves in fiction.
The largest takeaway from the panel, the point on which all of the panelists (and audience members) agreed, was the idea that comics featuring queer characters are so significant because they are most often put out into the world by creators who needed them when they were children, that YA fiction, in general, is cross-generational way of saying "it gets better."
Save